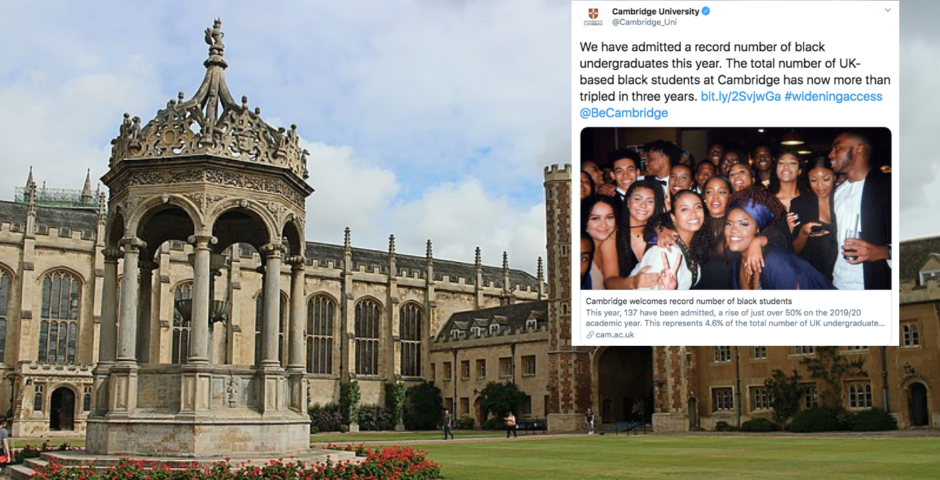 Number of Black freshers at Cambridge rises by over 50 per cent for the year 2020-21
137 Black undergraduate students have been admitted this year, a 50% rise on the pervious academic year
The University of Cambridge has admitted 137 black British undergraduate students this year, a record number that signals a rise of just over 50 per cent on the 2019/20 academic year. This follows a similar increase of just under 50 per cent for the 2018/2019 academic year, bringing the number of  black British undergrads at the University to over 300.
We have admitted a record number of black undergraduates this year. The total number of UK-based black students at Cambridge has now more than tripled in three years. https://t.co/MPU2mMkPVf #wideningaccess @BeCambridge

— Cambridge University (@Cambridge_Uni) October 6, 2020
These record numbers are testament to the success of initiatives such as Target Oxbridge, who continue to increase the number of spaces on their mentoring programmes, as well as the work done by Cambridge's Afro-Caribbean Society (ACS). Sharon Mehari, the ACS President, has said that:
"As a Society devoted to creating a welcoming and empowering space for all black students, it is an honour and a joy to see that Cambridge will be ushering in its largest intake. This speaks to the passion of the many individuals, organisations, and institutions who have worked to ensure that Cambridge is a place where black students have their academic ability, creativity, ingenuity and heritage valued.
There is no doubt that this cohort of students will thrive and leave an impact on Cambridge in ways we have never seen. We, at the ACS, are so excited to celebrate every individual and welcome them into the family."
The Society's regularly engages in outreach work, including access panels that give prospective students application advice and an idea of Cambridge life, whilst also remaining committed to fostering a community environment for current African-Caribbean students.
The Stormzy Scholarship has also been cited as a key initiative for improving access at the University for Black UK Students. Since 2018, the scheme has offered non-repayable scholarships that cover the full cost of tuition fees as well as providing a maintenance grant for two students per year.
The deadline for applications for the Stormzy Scholarship has been extended until 6 September – offering 2 scholarships to black UK students admitted to @Cambridge_Uni in autumn 2020. Find out more and apply: https://t.co/qdlow60qqT pic.twitter.com/F0PC9Flbl8

— St Catharine's College (@Catz_Cambridge) September 1, 2020
In a statement, Senior Pro-Vice Chancellor Graham Virgo has said:
"In just three years the number of UK based black undergraduates taking up their place at Cambridge has more than tripled. This is testament to their hard work and ambition. The Collegiate University, its students, and partners, have been working hard to reach out to potential applicants to encourage them to apply.
"We accept this is not just about ensuring that our intake reflects UK society. The University, and Colleges, need to work hard to ensure that once admitted, all students, no matter what their ethnic background, feel Cambridge is a welcoming place and one in which they can realise their potential and thrive. That is why we're working with black students at Cambridge to ensure that their education is the best it can possibly be."
The University emphasises its commitment to close the awarding gap between black and white students by 2024, and is working on diversifying the curriculum and providing race awareness and unconscious bias training to all staff.
Cover image credit: Suicasmo, Wikimedia Commons, Cambridge University Twitter (@Cambridge_Uni)