Students outraged as King's Affair Committee declare they are unable to provide a full refund to ticket-holders
Ticket-holders should anticipate to receive a refund of 75 per cent of the original ticket price for the cancelled event.
In an email to ticket holders, the Chair, Tom Ward, writes: "Given our current estimates, we anticipate a refund of at least 75 per cent to be reimbursed. As much as we would have liked to have awarded a 100 per cent refund, this simply hasn't been possible – the only way we can ensure everyone can enjoy the King's Affair in years to come is to award a refund that still allows us to pay existing charges."
Standard tickets to the ball cost £89.00. If students are offered a 75 per cent refund, they lose £22.25 to the KA Committee. This d0es not include the £10 fee some students paid to transfer ticket names.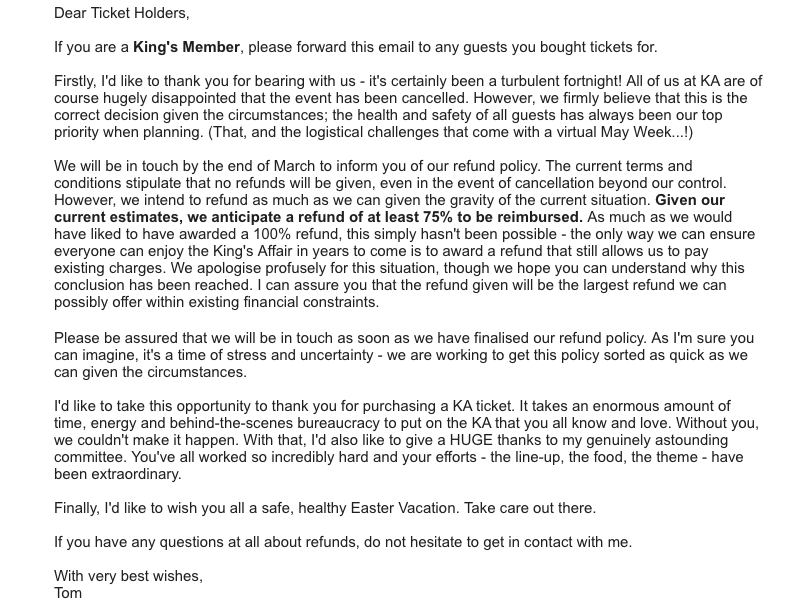 The email continues: "We apologise profusely for this situation, though we hope you can understand why this conclusion has been reached. I can assure you that the refund given will be the largest refund we can possibly offer within existing financial constraints."
The email also points out that technically their guests aren't owed a refund at all: "The current terms and conditions stipulate that no refunds will be given, even in the event of cancellation beyond our control".
Hollie Wright, a student from Christ's who was due to attend the ball, was outraged by this decision: "Many of us are already financially struggling in these difficult circumstances; my mum just got laid off and I have no college bursary incoming as there is no next term. That 25 per cent may be nothing to those who are wealthy but for people like me it's a lot and could feed me for a fortnight."
Another ticketholder holder, Emmanuel student Edan Simpson compares KA's refund policy to other May Week events: "I fail to see how the KA can't afford to reimburse us fully when they're a sell out event every year-if the likes of Robinson and Newnham can fully refund in normal times before Corona, why can't the KA??"
However, some ticket-holders have expressed sympathy for the King's Affair committee at this difficult time. Emmanuel Angelidakis, a Homerton student who attended the event last year and was due to attend this year, offered the following comment: "I understand why some people are disappointed about the KA ticket refund policy. However, we need to appreciate that due to various circumstances the committee might not be able to refund 100 per cent of the tickets. The times are stressful for everyone and I am sure they are doing their best, and I can't even imagine how hard this must be on them."
The Chair, Tom Ward, offered the following statement to the Tab Cambridge: "The email sent this morning about the King's Affair ticket refund policy was intended to convey our sincere apologies for the cancellation of the event, and, as a gesture of goodwill, our willingness to refund as much of the ticket price as we felt were were able, given our financial constraints. The figure of 75 per cent was identified because this was the absolute minimum percentage to which we felt we could commit at this early stage.
In light of the responses we received to that email, however, the team have begun liaising behind the scenes in order to explore the potential implications of increasing the refund to 100 per cent. Although we cannot commit to this figure, we can assure you that, over the next few days, we will be working with this figure in mind. We thank all our ticket-holders for their co-operation and continued support."
The ball was due to take place on the 17th June with "Oneiros" as the theme.
Cover photo credit: Power Photography