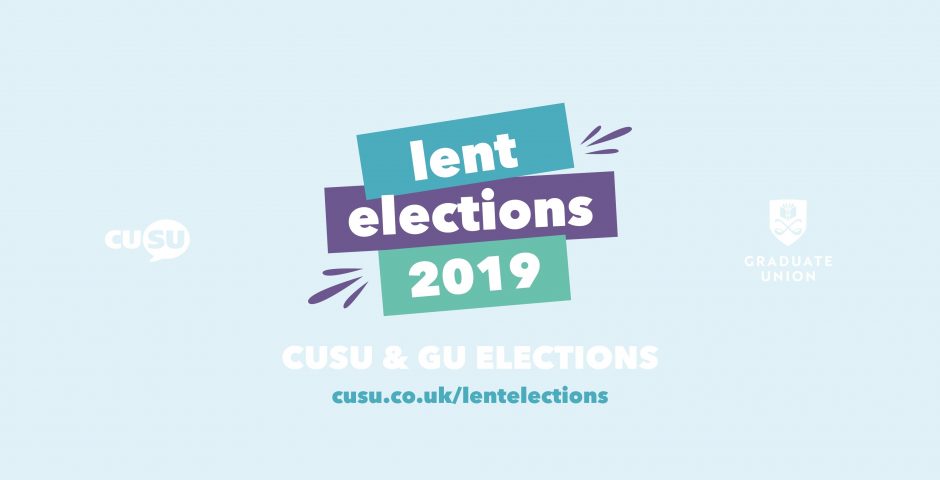 CUSU and GU Lent Election Results: Live Blog
The results are in: who are the winners?
Another year and the campaigns are over. With singing campaigns, controversy over 'sexist' views, flyering in clubs and more lecture site leaflet hand-outs than you could shake a stick at, it's all come down to this. Here are your 2019 election results live as they are announced.
20:07 – HERE WE GO
The highest number of votes have been cast this year in the elections' history, with an overall turnout of 22.21%. GU elections had over 1000 votes, maintaining the upward trend of previous years, and CUSU elections rose to over 5000 votes. After fierce inter-college battle, it's Corpus Christi College who had the highest turnout, winning the coveted prize of pizza.
20:09 – Ethical Affairs Officer
Starting off the results on a wholesome note, Alice Gilderdale and Jake Simms have both surpassed the quota necessary to take up the jointly-held role. RON unfortunately did not quite make it, with only just over 300 votes.
20:15 – Women's Officer
This year, the women and non-binary community in Cambridge chose Kate Litman to be their women's officer. Over 1355 votes were needed in the second round to crown this year's victor, with Kate Litman just squeezing past Finley Kidd.
20:25 – Welfare and Rights Officer
Cici Carey-Stuart received 945 votes, but Stella Swain has stormed to victory with a staggering 2045 votes, much to the massive cheers of supporters here in the GU Lounge. Stella had this to say:
"I am just so happy and thankful. Thank you to all of my supporters!"
20:34 – University Councillor
A staggering 3070 votes were counted, with the initial quota being 1535 votes. Tamzin Byrne received 986 votes, but it is Poppy Cockburn who received nearly double that with 1727 votes, who has surpassed the quota necessary to become the new University Councillor. Stay tuned for the Access and Funding Officer, who is to be announced very soon!
20:50 – Access & Funding Officer
As an ongoing debate that surrounds Cambridge, access has been as contentious as ever. With that said, 3708 votes were cast, with the quota set at 1854 votes. Ashley Woodvine garnered 1212 votes, but the winner this time round is Lily-Rose Sharry with 2188 votes. Lily-Rose unfortunately could not make it this evening, missing out on collecting her congratulatory flowers and receiving her well-deserved round of applause. We wish her the best of luck in such a pivotal role.
21:05 – Disabled Students' Officer
A very close vote indeed! In the first round, 2599 votes were cast. Jess O'Brien received 1193 votes, and Beth Walters received 1068, which was not enough for either of them to reach the required quota of 1299.5 votes. In the second round, the quota was reduced to 1153.5 votes, with Jess just pipping Beth to the post with 1213 votes to 1094 votes respectively. Jess equally could not make it this evening.
21:20 – Education Officer
It seems like a night of tense and close results! 3737 votes were cast, with neither candidate, Howard Chae and Ali Hyde, reaching the quota necessary to win outright. However, in the second round, Ali received 2.76% more votes than Howard with 1748 votes compared to Howard's 1701 votes. He has therefore surpassed the quota of 1724.5 votes to win.
As a well known face in CUSU LGBT (and indeed Glitterbomb) this pretty recognisable candidate is not particularly a shock win. With manifesto pledges focusing around the importance of student's mental health, a massive and growing issue at Cambridge, he was always on to a winner.
21:32 – The Presidential winners are about to be announced!
21:35 – GU President
WOW. The photo finish votes continue to roll on in, with this particular role requiring 3 rounds of voting. Nobody fulfilled the quota in round 1, eliminating RON. The second round, once again, saw no candidate gain enough votes to secure victory, unfortunately leading to Jack Chadwick's elimination. In the final round, it was Alessandro Ceccarelli who managed to secure 473 votes, nudging him just ahead of Devarchan Banerjee's 450.
Ceccarelli's campaign focused on equality and creating an inclusive environment for all Graduate students. Considering the drama and controversy surrounding his campaign consisting of personal attacks, particularly during Hustings last week, this is quite the political as well as personal victory for Alessandro.
Asking Alessandro what he thought of the results, he said the following:
"I don't know what to say, I'm so happy. I look forward to working closely with the other two candidates should they so wish."
21:50 – CUSU President
Edward Parker Humphreys has won your hearts and minds. With a win of 60.4% share of the 4475 total votes, he has a considerable mandate to be your CUSU president for next year.
Although quieter than his competitor, it's not particularly a surprise this guy has won. An ex-JCR president who's been backed by lots of political groups across Cambridge, he could quite easily have been seen as the go to choice. All I can say is that red, white and blue coat definitely wouldn't have had a negative impact on votes.
Commiserations to Shadab Ahmed, who received 1442 votes. Despite the ongoing BNOC feud, you were still a stellar candidate!
Edward had this to say:
"I'm still taking it all in. Thank you to everyone who voted, thank you to the great turnout from Jesus College, thank you to my campaign manager, thank you to everyone. Thank you to all my friends who have put up with me during the Elections!"
There we have it folks, another election over. Congratulations to everyone. What are your thoughts on the winners? I for one am glad to be able to go to Sidge without the fear of being attacked by flyers! Until next year…