Orange Wednesday: Cooking for Halloween
Thought she'd gone? Never. Tab legend LEAF ARBUTHNOT is back with some tasty orange-themed recipes for Halloween.
Carrot Jam
cookies
food
Halloween
Leaf Arbuthnot
Orange
Pumpkin halwa
pumpkins
There are many ways of celebrating Halloween. You can dress up; you can carve a pumpkin; you can go all-out rude Pagan and ululate around a bonfire that was waiting for the fifth of November.
Or you can cook, one of the most traditional ways of doffing your hat to the big day, given that it's thought to have origins in end-of-Harvest celebrations when livestock would be killed and eaten.
Happily, cooking for Halloween is cheaper than cooking for Easter or Christmas, provided that you stick to the festival's slogan colour – orange. There's almost no limit to what you can rustle up on a week-four budget, as orange stuff is weirdly cheap in England. Our supermarkets' carrots, pumpkins and satsumas are all among Europe's cheapest. Celebrate this small victory by trying these four Halloween-inspired snacks this Wednesday. Or just, you know, dress up and stuff.
1. Pumpkin and coconut soup
Pumpkin flesh is great in soups, so don't waste it if you decide to carve one up. Some people, including me, like to roast the seeds on a low heat overnight with a bit of oil and sugar. Others don't.
Fry an onion in some olive oil with a teaspoon of garlic granules or a crushed garlic clove. Once the onion has softened, add ½ a kilo of diced pumpkin (or the same amount of roughly chopped carrots) and 400ml litre of chicken stock. Bring to a simmer and remove from the heat, when the pumpkin is tender. Pour the mixture into a blender. Add one peeled tangerine and blitz till liquefied. Pour into a pan and add a can of coconut milk, ½ teaspoon of cinnamon, ¼ of nutmeg, 1 of sugar, and stir. Serve.
2. Pumpkin cookies
These are the business. They're excellent dipped in cold milk at 9pm.
Grate 100g of pumpkin flesh into a small pan. Add three tablespoons of milk and simmer until the pumpkin is soft. Drain off milk, pat the pumpkin dry with a paper towel and leave to cool. Separately, mix 1 cup of soft brown sugar, 1 cup of plain flour, 3 tablespoons of softened butter, and 2 cups of self-raising flour with 1 teaspoon of cinnamon. Grate in a bar of Dairy Milk. Add in the pumpkin and mix. Roll into flat balls of about ½ cm by 5 cm. Bake at 170 degrees for ten or so minutes – make sure they're still soft when you take them out; they'll get much harder when they cool. Crunchy cookies are lame.
3. Pumpkin halwa
At Eid I was given some of this, loved it and was offered the recipe. This is it. If you have any rosewater, do add a dash as it will make it taste all the more exotic.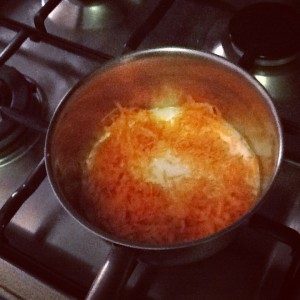 Finely grate 500 g of carrot into a pan. Add 3 pints of milk and 1 teaspoon of crushed cardamom pods, as well as three cloves. Bring to a simmer, until there is almost no milk left. Stir in 1 tablespoon of butter, 3 tablespoons of white sugar and a bag of mixed nuts. Pat out onto a shallow dish and leave to cool in the fridge. Then cut into squares and serve, sprinkled with pistachios if you have any spare.
4. Carrot jam
Delicious on English crumpets or smeared over those small hanks of dried bread that the French go crazy for.
Chop 500g of carrots into coins and boil until soft. Drain and then either pass them through a sieve with a wooden spoon (easier than it sounds) or blend them. Pour into a pan along with 600g granulated sugar and the juice and roughly-grated rind of two oranges. Heat on low for about twenty minutes, until the consistency is thick. Test by dotting some on a cold plate and prodding it about with your finger – if it's pretty reluctant to move around, it's probably ready to be jarred.