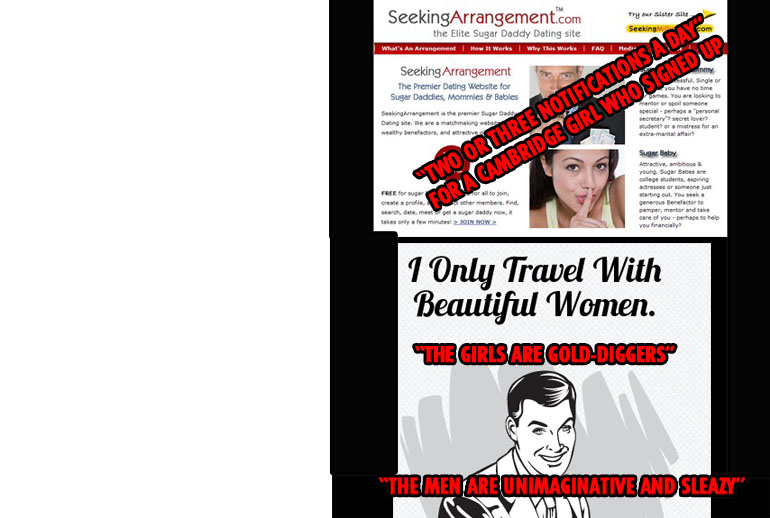 How far
would you go to pay
off your student loan?
The Tab re-examines the 'sugar daddy' sites by talking to a girl who used them.
Cambridge University
misstravel.com
money
seekingarrangement
Student Loan
sugar baby
sugar daddy
tuition fees
It goes with the territory of being a student that you will be skint. Yes there's the occasional eejit who walks into Cindies and boasts, with a smirk, about being able to 'buy this whole place out' but they're few and far between.
Most of us embrace the relative poverty of student life and accept that Sainsbury's Basics vodka/Sainsbury's wine/any Sainsbury's branded alcohol isn't that bad. There are, however, a growing number of students across the UK who are willing to go to extreme lengths to make money while studying.
With the recent hike in tuition fees, students have never before had to accept such a financial burden to get through their degree. Sites such as 'Seeking Arrangement' and 'misstravel.com' are reporting ever higher numbers of students signing up.
As reported in The Tab 'Seeking arrangement' revealed last term that Cambridge has the 4th most sign-ups of all UK universities with 46 students at last count. New members of 'Seeking arrangement' who are also students receive a special stamp on their profile marking them a 'college sugar babe.'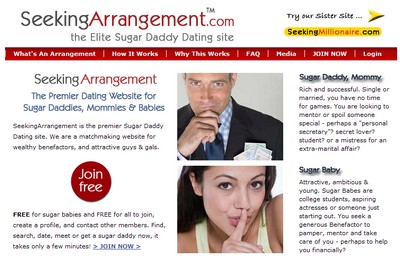 We spoke to one of the Cambridge students involved with the site who wishes to remain anonymous. She set up her profile with a friend out of curiosity but found that 'Over the next fortnight or so, I must have had two or three notifications a day'. Most of these messages were 'unengaging "Hello's" and clichéd one-liners though a couple took the trouble to write messages that only just fell shy of the word limit of the essay I'd been trying to put off'. She concludes that 'the site pretty much confirmed my expectations. The men are unimaginative, sleazy and unwavering in their belief that money buys happiness. The girls are gold-diggers with no moral questions regarding prostitution.'
'Seeking arrangement' claims to be a site through which wealthy 'sugar daddies' can meet 'sugar babies' and create 'mutually beneficial' relationships. The site advises potential sugar babies to never 'forget how hot and fun you are!' and to 'always be on your guard.'
It is surprising how blatant the members of the site are about the whole enterprise.Men happily upload their pictures and advertise for a 'companion' while admitting they're married. Equally, the 'sugar babies' note their monthly allowance expectation.
The site is careful to make a distinction between prostitution ('suspicious or illegal activity should be reported') and…whatever it is specifically they define the site as doing. But the difference is pretty minimal. It's not technically prostitution. Technically. But it's about as close as it's possible to get.
'Seeking arrangement' founder Brandon Lynch recently set up 'misstravel.com' a site through which young women can travel the world for free as long as they provide companionship to their benefactor. The site was only set up in 2010 but proved immediately popular with students. 'misstravel.com' said recently that they make up 35% of their signups.
Maybe I'm just not looking at this the right way. It's conceivable that these girls are really just cannily using the assets they have. After all looks fade and if you're able to capitalise on the doubtless advantages that youth and beauty give then they have every right to do so.
But for all you may receive a 'free holiday' or 'free gifts', it sounds so much more innocuous and innocent than the truth: that it's a transaction of a part of yourself in return for financial gain. Of course the solution is to have lower fees, better student financing at all universities (Cambridge being unusual in the level of financial aid it offers) and more grants for students from low income families.
These are however pipe dreams which are unlikely to come to fruition. For now, I think it's best to count the pennies, take on a loan and refuse the 'free' gift or holiday which comes with a very high, hidden price tag.