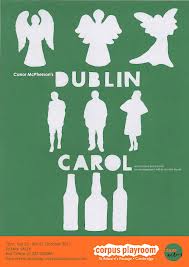 Dublin Carol
NANCY NAPPER CANTER is left feeling impressed but a bit empty.
conor mcpherson
dublin carol
jenny scudamore
Michael Campbell
patrick fee
Rosie Robson
Tue 23rd – Sat 27th Oct, Corpus Playroom, 7pm, £5/6
Dir. Rosie Robson
Michael Campbell's John Plunkett possesses none of the alcohol equivalent of heroine-chic. He's breathy, he's sweaty and he's got the permanent snuffles. His is an excellent and convincing portrayal of a middle-aged alcoholic in crisis. It was a shame that play itself failed to equal him.
Dublin Carol is great in parts, and the production takes full advantage of this. Campbell in the lead is the star as Dublin undertaker and self-confessed eejit John Plunkett. Plunkett's the first to admit that he's done things he's ashamed of, but the last to elaborate further. When his estranged daughter Mary turns up, however, she does the elaborating for him. For Plunkett, it's hell – particularly as Mary is also the bringer of bad tidings.
Plunkett has some great lines, and Campbell does them complete justice. While he manages both wit and gravity with ease, it's the gravity that sticks in my mind. Campbell's delivery of, 'Respect is no use when you're gone' is nicely understated; his tearful rage is one of the best things about the production.
Patrick Fee, as John's fresh-faced assistant Mark, does a fine job too. During his awkwardly prolonged conversation with John, all Fee really has to communicate is that Mark possesses – in Plunkett's words – 'a great listening quality.' Acting 'listening' for a sustained amount of time is no mean feat. But if Fee's occasional interjections felt a bit unnatural, overall he gives a comfortable portrayal of awkwardness. And in the third scene, Fee proves that he's even better when doing the talking.
Jenny Scudamore is convincingly pained as John's resentfully fond daughter. But while it's no criticism of Scudamore to say that Campbell is the more charismatic of the two in their scene together, I did feel that Scudamore's overacting sometimes deprived her lines of the momentousness they deserve. It grated after a while.
My main problem is that the play suffers from a lack of momentum. Each of its three sections – a John/Mary scene sandwiched between two John/Mark scenes – is compelling. But I was unsure as to what to take from them. This was compounded by what felt like a strangely cosy ending. As the lights dimmed to the sound of Plunkett's festive humming, you'd be forgiven for thinking it was going to be a merry old Christmas after all.
The direction is well judged, the acting strong, and Conor Mcpherson's writing witty and vibrant – he's certainly no eejit. I was disappointed that Dublin Carol didn't leave me with the sort of hangover I'd wanted, but it's well worth seeing.