UoB's best-dressed on campus are stylish enough to make Eastwood download Depop
They all deserve firsts for their fashion sense
In case you've started to lose hope in finding a UoB student who doesn't own a North Face puffer coat, we have blessed you with these angels sent by the fashion gods.
Showing off their unique style in lockdown 3.0, the library has never looked more like a fashion show.
These students model our favourite fits around campus and reassure us there is more to UoB students than fast-fashion flares and oversized jumpers.
Fashion queen Maddie puts in 110% effort with her campus style. Inspired by Instagram and TikTok, it appears her high screen time has paid off with this dressed-down yet classy outfit. Her faux leather shirt is from Zara, her turtleneck from New Look, and zebra flares from ASOS Reclaimed Vintage.
Maddie completes her look with an olive green bodysuit from Miss Selfridge, originally lent to her for a Sports Night costume. Our favourite part of her outfit (and Maddie's too) is her pair of Sinclair Dr Martens which, she told The Birmingham Tab, she got "an amazing discount" on from working at Schuh. Give us a moment to hide our jealousy.
It appears Alex was born in the wrong decade with her 60's inspired look. 60 years on from the era known for mini skirts and go-go boots, the law student is still rocking it around the streets of Selly. Her top is from MadCap England- a 60's influenced clothing brand which Alex represents on her Instagram- and is nicely complemented by her vintage coat from Sparrowhalk and tan boots from Jones'.
Alongside her studies, Alex is also a music artist, with her style inspired by 1960's pop culture: "I absolutely love everything about fashion and music in the 60's," she told The Birmingham Tab. Her fashion icons include Sharon Tate and Pattie Boyd, both synonymous with the mini skirt brought about by the 60's Women's Liberation Movement.
Alex also emphasises the importance of recycling fashion by scouring thrift shops for elusive finds. She described to The Birmingham Tab: "I avoid buying clothes new as I love treasure hunting in vintage shops and on Depop". Her late 60's patchwork skirt is from Depop, and her blue neck scarf is from a kilo sale in Stoke-on-Trent.
Will, third year, Engineering (@willmxss)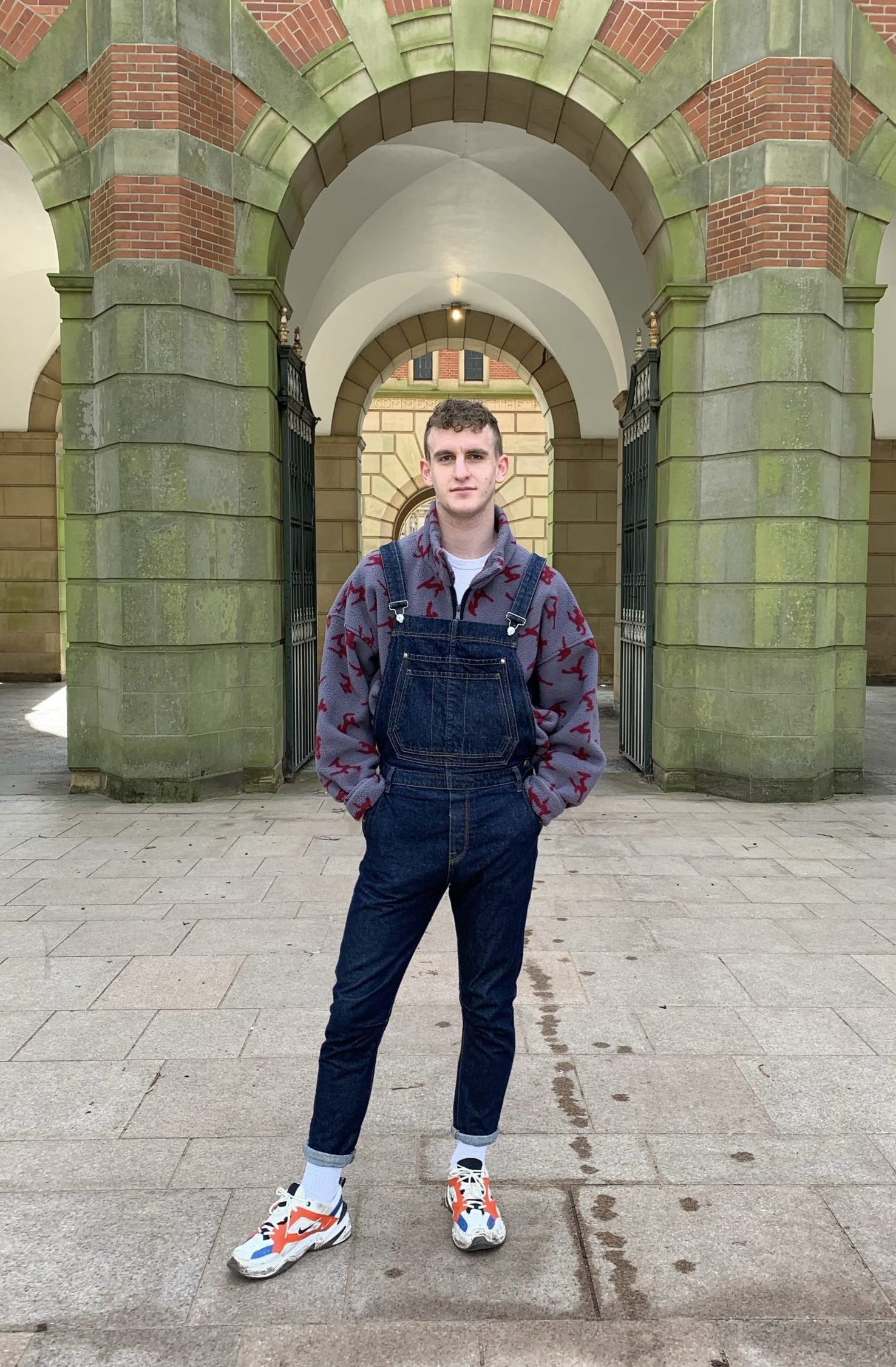 Will's outfit is casual and cosy, pairing a retro Jack Wolfskin quarter-zip fleece (courtesy of his Dad's wardrobe) underneath Zara denim dungarees and Nike retro trainers. Will admitted to The Birmingham Tab that these are the only pair of dungarees he owns "and they get overworn". But he is wrong. We cannot get enough of them.
Will also believes that the walk to library is worth more than just joggers this lockdown: "I certainly put in more effort when I am leaving the house to feel like I'm off somewhere good," he explained to The Birmingham Tab. His favourite item (and ours) is his Dad's snowboard quarter-zip. Maybe good fashion runs in the family?
Kelly, second year, Physics (@hauskellyk)
Co-ordinating her outfit with the blue Birmingham sky, Kelly shows off her vintage-inspired cardigan matched with straight leg Zara jeans. Kelly told The Birmingham Tab that her favourite fit item is her pair of white Fila disruptors "because they just match with everything".
Kelly confessed that her "fashion or even shopping habits haven't really changed that much" since lockdown began, making her the original trendsetter for UoB fashion. It is clear this is Kelly's world and we are all just living in it.
Nayana, second year, Geography (@nayanzaa)
Nayana's style is comfy and casual- the perfect outfit for any long library sesh. Her shirt from All Saints is half-tucked into her patchwork straight leg jeans from Topshop. She described to The Birmingham Tab how she "always picks outfits that are comfortable and laid back" whilst still seeming "put together".
What is, perhaps, the most striking part of Nayana's outfit is her brown mixed-print scarf, bought on holiday from a market in Barcelona (holidays, remember them?). The Geography student completes her outfit with the cleanest pair of Nike Airforce that we have ever seen on a uni student.
Rory, third year, Sport Science (@rrorychristmas)
While Avril Lavigne might say "see you later", we most definitely say "hello" to Rory's skater boy look. He styles his Zoltan Dubious gilet over his grey Stüssy jumper with a silver chain. His baggy purple jeans are from ASOS and his beanie hat is from Champion, covering his lockdown barnet.
Rory's outfit is inspired by the skater scene and what he has seen in the skateparks. His favourite item are his Adidas x Thrasher Superstars. He explained to The Birmingham Tab that "they are proper simple but are a sick combination of two major names in skating".
Orla, third year, History (@orla_jf)
History student Orla never goes amiss on campus with her unique-yet-stylish fashion sense. Here, she wears a black jumpsuit from Cos and white trainers from Veja. She carries her leopard print coat from Zara, which also happens to be her favourite item.
Orla gets her outfit inspiration from upmarket shops such as & Other Stories and Cos, describing to The Birmingham Tab that her clothes are "most likely from their sale section because of the price". As uni students, this is something we find far too relatable.
Danielle, second year, Business and French (@danielle_sjm)
UoB student and TikTok fashion influencer Danielle styles a monochrome look for her campus walks. She co-ordinates her comfortable grey hoodie with her knee-ripped mom jeans, both from Pretty Little Thing. Danielle brightens up her outfit with a white Zara top and Adidas trainers.
Danielle realised her passion for fashion over the first lockdown after making outfit TikToks "for a bit of fun". Her TikTok platform has since grown to 40k followers and she now works with fashion brands such as Boohoo and Lounge. "I have been so lucky that brands have reached out to me and gifted me with clothes in exchange for a TikTok video," the second year detailed to The Birmingham Tab. If only we could all turn our unhealthy TikTok obsessions into an opportunity for free clothes.
Aaron's lockdown look adds colour to the dullness of uni life right now. He combines his purple tee from ASOS with his blue cargo trousers from a charity shop (how vintage). His favourite garms are his Ralph Lauren shoes. "I think nice shoes can really change the whole outfit," he explained to The Birmingham Tab.
As well as wearing stylish clothes, Aaron also believes that blingy accessories are important when it comes to fashion. In this outfit he wears his signet ring (big 'Gap Yah' energy), a chain and a bracelet.
Related stories recommended by this writer:
• Here's how to recreate your favourite Brum nights out at home
• The best Birmingham reactions to the news of lockdown easing
• To all the boys of UoB, here are the UoB girls' biggest icks