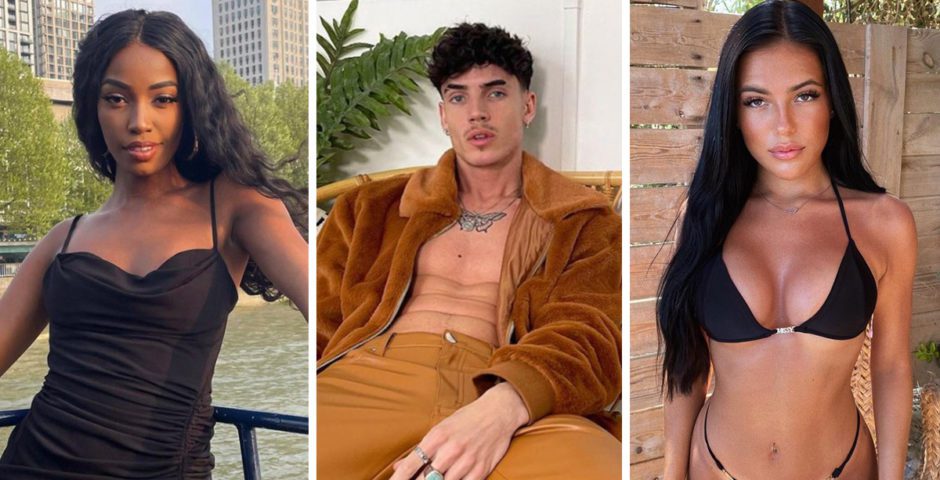 'My DMs are full of casting researchers': Meet the people who turned down Love Island
One person literally just said they were 'too busy' for the UK's biggest dating show
You'd think if you were one of the lucky people who got the call from Love Island producers you'd drop everything for eight weeks in the sun and a sure way of becoming an influencer and a millionaire. But no, there are some people who actually did the unthinkable: They looked Love Island in the eyes, and turned it down.
Shocking! I can't even imagine having the huge energy to just straight up reject the UK's biggest dating show, but some have. From simply being too busy, to having so many offers from other shows that they chose something else – here are the people who turned down Love Island.
Tasha Daisy
21-year-old Tasha turned down Love Island, and is now appearing on MTV dating show, Are You The One? She's a former Miss England semi finalist, and in an interview with The Sun said she rejected both the ITV2 show, and Netflix's Too Hot To Handle.
"I have been approached," Tasha said. "Since the day I turned 18, I've been approached for Love Island, Too Hot to Handle – my Instagram DMs are full of casting researchers. But it was just never the right time for me. Going into TV, obviously, is such a big thing. I work in social media anyway, I've got a platform, I've got followers. It was never something that I thought I was going to sort of branch out into. But with Are You the One?, I just thought it was an opportunity I couldn't turn down."
She added that despite being friends with ex-Islanders Jess and Eve Gale, and Too Hot To Handle stars Emily and Cam, she still thought it wasn't right for her. "Obviously Love Island is an opportunity, but as I said, when I was younger it just wasn't the right time in my life," she said. "Going into TV is such a big thing to do and I just wanted to make sure that I knew exactly what I wanted as a person and in dating. I have my career, my friends, my family, I have my support system. Finding someone was just sort of the missing piece to my puzzle. But it just didn't feel right looking for that on Love Island. But when I got approached by Are You the One?, I just thought, yeah, why not?"
Rehema Muthamia
Beauty queen Rehema Muthamia turned down Love Island 2022. Why you ask? She was just too busy. Apparently bosses were keen to sign up Rehema, who was Miss England 2021, but she rejected them. "I was approached by Love Island. I thought about it, but I'm not there. I'm busy with many things," she told The Daily Star.
In the 2016, former Miss GB Zara Holland went on the show, and she was stripped of her title after having sex. Rehema addressed this, saying it would have been a risk for her to go on. "With life, there is always a risk when you do something," she said. "For one person it might be a negative experience and for another person it might be amazing."
Sophie Draper
This year there were loads of people rumoured for the Love Island villa who ended up being in the actual cast. One of which was Sophie Draper, who later said she rejected the show just four days before she was meant to be flying out to Mallorca.
In a video posted to TikTok, Sophie did the trend where people cough over a caption that says "you must be sick if…" suggesting they did whatever the end of the caption says. Her's reads: "You must be sick if you would turn down Love Island four days before you're meant to fly".
Sophie was the first rumoured Islander this year. She's a beautician from Nottingham, and used to date Premiership footballer Matty Cash. The pair dated for four years but split last year. According to The Sun, she had been "lined-up" for the villa this summer, with Love Island bosses saying she was the "perfect fit" after meeting with her about being part of the cast.
Chloe Veitch
Chloe appeared in the first season of Too Hot To Handle on Netflix, but has said she was approached by Love Island bosses at the same time. Speaking to The Evening Standard, she said: "I actually got a phone call requesting to get a meeting to go on Love Island in London, but I turned it down because I thought… I know what I'm walking in to with Love Island."
She said she opted for something new instead, that suited her better. "I picked the right card," Chloe said. "Everything happens for a reason."
Cam Holmes
Obviously you recognise Cam as being the ~nearly~ winner of season two of Too Hot To Handle on Netflix, and leaving the retreat with Emily Miller. However, he was first approached for Love Island, which he turned down. He was in talks with ITV, but opted for Netflix instead. "I'd been kind of approached by a lot of different shows before, including Love Island, but they were just never the right time," he said of his decision.
Tabitha Clifft
Tabitha was also a contestant on Too Hot To Handle, alongside Cam. She said she opted for the Netflix show over Love Island because it would be more exciting for her. She claims to have been approached for the ITV2 show multiple times over the years, but she has never taken up the offer.
"I just think [Too Hot To Handle] was a new, exciting show, and thought it was just something I wanted to be a part of," she said. "Love Island is great, but this one just seemed a lot bigger, a lot newer, a lot more exciting. There's a lot more to the unknown with Too Hot To Handle. Whereas Love Island, you kind of know what you're expecting."
Robert Van Tromp
Robert Van Tromp, also from Too Hot To Handle, said it was the fake show he was approached with that swayed him to chose that over Love Island. As we know, Too Hot To Handle sees the contestants thinking they're going on a party dating show, but then they're cruelly put under a sex ban and it's revealed what show they are actually going on. Robert said "among other shows" he was approached to be in season six of Love Island. "But with [Too Hot To Handle], it was very much signing up for something that you just assumed would be kind of with lots of half-naked girls," he said.
Missy Keating
Missy Keating, the daughter of Ronan Keating, has apparently been approached by Love Island multiple times over the years. This year, her brother Jack was part of the Casa Amor line-up, which he has admitted was mainly just to get producers off his sister's back.
Producers tried for two years to scout his sister, and Missy has been among the rumoured cast lists for years, with producers apparently "desperately" trying to sign her up. She's never been interested, and Jack said after a couple of drinks the siblings decided he'd apply instead.
For all the latest Love Island news and gossip and for the best memes and quizzes, like The Holy Church of Love Island on Facebook. 
Related stories recommended by this writer:
• The biggest post villa transformations from the winners of Love Island
• Exactly who from Love Island 2022 actually applied to be on the show and who was scouted
• Ranked: Who from Love Island 2022 gained the least followers on Instagram?