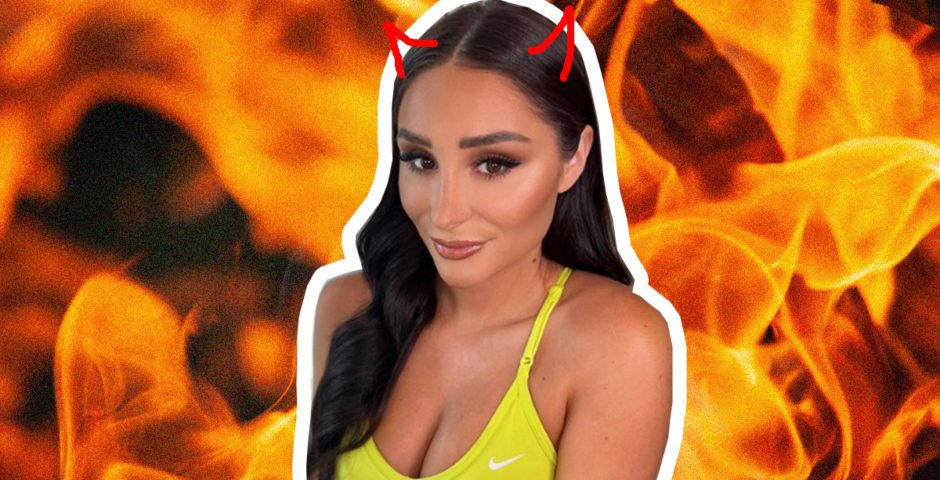 Coco Lodge is a true menace and this recap of all her post-Love Island antics proves it
We should've known she was chaos the minute we saw she was the chosen one for Andrew's tongue
Love Island's Coco Lodge is the human embodiment of Lady Gaga saying: "No sleep, bus, club, another club, another club, plane, next place. No sleep. No fear." Except with the clubs are actually interviews, podcasts and even TikTok lives. Since being dumped from the villa, Coco has been a real menace to society with how much drama she's been involved in. She is an unstoppable force of Love Island gossip and it's impossible not to love her for it.
Here's every single time Coco's post-Love Island antics proved her to be an absolute menace.
Firstly, her real name isn't even Coco
At this point we should have known she was chaos the minute she had to clarify her real name on Instagram. She said she "renamed herself" and people were shook. She said: "I was born Chloe but I couldn't pronounce my name so renamed myself Coco as a toddler." Fair enough.
'I licked her tit or whatever'
Need I say more? At this point something changed for the general public and Coco Lodge became a person we must protect at all costs. God save the tit sucked queen!
Coco revealed the boys sent secret messages to each other
Okay so when Coco left the villa as a dumped Islander she was out for BLOOD. In her first interview on Capital Breakfast, she told Roman Kemp the boys used to text each other about who they were going to recouple up with. She said: "We write messages to each other on the phone, like hide it under the duvet so they can't see. With the boys I think they did it before the Casa Amor recoupling to tell each other who they're picking, so it wasn't so secret, so the boys knew who to have their back."
She had drama with Paige that we didn't see
Coco went on TikTok live and aired out the drama with Paige that Love Island viewers didn't get to see. She said she felt as though Paige had an "issue with her" when the two were in the villa together.
She said Paige just "had some sort of issue with me when she told Summer she didn't like my vibe. I've only just found this out. I said yesterday she got annoyed when somebody said we looked similar, because she didn't want to look like me/ She told Gemma giggling that the boys had said I was a 4/10 and she was a 12, which isn't nice or kind behaviour. And then to go and tell one of my best friends Summer that she doesn't like my vibes when I didn't do anything in there besides try really hard with her because she was the least welcoming to all of us. I was trying really, really hard with her to try and form a bond. I just felt like she still had an issue with me."
Coco said she regrets not sleeping with Josh when leaving the villa ffs
Looks like Coco and Summer being best mates didn't last long then. Around one week ago, Summer and Coco unfollowed each other on Instagram and apparently it's all about Josh. Coco made a comment on the Saving Grace podcast saying she regrets not sleeping with Josh after they were dumped from the villa.
In the podcast, GK Barry asks if Coco had sex with Josh, she says: "No, I'm actually annoyed because I feel like I could have. Talking to him now after, I feel like it could have happened. He was like 'oh I'm horny' and I was like 'right I'm going to take myself to bed'. But I don't know why I did that because he is so fit. We are really close now and we spend like every day all day together. I even said 'just let me try it once'."
At this point, fans were convinced this comment is what led to Summer and Coco unfollowing one another on social media.
Coco and Summer had a bloody fight at the Love Island reunion
Right so as we all know the Love Island 2022 was soooo dry and the one bit we had to look forward to was Coco and Summer's fight. However that was annoyingly edited out. So all we have to go off is the words of one TikToker who was at the reunion herself.
She said the Saving Grace podcast where Coco made her comment about Josh was specifically mentioned. Summer also apparently addressed Coco and said "well that's not what friends do, why would you say you're going to shag my man on a podcast?". Coco then responded: "I don't care, it's just a shag I'll shag anyone that I want." The TikToker says Coco then went off on a tangent where she started talking about sex and having sex with people. It was apparently a bit weird and everyone was looking at each other.
The TikToker says: "And then it got more bickery, they were both snapping at each other. I can't remember direct phrases but it was just things like 'why would you do that?'. I think at this point Coco realised she had backed herself into a corner by saying this. It then started to get really bad and the people holding scripts were having to walk onto the set where all the tables are and people were looking round at each other and everybody sat in that room knew that this was off-script, this was a real argument.
"The presenter, the one that was cut the argument, he shut it down because I think someone told him to. But it didn't end very naturally, they did have to shut it down. And then Coco did actually walk off the Love Island set and we all had to cheer her back on after the break because she just didn't come back on set."
Coco saying she's 'not surprised' Summer and Josh have split
Earlier this week it was announced Love Island 2022's Summer and Josh have split right in the middle of all this Coco Lodge drama. Summer said she and Josh "mutually decided we'd be better off as friends".
Coco told The Mirror: "I'm not surprised. I think she did quite like him but he's obviously come out to this new, exciting life. I think he and a few other of the boys are just lapping up the attention and enjoying it. I would say that when she was still in the villa, like I said on the reunion show, he was moving a bit crazy – enjoying people recognising him and that's absolutely fine."
Flame background credited to Maxim Tajer on Unsplash.
For all the latest Love Island news and gossip and for the best memes and quizzes, like The Holy Church of Love Island on Facebook.
Related stories recommended by this writer:
• Inside the massive Brighton mansion where Love Island's Luca Bish lives with his family
• Former Love Islanders react to the Jacques and Luca Instagram live saga
• Antigoni is being accused of slut-shaming Ekin-Su in unearthed Instagram video