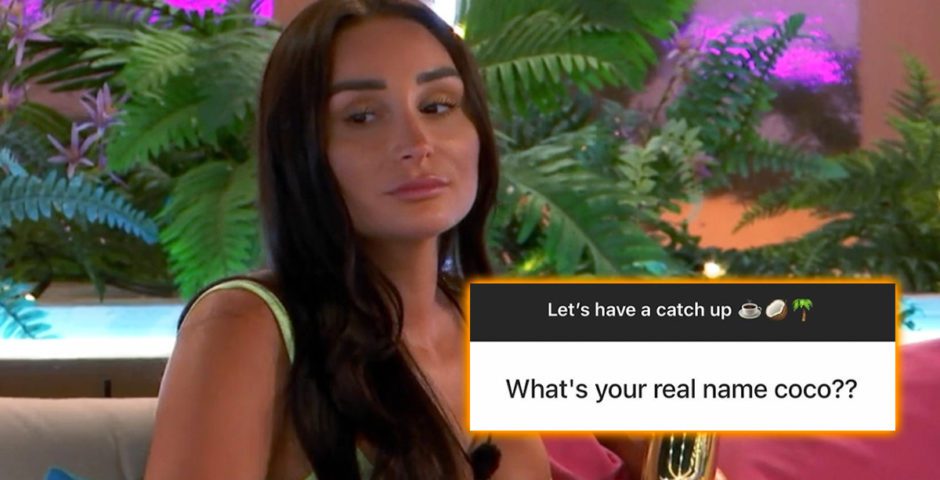 It's all a lie, Coco from Love Island's real name isn't even Coco!
She's clarified on Instagram that she 'renamed herself' looool
Ummm, I don't mean to alarm anyone, but the real name of Coco from Love Island isn't even Coco? I'm shocked!
It turns out Coco is just her nickname, and her real full name is Chloe Lodge. Chloe Lodge used to be her Instagram handle, and in some of her older pictures and tagged posts, that's what her friends are calling her. After a lot of people clearly got confused, Coco has taken to Instagram to clear up where she got her name from.
In a question and answer session with her followers, Coco was asked "What's your real name Coco" and the Love Island star replied: "I was born Chloe but I couldn't pronounce my name so renamed myself Coco as a toddler."
This is so extra from her, I love it. People started to clock on that Coco might not have been her real name when it was noticed that on one old picture of her, posted by a friend, the caption reads: "Future model Chloe Lodge #beautiful #model #art". Coco has commented: "That is the next Miranda Kerr right there". 
Coco, or Chloe, is from Surrey, and is 27 -years-old. She has not one but three jobs, working as a graphic designer, but also as both a ring girl and a shot girl. Whatever her name is, she should go straight into the Love Island record books under it, for creating the "I sucked her tit, I licked her tit or whatever" moment. Iconic.
Coco isn't the first Islander to go by a nickname in the villa. Last year everyone went crazy trying to find out what Chuggs' real name was, after he said his nickname comes from a shortened version of "cuddles and hugs". The Tab revealed his actual name is Oliver George Lee Wallis.
A few people on Twitter have clocked onto her real name, with some Love Island viewers asking if Coco changing her name was "necessary". "Hilarious that that coco's name is actually Chloe," another said.
Love Island 2022 continues on ITV2 at 9pm tonight. For all the latest Love Island news and gossip and for the best memes and quizzes, like The Holy Church of Love Island on Facebook. 
Related stories recommended by this writer:
• These are the wildest transformations from the Love Island 2022 cast
• All the Love Island 2022 moments that have received Ofcom complaints so far
• Which Love Island 2022 girl are you? Take this quiz to find out