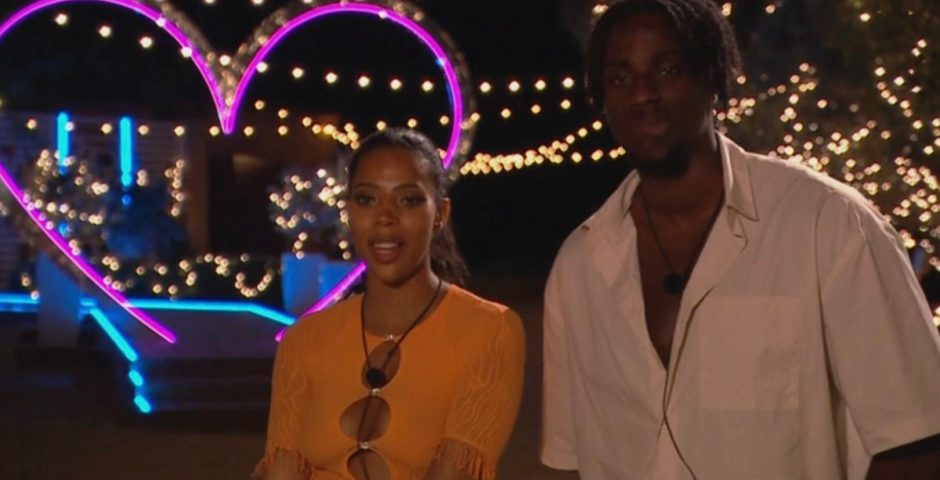 'I'm shocked to be going home': Amber and Ikenna spill their Love Island villa truths
Ikenna is happy for Indiyah and Dami, but Amber still thinks she and Dami could work out 😬
Last night saw Amber and Ikenna dramatically leave the Love Island 2022 villa, after a shock double dumping. They are now the third and fourth Islanders to be dumped, after Remi left and so did Afia.
The dynamic of the villa has changed dramatically already, since the pair left. Amber had been coupled up with Dami and Ikenna with Indiyah, and now their respective ex-partners are cracking on together. So how do Amber and Ikenna feel about what they've left behind? And what are their plans now?
Here's what Amber and Ikenna had to say in a chat after they left the Love Island villa.
'The best holiday I've ever been on'
When asked how he'd sum up his villa experience, Ikenna definitely didn't shy from the fact he didn't get much out of the show. He said: "Definitely the best holiday I've ever been on [laughs]! I didn't find romance but it was nice to be in the villa, nice to have a pool in the heat, couldn't really complain. Obviously short-lived but that's cool though."
Speaking of if he was shocked to be in the bottom three, Ikenna added: "When I was the first name read out I was like, OK cool, that's my time done. I sort of knew it was my time when I was in the bottom three. I was a bit upset obviously, but still excited to know what it's going to be like on the outside world." He said he was surprised to leave with Amber, as he believed Ekin-Su was "in trouble" in the bottom three.
'I was shocked to be going home'
Amber definitely didn't see her dumping coming, saying she was "shocked" to be leaving the villa, but "excited for the future". She described her Love Island journey as a "bit of a rollercoaster" and added: "I feel like I enjoyed my time in the villa – I was true to myself and I don't have any regrets at all."
"I was shocked about the dumping in general and was shocked to be going home," Amber added. "Ekin-Su has brought a lot of drama and Tasha is definitely a sweetheart. I expected it a little bit when I knew it was between the three of us."
'Indiyah is a really nice girl'
This year saw the public decide the initial couples in the villa, and Ikenna was happy the public coupled him with Indiyah. "I think that was a pretty good start to the Love Island journey," he said. "Indiyah's a really nice girl. That initial couple was pretty good. I feel like they made the right decision." He said he would have stepped forward for Indiyah too, had the decision been his own.
But at the end of his journey, Ikenna was friend-zoned by Indiyah – which he doesn't seem to have minded. "I feel like in the end, it was probably good that we left it like that, as now she won't feel any type of way going about her way in the villa," he said. "I'm happy for her and also intrigued how she'll get on in the villa now. Initially I did want to stay coupled up with her romantically. She was the one who suggested it [being friends]. I thought OK, maybe that is something we should think about. Then in the end that's what happened."
Amber says she and Dami were a good match
When asked how she felt when she found out the public would be making coupling decisions, and she was with Dami, Amber said: "I definitely feel that out of all the guys, it was a good match. With the other guys, it was obvious it was a friendship. With Dami, I was still working out what it could have been between us two. I definitely think I would be interested in him on the outside and if it was my choice at the beginning then I think I would have stepped forward for him."
Ikenna is happy for Dami and Indiyah and think they're a good match
It doesn't look like there's any bad blood between the Islanders here, because Ikenna has said he will happily meet up with everyone after the show. When asked how he feels about Indiyah carrying on in the villa, Ikenna said: "I think her next step is chatting to Dami and exploring that option and seeing where that takes them both. I'm happy for the both of them really. I was pretty close to the both of them.
"They're both my mates. If that works out, that'll be pretty sick to see on TV. 100 per cent [I want to see it play out]. I feel like they have quite similar personalities. I feel like they'll be a good match." He said he would "definitely" spend time with them outside the villa as a couple, as he "doesn't hold grudges like that."
But, Amber still thinks her and Dami could have worked out
Awkward, because Amber still seems to think her and Dami could work out. "Yes I definitely think it could have gone somewhere. I think we're both a bit stubborn and we're both big characters and it was working out whether we could both make compromises on that, or whether we needed to find other people!"
'If I've done wrong then I'm more than happy to apologise'
When asked what she has learned about herself, Amber said: "I've learnt that honesty is such a big thing for me. I am someone that even if my opinion is wrong, I'm going to voice it and have a discussion about it after. If I've done wrong then I'm more than happy to apologise."
What was your favourite challenge?
When speaking of his favourite challenge he did in the Love Island villa, Ikenna said: "The 'Men-chanic' one was really good. That was probably one of my favourite moments actually. That was so hard though! I think all the boys were shitting themselves. I thought I did pretty well! The cocktail one was hilarious as well."
So, who do they think will win?
The big question! Who do Amber and Ikenna think will go on and take the Love Island 2022 crown? Ikenna is backing Luca and Gemma, he said: "Luca's gone above and beyond to sleep in the Dog House when Danica picked him. He genuinely likes her." Amber agreed, and said: "I definitely think Luca and Gemma are a strong couple – I think how he reacted with Danica coming in was great and helped Gemma trust Luca even more. I love them two together. I think the whole villa could see the connection between them before they even got together."
Love Island 2022 continues on ITV2 at 9pm tonight. For all the latest Love Island news and gossip and for the best memes and quizzes, like The Holy Church of Love Island on Facebook. 
Related stories recommended by this writer:
• Re-filming and awkward silences: The behind the scenes secrets of Love Island challenges
• Introducing the jilted exes of the Love Island 2022 cast
• Revealed: Ekin-Su sent savage text messages slating her fellow Islanders