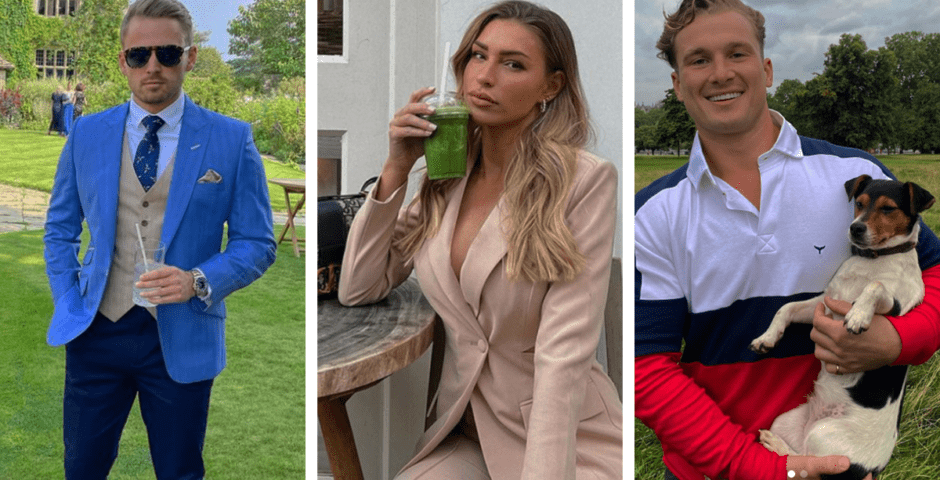 I'm sorry to say it, but these are the most Tory Love Islanders of all time
Find me a Labour voter called Chuggs. I dare you
Every Love Island series has had its very own horse girl and arrogant rich boy who seem to have been chosen from a lineup of Made In Chelsea rejects. Whilst Amber Gill and Amy Hart have asserted themselves as true Labour icons, we've gone through and called out the biggest Tories ever to enter Love Island. From hunting to sexism and defending austerity, these are the most Tory Love Islanders of all time.
Molly Mae
Molly-Mae is such a Tory she inspired this priceless artwork on the side of Fallowfield Sainsbury's calling her "Tory scum".
The graffiti of course came after Molly-Mae insisted on a podcast that "if you want something hard enough, you can achieve it" and that everyone has "the same 24 hours in a day". A very textbook girlboss variation of Thatcherite ideology. 
Some were quick to point out that Molly Mae's £275 per hour salary at Pretty Little Thing is just a tad higher than the £3.50 per hour that garment workers at PLT's parent company, Boohoo are making. 
Ollie Williams
The son of a Viscount and neighbour to Prince Charles and Camilla, Ollie is more than a bit posh.
It's no secret that Tories also love a hunt. Every innocent Felicity or Isabella you see walking through Sloane Square has probably at one point or another snapped a fox's neck. 
It turned out Ollie loved a hunt too, and despite lasting just three days in the villa he caused a huge backlash when pictures of him hunting endangered species emerged. Clearly, some people learned nothing from Cecil the lion.
Charlie Brake
Sometimes it can be a bit difficult to spot a Tory. But other than wearing a Winston Churchill thong, there's not much more Charlie could've done to sound the alarms. 
 The day before the 2019 General Election he tweeted "#fucklabour #VoteConservative". I'm not getting: swing voter. 
Then in 2020 he briefly deleted his Twitter and apologised after appearing to support a statement by Donald Trump. 
Jonny Mitchell
There's a type of Tory that is only found in Clapham and, more specifically, in Infernos on a Saturday night. Personally, I refuse to believe Jonny isn't on a first-name basis with the Infernos bouncers. More importantly, Jonny upset our wholesome and untouchable queen, Camilla Thurlow. 
Before anyone asks, Camilla is clearly a LibDem voter who could be persuaded to vote Labour if a tactical voting site tells her to. She's defo not a Tory. 
Infamously, Jonny told Camilla that he would feel "almost emasculated" if a woman paid on a date and then proceeded to rant about how feminism "believes in almost inequality" and that most feminists "believe in almost a slope towards them, rather than towards men". 
Pure and unembarrassed misogynistic Tory behaviour and exactly the kind of man everyone has had at least one drunk argument with at the SU bar on AU night.
Ellie Jones
Potentially crossing the line from Tory into something much more sinister, Jack Fincham's ex Ellie Jones was found to have liked Facebook posts supporting far-right EDL founder, Tommy Robinson. In one of the relevant videos, Tommy Robinson calls Islam an "infestation".
After this story emerged,  Ellie apologised saying: "I didn't realise how discriminatory he is. I don't want people thinking I'm this hateful person."
Zara McDermott
Ex-civil servant Zara unashamedly calls herself a Conservative and a Brexiteer. In a BBC video she claimed that "people can't keep coming in and using things like the NHS… and then leaving" in reference to immigrants.
Later on, she argued that people on benefits shouldn't be trusted with money but should be given tracked "coupons" instead. 
Defending austerity Zara also said she believed cuts to public services were "necessary".  Zara is Tory through and through and she might shut down your youth centre but she'll do it with a smile. 
Gemma Owen
Gemma undoubtedly has horse girl energy pumping through her veins and there isn't a more Tory sport than her favourite, dressage, which is essentially making horses do a cute dance to Mozart. 
Also, she doesn't like to go on about it too much but her dad is a famous footballer or something. Knowing that it seems unlikely she was doing shifts in the Co-Op when she was finishing her A-Levels.
Chuggs Wallis
Chuggs' name is almost definitely the result of a bizarre rugby initiation rather than his parents. 
From the day he entered the villa Chuggs oozed Tory vibes, topped off by the fact he owns a bucket-hat business, no doubt making a killing off every pinging toff in Bristol. 
Priya Gopaldas
Priya always screamed obnoxious snobby Tory and she didn't let us down by revealing that her celebrity crush is Boris Johnson.
Priya said she loved his blonde hair and called him a "cuddly teddy bear" as most the country tried to swallow down a mouthful of vomit. Priya spread evil throughout her time on the show and now she's even taken those talents to Tory-favourite GB News. 
For more politics and current affairs follow our new channel Agenda on Twitter.
Related stories recommended by this writer:
• Love Island viewers spot huge editing error that shows a moment this year was staged
• More old pictures of Love Island's Ekin-Su have resurfaced and she looks SO different now
• 22-year-old model Remi is the next bombshell entering the Love Island 2022 villa