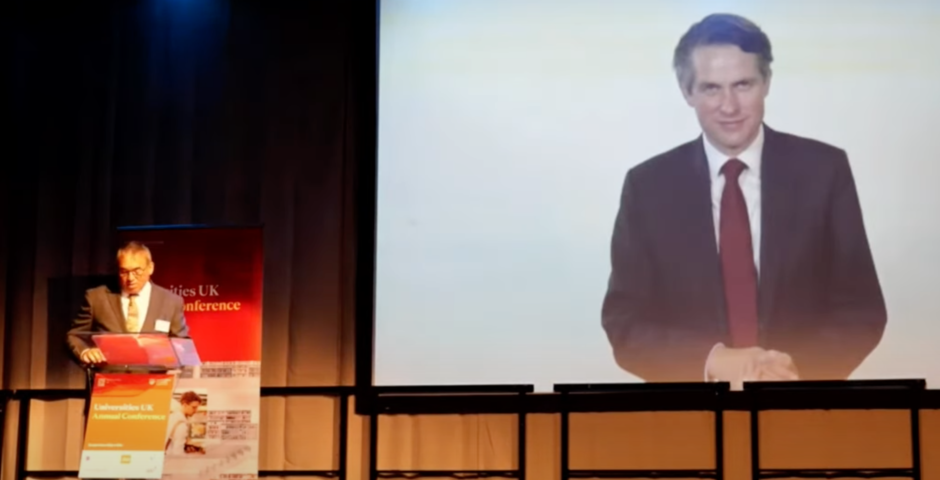 Gavin Williamson video calls uni bosses to tell them they must return to in-person teaching
Gavin Williamson didn't show up in-person to a Universities UK (UUK) meeting today, instead beaming in via videolink to tell the country's Vice Chancellors they should return to in-person teaching.
As the assembly sat obediently craning their necks towards a giant projection of the Education Secretary's face, he told them that students see in-person teaching as one of the most important aspects of university life.
"This is something we cannot ignore," he said. "While the switch to online teaching was a necessary and vital way of keeping young people learning in as safe a way as possible, we have now moved on and students quite rightly expect that they can study in person alongside other students."
Prior to Williamson's speech, incoming head of UUK Steve West told the audience of Vice Chancellors: "To politicians and commentators who have asked: 'Why not have everything back face to face, in person?'
"Well, I respectfully point out that the move to some teaching, learning and assessment online was already happening before Covid-19, because students have been clear in what they wanted and how they interacted with their universities."
Gavin Williamson also told universities they must stop "cancelling national heroes" and instead focus on improving the academic lives of students.
It was only yesterday that the Education Secretary confused two black national heroes, Maro Itoje and Marcus Rashford, before rightfully getting roasted on Twitter.
Related articles recommended by this writer:
• Unis not doing in-person teaching shouldn't charge full fees, says Gavin Williamson
• It's official: Half of all student smokers only smoke when they're drunk
• Nearly 30,000 students have deferred their places at UK universities this year