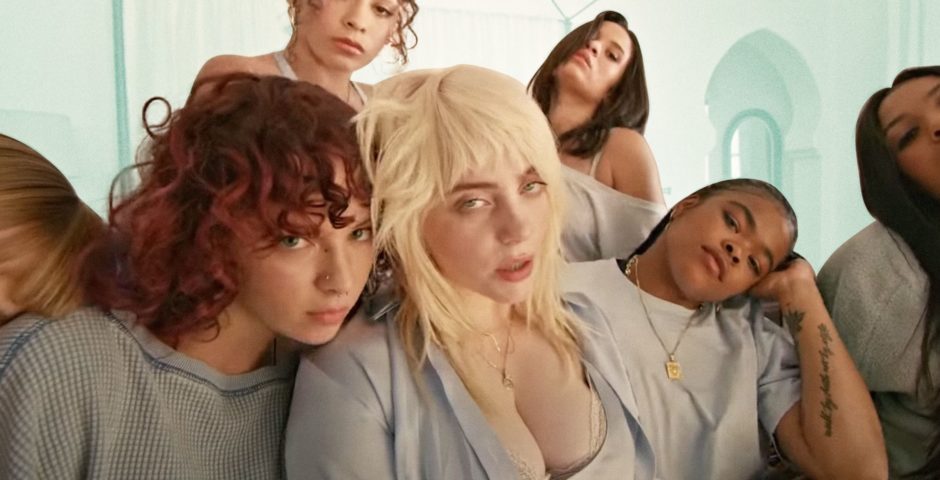 New Music Friday: Everything out today you need to listen to
Rock chicks rise – it's Wolf Alice album day
New Music Friday can be so overwhelming. Where to start? Where to stop? Not everyone's got a spare hour to sift through their Spotify release radar to find their new favourite songs. With that in mind, we've been charitable enough to do it for you. Here's a quick roundup of the 10 best new songs out this New Music Friday and the albums released that are definitely worth a spin:
Jessie Ware – Hot N Heavy
I mean!?!? Are you hearing this!? Thank GOD for Jessie Ware. She just never misses. Apart from that random album that was all acoustic and made her sound like a Littlewoods wearing mum, but we don't speak of that. This is the next cut following Please from the upcoming extended edition of What's Your Pleasure – her highly acclaimed 2020 album. And it's insanely good.
Listen if you love: SG Lewis and Dua Lipa
Billie Eilish – Lost Cause
Billie's second album is creeping closer and I'm salivating for it. This is a funkier cut following the acoustic, stripped back vibes of Your Power and the video is so fun with her hanging out with the girlies. Blonde hair Billie feels so powerful and she seems so at ease and confident – it's paying off in the music.
Listen if you love: Jorja Smith chill vibes
Bimini – God Save This Queen
It's so funny to me that this got its first debut on Radio 2 yesterday. Bet the listeners didn't know what they were in for when HRH Bimini Bon Boulash belted out this punk explosion on a Thursday morning. The song really comes alive when you watch it with the video – Bimini spends the four minutes proving exactly why they're the drag sensation that's taken the industry by storm.
Listen if you love: Sex Pistols, music that sounds like it should be on a Playstation 2 Tony Hawk game your big brother would never let you play on
King Princess – House Burn Down
There aren't many artists cooler and more consistent right now than King Princess. She has her craft on lock. Since her big breakthrough with 2018's Pussy Is God, Mikaela Mullaney Strauss has dropped banger after banger and House Burn Down is everything you'd want it to be. A little bit rock, a little bit electronic.
Listen if you love: Christine and the Queens
Remi Wolf – Liz
Remi Wolf has really been establishing herself as one of the most exciting new artists about over the last 12 months, and Liz is the latest in a steady line of great singles. Remi has been performing the song live for a while, and is giving it a proper release this New Music Friday as a thanks to the fans who've been supporting it for a while. Her style of funky soul pop is just heaven on earth when the weather's this good.
Listen if you love: SZA
Tinashe – Pasadena
Since Tinashe abandoned ship with her major label and took her career into her own hands, the results have been off the scale. Her 2019 self released Songs For You was one of the last great albums of the decade, and really signified an artist being reborn in her own image. Pasadena is an amazing start to a new era – exciting and bouncy production and a lazily infectious vocal delivery. Big banger.
Listen if you love: Slinky and well produced pop that makes you want to be in a sweaty club on holiday
CHVRCHES – How Not To Drown
CHVRCHES are coming with their new era, and this second single from it is shaping the album up as a potential best of the year. They never really let their foot off the electronica gas, but this new cut leans into their rockier sound. There's something so great about hearing Lauren Mayberry's Glasgow accent coming through on the vocals when she sings that never gets old.
Listen if you love: Robyn
Rae Morris and Soph Aspin – Fish N Chips
Two queens of Blackpool on opposite ends of the music spectrum coming together for this seaside ode to the British equivalent of Vegas? Unexpected but iconic. Rae Morris is probably the most underrated British artist of the last few years and Soph Aspin is this cursed island's answer to Nicki Minaj as far as I'm concerned.
Listen if you love: Lily Allen
joan – don't say you love me
Nobody's really writing pop hooks as instantly irresistible and funky as joan right now, and this New Music Friday they're back with this funky little toetapper that blends their 00s nostalgia sound with a bit of a 1975-esque songwriting.
Listen if you love: The 1975 and Here (In Your Arms) by Hellogoodbye
Cynthia Erivo – The Good
Cynthia Erivo has been making her name in theatre and film for a while now, and has racked up Tony awards and Grammys alike. She has, without a doubt, one of the best voices in music today. Her vocals are so rich and versatile, she's just an incredible performer and her foray into pop is as great as it was always going to be.
Listen if you love: Jasmine Sullivan
Album of the week
Wolf Alice – Blue Weekend
One listen of Wolf Alice's third album and you know already that it's their best. It's phenomenal. The songwriting is so rich, Ellie Rowsell's vocals so yearning. One of the most exciting releases of the year so far. The tracks feel bombastic and thrilling. It veers from acoustic to baroque to hard rock with frightening ease. It's sublime.
Standout tracks: Delicious Things, Smile, How Can I Make It Ok?, The Last Man On Earth
Recommended stories by this writer:
• Take this quiz and we'll tell you what iconic British girl band you belong in
• Your big uni night out, as told by Olivia Rodrigo Sour lyrics
• We asked people who became Swifties in lockdown what it was that converted them