All the drama that's gone down with the Selling Sunset girls since season three
Netflix just announced two more seasons, which will include all this GOSSIP
Netflix has just confirmed that Selling Sunset will be coming back for a season four and five – and let's get straight to the point, there's been a lot of gossip since the last episodes aired.
You didn't seriously think The Oppenheim Group girls were quiet between filming did you? Try new partners, weddings, babies, break-ups and fights for size. Yep, they've had them all.
Here's a rundown of all the Selling Sunset gossip you need to know ahead of season four and five. Strap in, it's going to be a bumpy ride!
Christine is pregnant!
Obviously the biggest news heading into the new seasons is that Christine Quinn is expecting her first child with husband Christian. Last month she told People Magazine: "We happily can share the news that we are going to be parents! I'm a firm believer in manifesting my dreams and 'til this day, have always done so. This beautiful pregnancy was manifested. We knew that we wanted to create a family in 2021 and I envisioned myself pregnant as I did my daily meditations. We are so grateful to be expecting our first child. I'm so ready for what this next chapter holds and cannot wait to be a mom!"
It was reported that the pregnancy is going to be a major storyline in Selling Sunset season four.
It looks like there's some bad blood with Christine and the other girls, again
Off the back of her pregnancy news, Christine made it very clear that there is friction between her and some of the other realtors. Christine savagely posted a video seemingly exposing Mary, Chrishell and Heather for not liking her Instagram post of the photoshoot with her baby bump. "Loyal" by Chris Brown (just as he sings "these hoes ain't loyal", obvs) was playing in the background.
In an interview, Mary told Distractify that her, Amanza, Chrishell and Heather are really close, saying she has "gravitated towards them, and we've become much closer since season three ended." However she made it clear she's not on as good terms with Christine. In regards to not liking her baby reveal news on Instagram, she said she had called and sent a voice note to Christine to congratulate her. She added that her and the others physically couldn't like the reveal post, because Christine has blocked them.
She added: "I believe she has all three of us blocked anyway. I don't really look at other people's Instagrams that much unless I have down time. I'm very busy, and it's hard enough posting on my own.  She likes to stir up trouble. I'm not going to fall into her 'I don't like your pictures' [narrative]. We're blocked from her."
Chrishell got a new boyfriend… and then broke up with him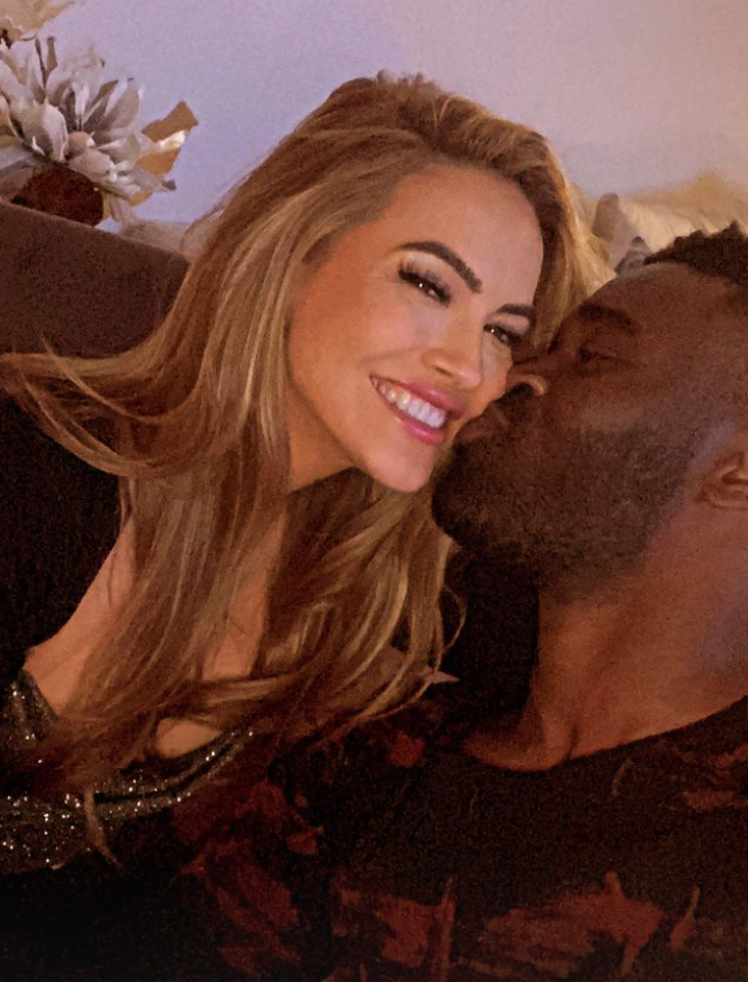 In December, Chrishell made all of our hearts full when she went Insta official with new boyfriend, Dancing With The Stars dancer, Keo Motsepe. It looked like it was going well, with them meeting each other's families and posting loads of cute pictures together, but come February it was all over.
According to E News, a source close to Keo said he and Chrishell decided to go their separate ways but multiple insiders confirmed they remain friends. A second source close to Chrishell said: "It wasn't a messy breakup, just wasn't the right fit or right timing." They've both deleted all pictures together from their social media profiles.
Chrishell also finalised her divorce
One of the biggest storylines in Selling Sunset season three was the shock divorce between Chrishell and her husband Justin Hartley. In the teaser for the third season, it was revealed that Justin filed for divorce from Chrishell – citing "irreconcilable differences". In the series she added that she found out about her own divorce via text.
Just over a year after it was filed, the divorce has been finalised. According to People Magazine, all the documents were signed off by a judge on February 8th. The couple got married in October 2017, exactly four years to the day that they met. But two years after getting married, Justin called the marriage off.
There's a new Oppenheim office now too!
Big news! Since season three The Oppenheim Group has expanded and now has an office in Orange County too. Jason is said to have hand-picked Heather to head up the new brokerage, which is approximately an hour south of the Sunset Boulevard office seen on the show.
He said: "Heather is going to be working out of that office and my best friend is going to be managing the office. The office that we're looking at is insane. I mean, it's insane. So hopefully I'll be signing the lease soon."
The new office is in the Newport Beach area, which is where Heather lives with her fiancé. Mary's husband Romain is said to be working on renovating the office space.
Heather has been planning her wedding
Just one look at Heather's Instagram and you can see she's in full-blown wedding mode. Her and TV star Tarek El Moussa announced they were engaged in July 2020, after he popped the question when they were on a boat trip to celebrate their one year anniversary.
Now, Heather just posts loved up pictures of them together and loads of pics of her out shopping for dresses. She posted a picture of her out with Chrishell and Mary as they looked at dresses together.
New agents could be joining Selling Sunset season four
It's no secret there are other agents at The Oppenheim Group who are not Selling Sunset cast members. But, in an interview, Mary Fitzgerald said that this might soon change. She said: "We do have a couple of new agents. There's a chance… we keep trying to tell production and Netflix that we want a couple of the other girls on the show because they're really good friends of ours. They work for The Oppenheim Group and they're very successful, so I think it would be good to have some new faces. But I don't know what they're going to choose."
Davina and Brett left The Oppenheim Group
Last year, Davina announced she was leaving the group and joining rival Douglas Elliman in Beverly Hills. She claims the move was "purely a business decision" and the new job was an offer she couldn't refuse. Apparently there is no bad blood between her and Jason, and she is even hopeful that she will remain in the cast. So, we might not be seeing the back of her just yet.
Brett Oppenheim also left the group too. After season three, Jason Oppenheim confirmed to the Tab that his brother was no longer working with him, adding: "It's complicated but I think we will address that in upcoming seasons. I will say though, that we are extremely close and there are no issues in our personal relationship."
And no, Davina didn't manage to sell the $75million listing
In case you're wondering, the $75million dollar listing is still up on The Oppenheim Group website. So no, Davina didn't sell it before she left. The price hasn't been dropped on it either, so she obviously stuck to her guns over it. The real question is, who will be looking after it now?
So, it's pretty safe to say there's a lot of drama and gossip ahead of season four and five of Selling Sunset. Can we have it now please? 👀
Release dates for season four and five of Selling Sunset have not yet been announced. To be the first to know, and for all the latest Netflix news, drops, quizzes and memes like The Holy Church of Netflix on Facebook. 
Related stories recommended by this writer:
• There's a new version of Selling Sunset coming to Netflix with an all-black female cast
• Quiz: Stage a house and we'll tell you how successful you'd be as a real estate agent
• Meet the experts in new Netflix reality show Marriage or Mortgage