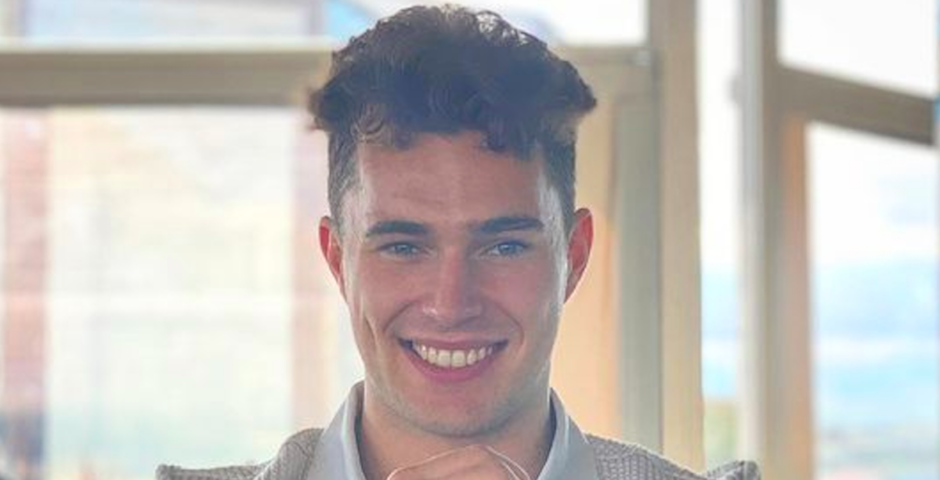 Curtis is being called out for sexist 'comedy' which compares Love Island girls to dogs
'Likening women to used cars and dogs isn't comedy, it's disgusting'
Love Island's Curtis Pritchard is being called out for his sexist new "comedy" show, with people online calling it "disgusting" and "misogynistic".
In it, he reportedly compares Love Island girls to used second-hand cars and dogs (or "bitches") on heat.
Curtis is part of new Channel 4 show Stand Up And Deliver, airing next week, in which he and four other celebrities attempt to become stand up comedians.
In his stand up "comedy" routine, The Sun reports Curtis tells a story about how he worked in a kennel and it was the perfect preparation for Love Island. He says the girls coming back from Casa Amor were like "dogs marking their territory".
Curtis says: "Looking back now it reminds me of Love Island because when the dogs are in season they go crazy, there was bitches running around left, right and centre. They were trying to ride each other non-stop, it was wild."
He also compares the Love Island girls to second hand cars: "You've got all these different shapes and sizes in front of you, take it for a spin, take it for a test drive and if you don't like it, you send it back."
Curtis and Maura got together during their series of Love Island, and announced their split in March last year. They had quite a messy break up, to say the least.
Curtis reportedly also says he likes to drink a smooth whisky, because it's "trusting, the flavour will never cheat on you… unlike my ex-girlfriend".
Curtis told The Sun: "Comedy's meant to be edgy, pushing the boundaries and at the end of the day, it's meant to be just good fun and enjoyment for everyone that's going to listen."
Well Curtis, I have news for you: There's a big, big difference between "edgy" comedy and objectifying women, talking about them in derogatory ways, and using misogynistic language comparing them to "bitches".
The comments are, obviously, gross, and have been met with online backlash.
Upskirting activist Gina Martin tweeted Curtis, saying: "The jokes you think are 'boundary pushing' and 'edgy' actually are the exact same things that your sexist grandad says at the dinner table and everyone groans.
"Nice way to normalise the objectification of women to a prime time audience. Do better."
One said: "Curtis Pritchard makes my skin crawl." Other people on Twitter are calling the routine "misogynistic", "bitter" and "disgusting", saying "Calling women objects is incredibly degrading".
Another said: "Likening women to used cars and 'dogs' isn't comedy, it's disgusting. Curtis Pritchard is trying to use 'edgy' comedy to hide the fact he has ZERO respect for women."
The Tab has contacted Curtis' representatives for comment. 
For all the latest Love Island news, memes and gossip like The Holy Church of Love Island on Facebook.
Related stories recommended by this writer:
• All hail Maura Higgins, the nation's new feminist queen
• Prove yourself to The United Kingdolls and get full marks in this UK Hun? lyrics quiz
• Quiz: What type of influencer would you be?
Featured image via Instagram @curtispritchard12