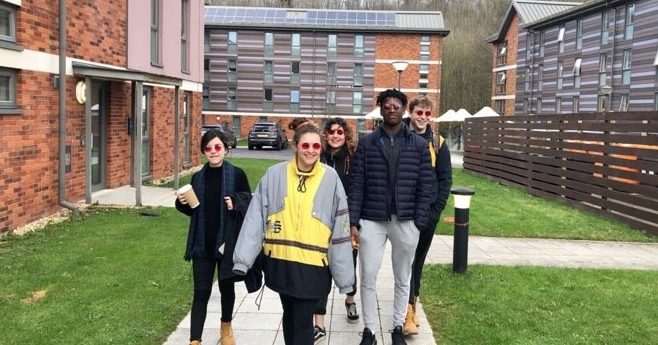 These are officially the most expensive uni halls in the country
Thought your uni halls were expensive at £134 a week for blue carpet, no communal sofa, and a damp en suite? Well, we've compiled a list of the most expensive undergraduate rooms at Russell Group universities to make you feel a bit better about your pricey little box room. People in these accommodations still spent their entire loan (and some) on halls, and most of them still ain't too pretty. Some, however, are a level of luxury you could only dream of reaching as a poor fresher.
So, take a look at how your uni halls compare to the 15 most expensive standard rooms in the UK, from spenny to even more spenny.
15. Hulme Hall – Uni of Manchester
Hulme Hall is a shared bathroom, catered accommodation. It comprises of seven blocks, the oldest of which was built in 1907. Apparently the halls has a squash court, gym, five-a-side football and tennis courts, as well as pool and snooker tables. It sounds an absolute dream for all the posh kids out there, and the nicest room will only set Daddy back £176 a week.
14. Wolfson Hall – Uni of Glasgow
For the bargain price of £183.75 a week, you can stay at the catered Wolfson Hall. Whilst you may be a 45 minute trek from campus, your payment includes bed linen, internet access, and a bus pass worth £350. What's not to love?
13. James College – Uni of York
James is known as the sporty college and houses the union cocktail bar, so it already reeks of posh. You'll be sharing a kitchen with nine to 18 students, but you can get your own bathroom or an extra cost. For an en suite room in this catered halls, you'll have to pay £196 a week. For a 40-week contract, that's £7,840, which means your maintenance loan is gone before you can say "Espresso Martini" to the cocktail waitress.
12. Aspire Point – Queen Mary's, London
£196.28 isn't too bad for London uni halls, especially for a large en suite room with an "uninterrupted view". If you opt for their room with a restricted view, you can expect to pay £174 a week. That's £1,135 more a year for a London skyline and a few more square metres to watch Netflix in.
11. Elgar Court – Uni of Birmingham
There are 40 flats and a total of 236 students living in Elgar Court. It is a "Meal Plan" halls, which sounds like catered accommodation but for posh people. All the rooms are en suite, but at £197 a week (£8,255 for a 42-week contract), they're still not anywhere near the height of luxury. With their grey colour scheme and bleached wood furniture, they still retain the prison-like character of halls that we know and love.
10. Bluebell – Warwick
Sounds like a suburban housing development, looks like a Mariott hotel, and costs £198 a week. It's actually pretty nice for uni accommodation, with white walls, big windows, and even bed linen provided. But it still feels pretty steep for self catered accommodation, even if it is on campus. Better stick with your blue carpeted halls.
9. Wessex Lane – Southampton
Apparently Wessex Lane has a "traditional student village feel" but for their nicest catered en suite room, suddenly it doesn't feel so wholesome. The fact Soton students pay £201.04 a week for this ugly accommodation makes me feel a little better about my butters box room.
8. John Burnett House – Edinburgh
Part of the infamous Pollock Halls, John Burnett House is a catered accommodation with a lovely view of Arthur's seat. It will cost Daddy £10,702 for a bigger en suite room, which works out at £205.81 a week. The exterior doesn't look too bad, but with orange striped carpets and clashing yellow walls, the interior is possibly the most disgusting halls decor I've ever seen.
7. Churchill Hall – Uni of Bristol
If you want a catered en suite room in this halls, it'll cost you £211.50 or £216.50 a week. The halls is based at Bristol's North Residential Village, which houses over 2000 students and is a two-mile journey from campus. Apparently there's a hall bar and a music practice room, which is the most pompous thing we've ever heard. All rooms are singles or small doubles, though, so no serenading anyone to your flat with the flute skills you've been practicing downstairs.
6. Jubilee Hall – Uni of Nottingham
A deluxe en suite room in this Jubilee campus hall is going to cost you £226.40 a week (£8,830.10 a year). Obscenely pricey, although the halls are catered, and the Notts website boasts that they have four whole plug sockets each. What a treat. The other rooms on the Jubilee campus are a little more affordable, but the nicest spots to rent are easily some of the most expensive Russell Group uni rooms outside of London.
5. Holland Hall – Exeter
The best room in Holland Hall is £8,490.82, which sounds cheap until you realise the contract is only 32 weeks long. You can live in this catered halls for £253 a week unless you want a "room with a view", in which case it'll cost £265. That's another £384 a year. For a view. But this halls does have a roof terrace next to the dining room, so I'm sold.
4. College Hall – London School of Economics
With only 46 spaces available, College hall feels pretty exclusive merely due to it's price of £279.58 for a single bed with an en suite. A double bed will cost you another 50 quid a week, which is very sad news for anyone who loves to starfish. The halls is pretty old fashioned inside, but its location justifies the extortionately high rent. One student said it had a "dynamic environment and a lot of leisure facilities", and it is located 1.2km from campus, but I'm not sure that makes up for the £12,998.61 fee for a 40 week contract.
3. Astor College – University College London
Astor College is a newly refurbished, self-catered hall, 10 minutes from the university. All rooms are finished to a nice, modern standard and look much better than the mouldy Magnolia walls in your uni room. A large single room (that you can actually move around in) with an en suite will set you back £289 a week, but they also offer non-en suite rooms under 9-metres-squared for £182.21.
2. Eastside Halls – Imperial College London
For a bed in a premier en suite room, it'll cost you £302 a week at Eastside Halls. Located near the South Kensington Campus, it definitely doesn't have trashy uni hall vibes. The kitchens are modern, shiny, and white, and the bedrooms look like a fancy hotel. You can take a virtual tour of the halls here to see the suave membership-only bar and restaurant on the ground floor and their excellent array of houseplants.
1. Moonraker Point – King's College London
Nobody's surprised that a London uni halls took the top spot, but we're still outraged that £329 a week will get you a mere 12 square foot single bed room in this self-catered halls. If you want a slightly larger room, it's going to cost you an extra tenner a week. The rooms may be beautifully finished, and located a 10 minute walk from Borough market and Shakespeare's Globe, but 51 weeks of living there is going to set you back £17,289. Moonraker Point also offers studios for £20,910 a year. Ouch.
Related stories recommended by this writer:
• These are officially the best uni halls in the country
• It's official: These are the poshest uni halls in the country
• It's official: These are the country's most ridiculously expensive private schools