Who owns Nest Seekers? The real estate brokerage in Million Dollar Beach House
He's a multimillionaire, of course
This week, Netflix has released a new reality TV show, Million Dollar Beach House. The series follows five real estate agents who work for Nest Seekers, selling luxury and mega expensive homes in the Hamptons. The show has been compared a lot to Selling Sunset and The Oppenheim Group – owned by Jason and Brett Oppenheim. But who is it that owns Nest Seekers?
The millionaire entrepreneur who owns Nest Seekers may not have an on-screen role on the show, but he is very much involved in it. Here's everything you need to know about him, and how the Hamptons office works.
Nest Seekers is an international real estate brokerage
Nest Seekers International is a full-service residential and commercial brokerage firm. It has offices worldwide and is a very respected brand, with their agents often doing guest commentary on TV and in magazines. Million Dollar Beach House on Netflix isn't the first time the company has appeared on a reality TV show, agents have previously been on Million Dollar Listing: New York. Peggy from the Hamptons office appeared on both shows.
Who owns Nest Seekers International?
Eddie Shapiro is the millionaire who owns Nest Seekers International. He founded the firm in 2001 and has now grown it to consist of 25 offices all over the world, with over 1,000 agents working for him. Eddie Shapiro continues to lead the firm, serving as CEO and President. 
Shapiro began his career in the early 90s as an agent at a small firm in midtown Manhattan. He then went on to be a self-made millionaire and entrepreneur, working in construction, development, investment and marketing.
Now, Eddie Shapiro is in his mid-40s and has a wife and three children. He has a net worth of around $25million, which is set to increase highly if Nest Seekers continues to appear in TV shows. Eddie Shapiro may not featured on screen during Million Dollar Beach House, but the collaboration with him and Netflix had him working as an executive producer on the show. Eddie also founded Nest Media, which is the company he collaborates with platforms such as Netflix under.
Jimmy heads up the Hamptons office which is in Million Dollar Beach House
If you're wondering why James 'Jimmy' Giugliano seems to stay out of all the agent's drama, that's because he is the boss of the Hamptons Nest Seekers office. JB, Michael, Noel and Peggy all work under him day to day.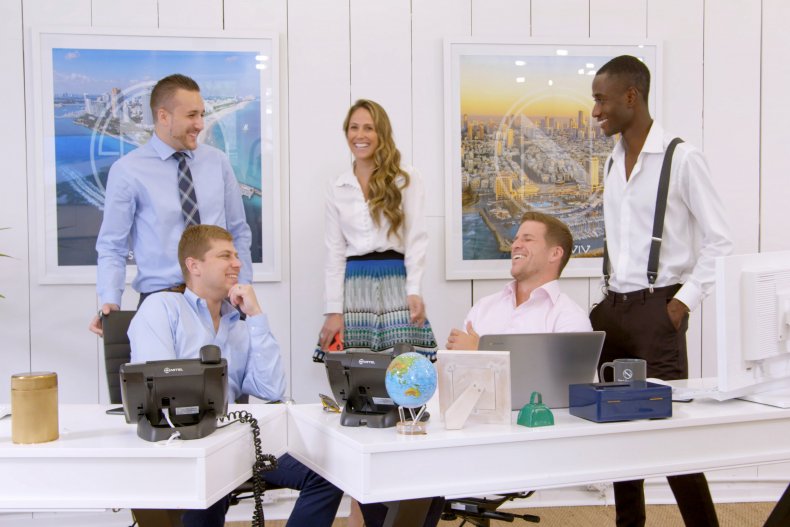 Aside from the five brokers on Million Dollar Beach House, the Hamptons office of Nest Seekers has tonnes more employees. 126 people are listed as Hampton based employees on the company website, from more brokers and sales associates to marketing assistants.
Million Dollar Beach House is available on Netflix now. For all the latest Netflix news, drops and memes like The Holy Church of Netflix on Facebook. 
Related stories recommended by this writer:
• Million Dollar Beach House on Netflix is being called 'racist' by viewers
• This is how old the cast of Million Dollar Beach House on Netflix are
• Meet the cast of new Netflix reality show Million Dollar Beach House