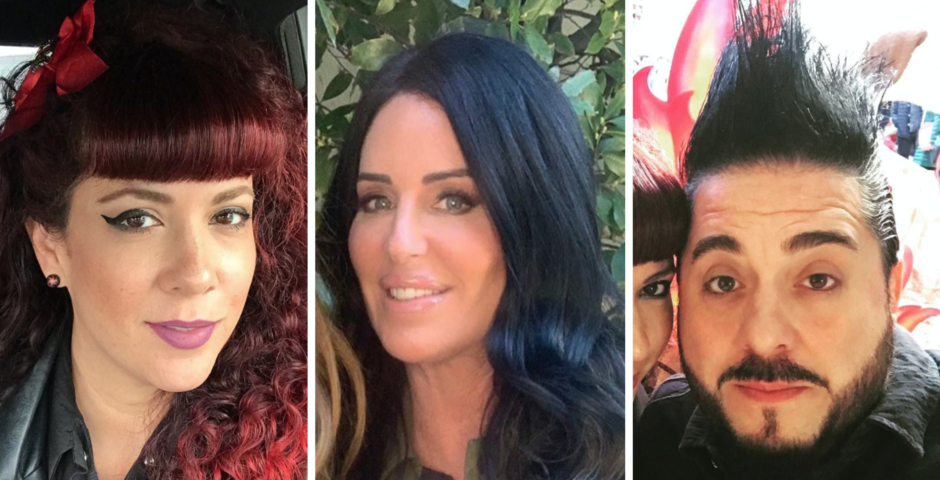 What are the love experts from Millionaire Matchmaker up to now?
If you're not familiar with Millionaire Matchmaker, it was a show of incredible stupidity. Fronted by hot-headed and straight-talking love expert Patti Stanger and her various assistants that came and went, she ran a professional matchmaking service called The Millionaire's Club, for rich idiots to find other rich idiots and, holy shit, it made some amazing television. Patti would always say she was extremely successful – I swear I even heard her say 99 per cent success rate at one point – but it never really worked out did it?
Anyway, a lot of time has passed since Millionaire Matchmaker was on our screens, and a lot of singles walked through those doors, which makes you wonder what exactly Patti and her staff are up to nowadays? As it turns out, they're all still in the love game in one way or another.
Patti Stanger
The leader of love Patti Stanger was known for her opinionated and often controversial takes on finding the perfect partner for her clients. Pretty sure it wouldn't fly nowadays with the way she absolutely rinsed people for the way they looked and dressed, probably undoing a whole bunch of self-confidence in the process to feed her own ego.
After the show ended in 2015, Patti started presenting a new show called Million Dollar Matchmaker, which was essentially a rehashed version of the show we all know and love. Unfortunately, it lasted just two seasons.
Then, as if she wasn't clinging onto the whole matchmaker thing, Patti announced that she is working on a new series of films called the Matchmaker Mysteries, with the first two films "A Killer Engagement" and "A Fatal Romance" being released already. Net worth websites put her value at anything from four million to six million dollars for her various pursuits.
Other than that, she courted controversy in 2011 for saying: "In the gay world, it will always be open. There is no curbing the gay man." Then she turned to the presenter of the show who is gay and said: "I have tried to curb 'you people.'" She went on to apologise, telling TMZ: "I am so sorry. I did not mean to offend anyone with my comments last night."
Destin Pfaf
Destin was one of the people that started out as a lowly assistant at the agency, before being given a promotion to a more important position, sitting by Patti's side with his wife Rachel.
Since the show, Destin has started a new matchmaking venture with his wife called Love and Matchmaking. According to Iowa State Daily: "When Destin and Rachel were on Millionaire Matchmaker, one of the golden rules that their boss, Patti, always enforced on clients was, "no sex before monogamy." Now that they own their own business, Destin and Rachel say that that motto is no longer their number one rule."
Their website shows a huge form to be filled out if you want to use their services, and it shows that they also offer date and relationship coaching.
Rachel Federoff
Rachel is the wife of Destin and shares two sons with him. She co-runs their agency, and as you can see from above, not a lot seems to have changed with them.
Her social media is full of inspirational photos about love and relationships, and they seem to be pretty happy on the whole. Not a lot to update on that front!
Chelsea Autumn
After three seasons with the cast of The Millionaire Matchmaker, Chelsea parted ways with the show in 2009. She then decided to go to college and is now a fully qualified relationship coach.
According to Bravo: "Upon leaving to pursue other endeavors (which would include her own matchmaking service), Chelsea had to cut ties with Patti and the crew. And she hasn't spoken to Patti, Destin, or Rachel since." She also told them that she thought Patti was angry, saying: "Oh yeah, I'm sure [she was mad]. I don't really know. I didn't really speak with her. I'm sure, I mean I understand I completely understand why."
Chelsea is currently single.
Mara Marini
If you don't remember Mara Marini, she worked as an intern at the agency between seasons five and six, and it certainly looks like things have changed since!
Oh lawd has she glowed tf up. Since appearing on The Millionaire Matchmaker, Mara went on to become an actual actress and has appeared in some pretty impressive stuff like Parks and Recreation and Schitt's Creek. Plus she's totally raking that Instagram influencer coin in.
Related stories recommended by this writer:
• The biggest differences between pulling in the UK and pulling in the USA
• The black women of British reality TV who honestly deserved better
• We are all emotionally aligned to one chaotic reality TV queen, but which are you?