This is everything you need to be watching on Netflix this bank holiday weekend
Here are your plans sorted
If you weren't already aware, this weekend is a bank holiday. Which means one thing and one thing only – that's one extra day to stay in and watch Netflix all day.
So here's a succinct list of what you should be watching on Netflix right now, including all the newest releases and most popular shows and films worldwide. From comedies to crime films, your extra-long weekend plans are covered.
Dead To Me
After a year of waiting Dead To Me season two is finally here. It's time to welcome Jen and Judy back with open arms and get hooked on their slightly messed up lives and strange AF relationship all over again.
Season one introduced us to Jen and Judy. Jen is a recently widowed real estate agent and decides to go to a grief support group to help her deal with the loss of her husband. She meets Judy there and the pair soon hit it off and become besties. Then all the lies start untangling.
Season two of Dead To Me is available on Netflix from Friday. Here's a recap on season one, which you probably need, and if you haven't watched season one yet, now is the perfect time to.
Too Hot To Handle Extra Hot: The Reunion
The Hot To Handle reunion show is being released on Netflix on Friday. So after binge watching the whole series in a matter of days, we can finally catch up with everything that has happened to the cast.
On Twitter, Netflix said: "Can you handle this? A Too Hot To Handle reunion episode premieres this Friday and features brand-new joint cast interviews conducted by our beloved narrator, Desiree Burch! Oh, and Harry does this…" Yes, it actually looks as though Harry pulls out a ring?
It's been over a year since they all headed off for the four-week retreat in Mexico, so there will be a lot to catch up on. We need all the tea about Harry and Francesca breaking up and then getting back together, Rhonda and Sharron breaking up and the shocking revelation that Nicole and Bryce are now seeing each other?!
Becoming
Earlier this week, Netflix announced it will be releasing a documentary film about the life of Michelle Obama called "Becoming". The documentary is available to watch now.
The show promises a never-before-seen, intimate look into the life of the former First Lady and how her life changed during her time in the White House. It is named after Michelle Obama's best selling memoir and follows her on the 34-city tour she did of the US promoting the book from 2018-2019.
Netflix has said that the film, directed by Nadia Hallgren, will highlight "the power of community to bridge our divides and the spirit of connection that comes when we openly and honestly share our stories". Announcing the documentary on her Twitter account, Michelle Obama said the show will share stories of the "amazing" people she met on the book tour and she hopes it will bring "inspiration and joy" at the current time.
Hollywood
Netflix's new Ryan Murphy miniseries, Hollywood, has got everyone talking. The reviews are all over the place and so is the blend of fact and fiction in the seven-episode show. It's basically all about a bunch of wannabe actors trying to make it big in L.A in the 1940s.
The Verge describes the show by saying: "Just about every core cast member we're introduced to — writer Archie Coleman (Jeremy Pope), director Raymond Ainsley (Darren Criss), actress Camille Washington (Laura Harrier), among others — are from marginalised backgrounds. They're gay, women, not white, or some combination of the three. They are, by design, people who would have never, ever stood a chance in Old Hollywood, at least not without finding some way to pass. This is the first aim of the show: a rewrite of the well-worn dream-big story, but one starring people who weren't allowed to be a part of it, and one where they win."
The Netflix synopsis says: "In post-World War II Hollywood, an ambitious group of aspiring actors and filmmakers will do almost anything to make their showbiz dreams come true."
Workin' Moms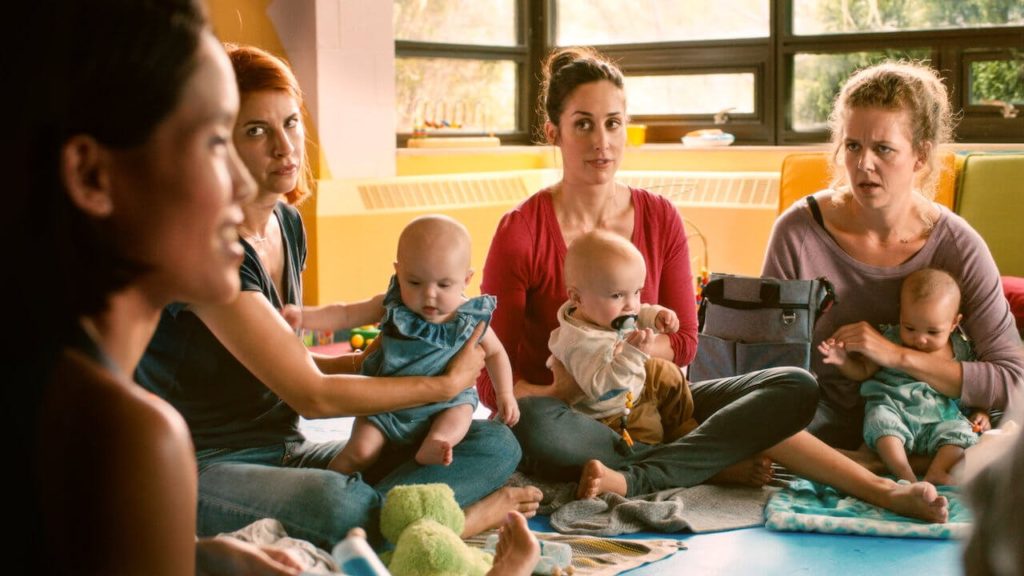 Season four of Netflix sitcom Workin' Moms has just dropped- and what's more perfect than a bank holiday weekend to binge watch it all or catch up on all four seasons if you've never watched it?
The official synopsis for the show reads: "Warm, loyal PR executive Kate and her longtime friend, no-nonsense psychiatrist Anne, attend a judgmental mommies' group, where they meet timid IT tech Jenny and blindly optimistic real estate agent Frankie. The four quickly form an unlikely friendship, sharing struggles of urban motherhood filled with the chaos of toddlers, tantrums, careers, and identity crises, all while trying to achieve the holy grail: a sense of self. The ensemble comedy is largely drawn from the personal experiences of star/co-creator Catherine Reitman." 
RuPaul's Secret Celebrity Drag Race
In RuPaul's Secret Celebrity Drag Race, celebs open their hearts to the transformative power of drag and compete in iconic Drag Race challenges – with a little help from former contestants. The show promises a star-studded line up of surprise celebrities as well as some of the show's most iconic queens returning to our screens.
The show was first aired on VH1 in the US, but each episode is being added week by week to Netflix for worldwide viewers. So far there are two hour-long episodes available.
The Stranger / Safe
The Stranger and Safe are both Netflix Original series adapted from books by Harlan Coben. It's just been announced that the next of his novels to be adapted into a series is The Woods and it's going to be released on Netflix next month. So with a month to go, that makes now the perfect time to binge watch his two other series if you haven't already.
The Stranger begins by introducing us to the Price family.  The father, Adam Price, is a lawyer and the family have a big house, perfect garden and seemingly perfect life too. Adam's wife Corrine is a popular teacher at the local school and they have two children, Thomas and Ryan. But their cosy life is turned upside down when 'The Stranger' (Hannah John-Kamen) approaches Adam in a bar and says his wife had faked her pregnancy, adding: "If I were you I'd run DNA checks on your two boys."
Without any spoilers, The Stranger knows a lot more things about a lot more people. There are other plots going on alongside this, and the show is full of twists and turns. It was described as "crazy", "gruesome" and people couldn't turn it off.
Safe has equally as rave reviews. Safe is all about a guy whose daughter goes missing in their seemingly "safe" gated community. He soon finds out his neighbours are hiding lots and that his daughter had got caught up in a huge web of secrets. It was described as "top tier", and an "emotional rollercoaster".
All Day and A Night
New Netflix film, All Day and A Night, is available worldwide and is in the top 10 watch list in the US right now. It's all about a man who ends up serving time in the same prison as his father.
We are first introduced to Jahkor as he is breaking into the house of a couple before shooting them both dead in front of their young daughter. The film them splits into three timelines – Jahkor as a child, his criminal activities and then him in prison.
The Netflix synopsis for the two hour film says: "While serving life in prison, a young man looks back at the people, the circumstances and the system that set him on the path toward his crime."
For all the latest Netflix news, drops and memes like The Holy Church of Netflix on Facebook. 
Related stories recommended by this writer:
• Here's what you need to watch on Netflix right now, according to what's most popular
• Take this quiz to find out how addicted to Netflix you've really become in lockdown
• These are the 26 best sports documentaries on Netflix right now