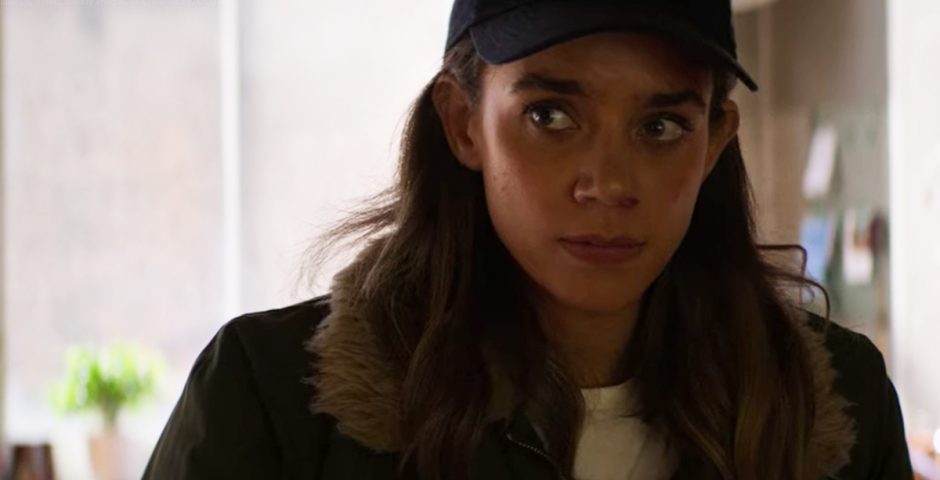 Netflix's The Stranger is 'crazy', 'gruesome' and people can't turn it off
It's being called 'anxiety-inducing'
This week, Netflix released a new psychological, murder-mystery thriller. It's called The Stranger and the reviews of it are all pointing at it being the next what on earth is going on?! binging obsession.
The lead character, 'The Stranger', has already been called a female Joe Goldberg, and the eight-episode British-produced conspiracy thriller is based on the bestselling 2015 book by Harlan Coben.
What is The Stranger on Netflix about?
The Stranger begins by introducing us to the Price family.  The father, Adam Price, is a lawyer and the family have a big house, perfect garden and seemingly perfect life too. Adam's wife Corrine is a popular teacher at the local school and they have two children, Thomas and Ryan. But their cosy life is turned upside down when 'The Stranger' (Hannah John-Kamen) approaches Adam in a bar and says his wife had faked her pregnancy, adding: "If I were you I'd run DNA checks on your two boys."
Without any spoilers, The Stranger knows a lot more things about a lot more people. There are other plots going on alongside this, and the show is full of twists and turns.
What do reviews of The Stranger say?
The reviews of The Stranger on Netflix prove this show has got people feeling all kinds of ways. The Independent said it is "macabre and gruesome – but it's also funny", adding "it almost defies you to switch off".
Salon.com describes the series as "compelling", "crazy" and "harrowing". Its review says The Stranger "is an anxiety-inducing thriller that asks how well you know your loved ones".
The end of each episode has a classic Netflix-style cliffhanger, which will leave you thinking 'what the hell is going to happen next?!' And Twitter echoes that. One person said "I can't stop watching The Stranger. I think I'm going to finish it all in one sitting". Another said they'd watched it all at once and added the show is "crazy".
I can't stop watching #TheStranger. I think I'm going to finish it all in one sitting ?

— lola??‍♀️ (@nadders11) January 31, 2020
Y'all need to watch "The Stranger" on @netflix… Just watched it all in one sitting. Crazy.

— Ralph White (@Alpha_Ralph99) January 31, 2020
More reviews of The Stranger describe it as being "full of twists and turns", a "mind-fuck", "10/10" and "one of the best series I've watched in ages".
Blimey, #TheStranger is full of twists and turns.

— Kevan Mander (@KevanMander) January 31, 2020
blowing through this new show on netflix called The Stranger. everyone watch it. every episodes a mindfuck lol

— taylor❄️ (@taylormwait) January 31, 2020
Anyone that hasn't yet started The Stranger on Netflix, I genuinely think it's one of the best series I've watched in ages.. ?

— Andi ? (@andthenzen) January 31, 2020
My mood watching The stranger on Netflix #thestranger pic.twitter.com/hFpMC1jYRz

— adefowohke (@veeck_toria) January 30, 2020
If you need a new show on Netflix. The Stranger 10/10

— ??‍♀️ (@AndraTirdea) January 31, 2020
The stranger on Netflix got me sitting here like pic.twitter.com/QZKttkevbG

— Lei ? (@MississippiTity) January 30, 2020
This weekend? Sorted.
Watch the trailer for The Stranger on Netflix here:
The Stranger is available on Netflix now. For all the latest Netflix news, drops and memes like The Holy Church of Netflix on Facebook. 
Related stories recommended by this writer:
• This is where you recognise all the cast of Netflix's The Stranger from
• If you like You, here are nine Netflix shows for you to binge watch next
• Quiz: On a scale of one to Joe Goldberg, how much of a creep are you?