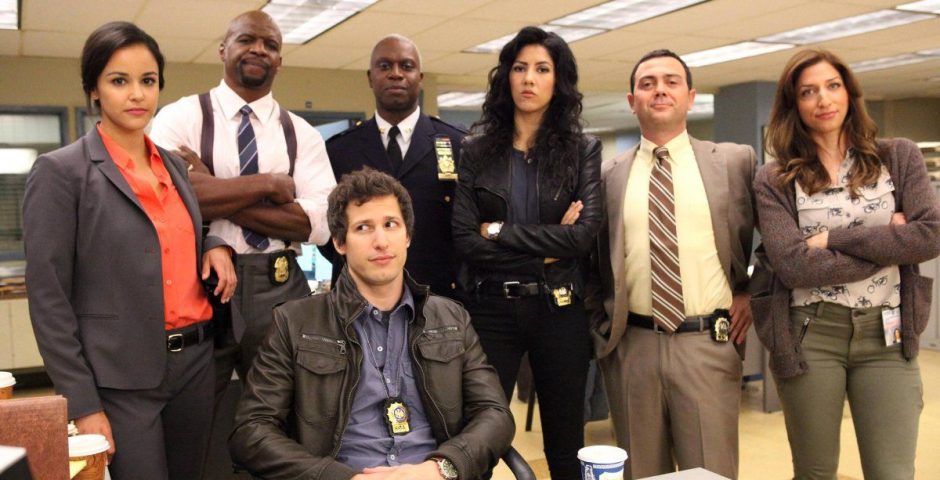 Finally! This is when Brooklyn Nine-Nine season five is dropping on Netflix
Brooklyn Nine-Nine season five, good to see you. But if you're here…who's guarding Hades?
Yes, Brooklyn Nine-Nine is finally coming to Netflix UK. Wunchtime is over. Noice. Smort.
It seems like we've been waiting forever, and one fan of the show even tweeted Netflix UK every single day until they told her when the release date for the season would be – which seems like exactly the sort of thing Peralta and Boyle would do tbh. So here it is, this is when the series is finally dropping.
When is Brooklyn Nine-Nine Season 5 coming to Netflix?
The official release date is Friday March 8th. So basically, cancel all your plans for the second weekend in March, because you're busy now. You have better things to do, important shows to watch.
oh yeah I remember now, because you've all be asking non-stop for 6 months…

…BROOKLYN NINE NINE s5 COMES TO @NetflixUK ON 8 MARCH. toit.

— Netflix UK & Ireland (@NetflixUK) February 20, 2019
Yeah, it seems like Netflix has given in to the fact that all the viewers care about is the new series of Brooklyn Nine-Nine.
They even teased people with a countdown, it's been more torturous than having to watch Hitchcock and Scully eat lunch.
~LATEST ADDITIONS~

– Umbrella Academy (super dysfunctional super heroes)
– Dirty John (think "Joe from You, but older")
– Blackadder s1&2
– The Durrells s2
– Blow
– Louis Theroux: Murder in Milwaukee
– Still no b99, but you now have *looks at giant countdown clock* 21 days to go

— Netflix UK & Ireland (@NetflixUK) February 15, 2019
The fifth season has been around in the US since 2017, so there are other ways to see the 22 episodes – but the Amy Santiago's out there wouldn't have dared stream it illegally in case it goes on their permanent record – so the fact the show is coming to Netflix is a huge deal.
Who's in the cast for Brooklyn Nine-Nine season five?
All of your favourite main characters are back and season five will also see the return of, we're pleased to say, the Pontiac Bandit himself, Doug Judy! AKA the world's most adorable criminal!
The full cast list is:
Andy Samberg as Jake Peralta
Stephanie Beatriz as Rosa Diaz
Terry Crews as Terry Jeffords
Melissa Fumero as Amy Santiago
Joe Lo Truglio as Charles Boyle
Chelsea Peretti as Gina Linetti
Andre Braugher as Raymond Holt
Dirk Blocker as Michael Hitchcock
Joel McKinnon Miller as Norm Scully
There are also some recurring characters, back in the new series:
Gina Gershon as Lt. Melanie Hawkins
Tim Meadows as Caleb
Lou Diamond Phillips as Jeff Romero
Paul Adelstein as Seamus Murphy
Craig Robinson as Doug Judy
Jason Mantzoukas as Adrian Pimento
Marc Evan Jackson as Kevin Cozner
Kevin Dorff as Hank
Winston Story as Bill
Watch the Brooklyn Nine-Nine season five promo trailer:
In the meantime, seasons one to four are available to stream on Netflix now. Wunch is served, and season five opens up so many avenues.
Related stories recommended by this writer:
• Guys, Friends will leave Netflix at some point – here's what we know
• There's a new Netflix series that is basically You, but it's a TRUE STORY
• The 10 best true crime series on Netflix you NEED in your life right now