Who actually is muggy Megan? Everything you need to know about Love Island's queen snake
She actually said before entering the villa how she wouldn't want to break up Wes and Laura…WELL
Since Megan entered the villa, drama has never been far behind. There was the whole Eyal vs Alex rivalry, and now she's decided to steal Wes from Laura in a move that has left viewers and the other islanders completely shook.
Taking over from Adam as the current king snake of the villa, what else do we know about Megan? What did she do before becoming an Islander? Did you know that before entering the villa she said she wouldn't try and break Wes and Laura up? Here is everything you need to know about Megan Barton Hanson.
Megan is 24 and hails from Essex
Megan describes herself as "not your typical Essex girl" and says she has a quirky personality. While she may initially appear confident as she adapts to life inside the villa, her friends have said that deep down she's actually quite shy.
Before entering the villa, she said she wouldn't break Wes and Laura up, hmm…
In her official bio before entering the villa, Megan said: "I wouldn't want to break up Laura and Wes because I can tell they really like each other." Funny how that's turned out.
Megan says she doesn't have any female friends on the outside and viewers are saying her behaviour with Wes is the reason why
After professing on the show that she doesn't have any girl friends outside of the villa, viewers have been saying this isn't that surprising considering the way she's pursued Wes despite him being happily coupled up with Laura.
Megan once appeared in a Giggs music video
Megan appeared in Giggs' music video for his 2016 hit 'Lock Doh'. The grime tune has over 19 million views on YouTube and features Megan looking wide eyed into the camera as she sips her drink. Skip to 43 seconds into the video to see the very brief appearance from the Islander.
Megan has faced criticism after footage emerged of her pouring cereal over herself in a supermarket aisle
An old story on Megan's Instagram has been dug up showing her pouring cereal over herself and twerking in an aisle at Tesco. Captioning the clip "feral child", she's been criticised on Twitter for her actions: "This isn't cute, this isn't funny. Some poor Tesco worker has to go and pick this all up cos you wanted a pic from the 'gram? Gross".
People have managed to find something to criticise Megan about – her thumbs
True to form, people on Twitter have scoured pictures and footage from the show to pick fault with Megan, and have settled on her thumbs as their route of attack.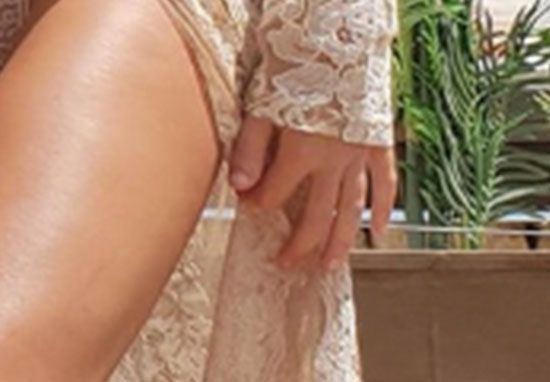 Despite her thumbs, outside the villa Megan works as a glamour model
She's worked for Maxim magazine and appeared on the cover of Sixty6 Magazine in the past.
This helped her gain 56,000 Instagram followers, and since entering the villa this has risen to almost 400k
While actually finding love may be quite unlikely, the one certainty of going on Love Island is the inevitable shed-load of cash from sponsored Insta posts after your exit from the villa and increased social media clout.
Fair warning, if you're reading this on a library computer or if you're mum is in the same room and could walk behind your computer screen, probably stop reading this. You don't want her thinking she's raised a filthy creep.
She used to date a high-profile professional footballer and has celebs sliding into her DMs
Megan has been single for two years and before that dated a footballer but is yet to reveal his identity to the world. Megan also says she has celebrities occassionally DMing her on Insta. That must be nice!
Despite admitting to receiving a lot of attention from guys, Megan says it's usually the wrong guys, and has come to the villa to find love.
Megan is apparently a spiritual person – but clearly not saintly enough to put up with any more of Eyal's BS
A big fan of yoga, Megan considers herself a spiritual person. This could have been what initially drew Megan to Eyal, before deciding she wanted to cash in her spiritual aura tokens to try and get with the founding member of the 'Do Bits Society', Wes.
Related stories recommended by this writer:
• There's a theory that Love Island Australia and Love Island UK are GOING TO MERGE
• These unholy pictures of Charlie from Love Island will make you feel like you've eternally sinned
• We are the male viewers of Love Island and we refused to be shamed