Before they were famous: What the cast of Love Island 2018 got up to before entering the villa
From fancy dress modelling on Amazon to appearing in a Giggs music video
Love Island is a sure fire way to get your fifteen minutes of fame, and for those looking to see their name up in lights on the show, this probably isn't their first shot at 'making it'.
Several cast members of Love Island 2018 have modelled fancy dress outfits on Amazon, been on other reality tv shows, and even been presenters on the LadBible. Here are some of the desperate things the Love Island cast did before they were on the show to try and get famous.
Dani Dyer – Was on ITV reality series 'Survival of the Fittest'
Dani Dyer made it onto the first series of ITV's Survival of The Fittest, made by the same production company behind Love Island. Unfortunately, Dani lasted one episode before having to leave due to injury.
After going down a waterslide she landed on her shoulder causing it to dislocate. She still managed to complete some of the obstacle course before seeking medical attention.
This was clearly a blessing in disguise as she managed to find her way onto the much more popular Love Island.
Kendall Rae-Knight – Modelling fancy dress on Amazon
Someone on Twitter stumbled across Kendall modelling a fancy dress air hostess costume on Amazon. While this may not necessarily be a concerted effort to find fame, it's definitely one of the more rogue things we've discovered about the Islanders pre-fame.
The red costume, which is available for £15.18, features Kendall from her 'modelling' days. Customer reviews say it's "good value for money".
Megan Barton Hanson – Was in a Giggs music video
Megan appeared for a split second in Gigg's 2016 song 'Lock Doh'. The grime hit has over 19 million views on YouTube and features the Islander looking wide eyed into the camera as she drinks her bev.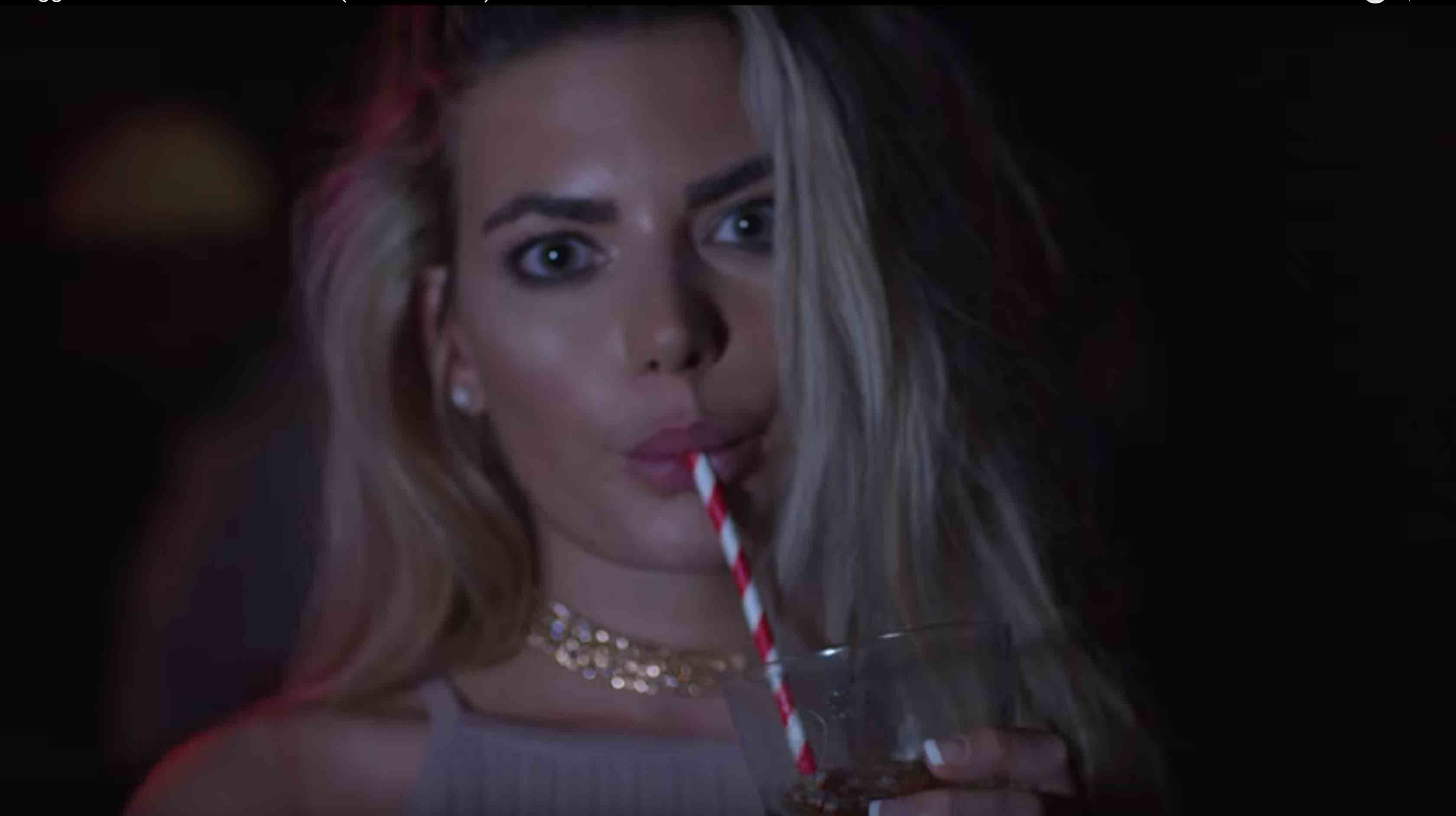 Josh – SportBible presenter
It's really hard to dislike Josh. He seems so nice and genuine. This is even more evident from his SportsBible (an offshoot of the LadBible) videos he presented featuring the likes of Harry Kane, England Rugby, and Alex Sanchez.
Obviously, the videos show of his sporty side, having him typically train alongside these athletes and ask them questions throughout. Let's hope he has more luck in the villa than on the rugby field.
Adam is just the worst, even in spite of how good looking he is. Somehow, though, he does manage to pull despite being the type of guy to chat up you best mate's girlfriend.
Two people that did pull him were Charlotte and Chloe from series 12 of Geordie Shore.
The baby-faced Adam, after getting picked up by the two, share a raunchy three-way kiss. He didn't get invited back to either's home. Can't say I feel sorry for him. You can read all about Adam's Geordie Shore adventure here.
Eyal Booker – I don't even know where to begin…
Yes, you're looking at that right. Eyal has a Batman fidget spinner on his nipple. You can add that to things you clearly did not want to see today.
Eyal, a man tragically born without a personality, was a household name before Love Island. He was part of pop mega group 'Everyoung' who of course took the nation by storm. Remember?
His biggest achievement as part of this group was getting a monumental bollocking from Jeremy Irons. Iron's even mispronounces his name like everyone else has at least once. What a hero.
The music video has the Islander dancing on a table instead of doing his job. Jeremy Irons is absolutely fuming throughout. You know what, Eyal is so desperate to be famous, here's an article all about how tragic he is.
Dr Alex – Didn't want to be famous…but oh my god he used to be so dull
Dr Alex has always been the odd one out on the show. This is due to the fact that people either find him incredibly boring or incredibly average – he is a doctor for crying out loud, how is he supposed to compete with these sentient bundles of abs and biceps?
Therefore, Dr Alex's Instagram is as remarkably average and dull as you would expect. He posted a heartfelt picture of his bike, several normal as hell pictures from his work, and a whopping SIX pictures of coffees or coffee accessories.
Keep fighting the good fight Alex, you're keeping the dream alive for everyone that is completely average in every single possible way.
Samira Mighty – spent her youth tweeting famous people
I don't care what anyone says, Samira is the underdog I'm fully backing this year. She's a woman of the people, and a main reason for this is her Twitter is just as cringe as yours from back in the day.
Tweets from 2011 show she was a big music fan, especially of One Direction having tweeted at each of them several times hoping to get a follow. At one point she tweeted each of the boyband (but mostly Zayn) daily.
She used to tweet Demi Lovato constantly, asking her how to deal with bullies at school. Although she didn't get a response from her idol, Sam did end up on a date with Chris Pine and on the biggest British reality TV show around. Now that's a way to stick one to the bullies.
Laura Anderson – Dating former boyband members and rugby players
Love Island and rugby seem to be a stronger power couple that Jani this year, blimey. Before going on the show, Laura had dated Max Evan,s a Scottish Rugby Union player, as well as Dane Bowers, who was in boyband 'Another Level' in the nineties.
Sam Bird – if you didn't know he trained Toff from Made In Chelsea one look at his Insta will have it seared in your mind forever
Sam is head trainer and a class instructor at his own gym called "Core Fitness", based in Norwich. One fan of Sam's is none other than Made In Chelsea's Georgia "Toff" Toffolo.
He also starred in a YouTube video called "How to get a British Boyfriend". He doesn't suggest applying for Love Island. Instead he suggests such hot tips like lobbing fish and chips at people.
Related stories recommended by this writer:
• STI tests, shower cameras and unlimited booze: What it's really like in the Love Island Villa
• Take this Love Island 'would you rather?' quiz to test your morals with a sexy twist
• Here's how you can win a holiday to Majorca for the Love Island Live Final