Which meme is your uni?
Let's be honest, it was only a matter of time
What's the most annoying thing on the internet: memes, or The Tab's "Which [insert cultural reference] is your uni?" articles?
No matter which one you choose, both choke up your newsfeed daily with the sort of self-referential gags and I-spend-too-much-time-on-the-internet humour which makes you want to cover your Macbook in gasoline and set it ablaze.
So is it really any surprise that we're now combining the two? The only surprise, really, is that it's taken this long. Find out which meme your uni is below – if you don't like it, our comments section is anonymous!
Oxford/Cambridge – 'Name a more iconic duo'
Starting off as an innocuous tweet about Kylie and Kendall Jenner, "name a more iconic duo" grew into a meme which encompassed everyone from Zack & Cody to Harambe and the kid who fell into his enclosure.
None of those are as iconic, though, as the most prestigious pairing of universities in the history of education. Oxbridge even have a portmanteau name, they're that famously linked.
Can't think of a more iconic duo? We'll wait.
Durham – 'Get you a man who can do both'

Finishing with a First from the most prestigious non-Oxbridge uni in the UK, and throwing up purple goop on themselves on the Klute dancefloor: get you a graduate who can do both.
Leeds – 'Does … once'
It's a tale as old as time: the Leeds University student listens to house music once, and suddenly ends up a pill-popping, Fila-sporting Hyde Park layabout with an aversion to showering.
Leeds Beckett – 'Haven't heard that name in years'
"Leeds Met? Haven't heard that name in years."
Manchester – Also me
Me: "I study at Manchester, which means I spend half of my nights at dingy Fallowfield house parties and the rest at Antwerp nights you've never even heard of."
Also me: "One night at Fifth can't hurt, right?"
Man Met – Dat boi
O shit! Here come Man Met, riding on their funny unicycle and making everyone laugh. Basically just a dumber version of Manchester, at least they look like they're having a good time.
York – Memes about The Tab
Pretty boring, eh?
Sheffield – Pizza rat
This is you, hurtling down the steep streets of Sheffield after Corp with nothing but Balti King on your mind.
UEA – Good boy memes

UEA are definitely the "good boy" of unis, with how incredibly pure their routine of drinking VKs at the LCR and cavorting with the swans around the lake is. No rude jokes here, just good clean fun.
UCL – Sad Michael Jordan
Your face when you think deciding to study in historic London is a good idea, only to realise the only difference is that a pint costs you £9 and you've already blown your entire student loan on a damp-ridden bedsit in Canonbury.
King's – Sadness memes
What better for the introspective, poetic people of KCL than the borderline tasteless memes about crippling sadness which have flooded the internet of late?
Best enjoyed (or not) while hours deep into a silent study session in the Round Reading Room of the Maughan, or while staring wistfully out over the Thames from the Strand SU window.
UAL – #SaltBae

Find a person who studies at UAL who doesn't look like this.
LSE – Math lady
You're at the London School of Economics, we shouldn't have to work this one out for you.
RHUL – Petty Skai Jackson
Hell hath no fury like an RHUL student scorned, so if you piss one of them off you'll most likely be seeing a lot of faces like this around campus. After all, there are literally no boys here.
Sussex – Anti-memes
Ooooo, I go to Sussex, I smoke loads of weed and I'm anti-establishment and I don't have to conform to the normal rules of memes.
Bristol – Bee Movie 
Psychedelic, nonsensical and more than a little bit odd – Bee Movie memes and the University of Bristol were made for each other.
Seriously, watch that video above and tell us it isn't like your average Monday at Motion.
UWE – We Are Number One
Somehow even more druggy than Bristol, and with wavier garms that you sort of want for yourself.
Exeter – Chrissy Teigen cry face
The face you pull when you've chosen Exeter because all your posh friends are going there, but then realise it's in Devon and the bus from Guildford takes six and a half hours.
Falmouth – Haters will say it's Photoshop
As the "UK's #1 Arts University" (but about 60th for everything else), you're well-accustomed to haters and accusations that your Photography course submissions and seaside Instagrams have been hastily doctored.
Ignore them. They just don't get art like you.
Cardiff – Sad papaw
Studying with Cardiff tonight. He told the other 23 universities in the Russell Group that he deserved a place too, and not even Lancaster agreed. Poor him.
USW – Nut button
Aberystwyth – Bear Grylls drinking his own piss
This meme works for Aber in two ways. Firstly, because it's in the arse end of nowhere and miles from the nearest city. Like Bear Grylls, you've got to hate civilisation and love the smell of piss to come here.
And secondly, because this meme is already like 15 years old – which is about as far behind the real world as Aber is.
Lincoln – Arthur fist
Brookes – Photogenic marathon guy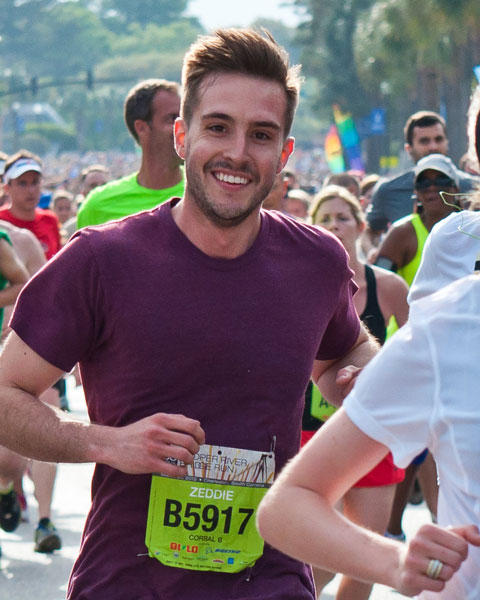 Literally everyone at Brookes looks like this, and they'll stare at you with similarly dead eyes as they flog you a Fuzzie's ticket for the sixth straight week in a row.
Loughborough – *Record scratch*
*Record scratch*
*Freeze frame*
Yup, that's me. You're probably wondering how I ended up at the Olympics. Well, it all started when I got into Loughborough through clearing…
Nottingham/Trent – You vs the guy she tells you not to worry about
Nottingham is you: awkward, reserved, more studious than you'd care to admit and ultimately just a little bit boring.
Trent is the guy she tells you not to worry about: loud, obnoxious, and a hell of a lot more fun than you'll ever be. Why would she stick with a nerd like you when she can have a man who long-arms VKs shirtless on the Ocean dancefloor?
Aston/Birmingham – Biden and Obama
We'll let you decide which one's which.
BCU – The dress
Because the hardest question you're ever going to have to answer at BCU is "what's the colour of this dress?"
Kent/CCCU – 'Don't talk to me or my son ever again'
Now we're pretty sure they're different unis, and we're pretty sure that one of Kent and Canterbury Christ Church is a slightly dumber version of the other. To us, though, they just look pretty much the same.
Newcastle – Damn, Daniel
Damn, generic Newcastle student, back at it again with the tattered Air Max.
Northumbria – Mannequin challenge
Because you'll have as much luck getting stimulating conversation out of a mannequin as you will out of a Northumbria student.
Glasgow/Edinburgh – Bernie vs Hillary
Fun-loving, sardonic Glasgow is Bernie, the guy everyone wants to make friends with at the party. Then there's Edinburgh/Hillary: trying too hard and so far up their own arse that they'll easily clear the room with their shit chat.
St Andrews – Me, an intellectual
Oh fuck off St Andrews.
QUB – Bone apple teeth
This is what you look like, trying to drunkenly explain to someone why you love Boojum.
Liverpool – Drake sitting on things
It's cold up there, whether you're in Liverpool or on the top of the CN Tower, but that can't stop you having a sense of humour. Also, who else but Drake for the home of Juicy?
JMU – Hotline Bling
Like Liverpool Uni, but somehow even more immature.
Warwick – Netflix and Chill
Ah, sweet innocent Warwick. They're probably so out of the loop drinking Purple on their countryside campus that they still think Netflix and Chill is a thing.
Lancaster – Angry Michael Phelps
Leicester – Left shark
In the same way that the left shark from Katy Perry's Superbowl half time show gained popularity, students at the University of Leicester also have absolutely no idea what they're doing here.
Hull – This