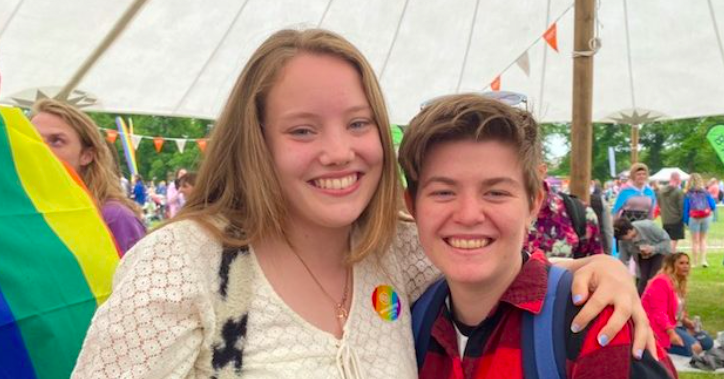 'Everyone can just come together and celebrate': York Pride 2022
I don't think I'll ever recover from THAT Divina De Campo performance
After two years of Covid restrictions, York pride FINALLY returned this month with thousands of people in attendance.
Beginning at the Minster, the parade left at midday and went right through to the racecourse for an afternoon of entertainment, featuring THE Nadine Coyle from Girls Aloud, as well as Divina De Campo making an appearance. Yes, the same Davina De Campo from Season One of RuPaul's Drag Race UK!
There was so much to do throughout the afternoon, including fairground rides, live music, and tons of cute stalls to look around selling pride merchandise such as flags, badges, t-shirts and cushions. A personal favourite was the stall selling the "fuck off Karen" hand fans, which will now live rent-free in my mind forever.
During the parade itself, hundreds of people watched along the streets with pride flags to show their support. Some had gone all out by decorating their homes with rainbows, with one resident going the extra mile by delivering an iconic karaoke performance to the parade as it passed by.
Emily, a film and television student at The University of York said: "This is my second pride but my first ever time being part of the parade. It's really nice to see everyone from York come out and support us along the streets. It shows that times have changed, and people are becoming more supportive of the LGBTQ+ community."
York Student Television team were filming the events of the day. I spoke to them about what pride means to them and why it's so important to document these events. They said: "Pride is a celebration of the fighting history for LGBTQ+ people. Filming people celebrating pride is a symbol of us continuing that legacy and fight."
They continued: "Even though things are better today, there is still a lot we need to fight for and work on to make things better for the future but it's important to show such a positive day for the LGBTQ+ community."
Jane, a law student, also commented on the day's positive energy. She said: "This is my sixth time at pride. I love going to pride events like these because they're always so positive. For years we have had to fight for our rights, so at pride, everyone can just come together and celebrate. It doesn't matter what your background is, it's just a celebration and that's so nice."
Saturday was my first ever pride and I was amazed by the amount of support and acceptance in York after coming from an area with a certain level of stigma towards the LGBTQ+ community.
With gay anthems playing, drag performances and a deal on for two Aperol spritzes, York pride was definitely a day of positivity.
Although do I regret missing Nadine Coyle's performance because I was in the queue for the fish and chip stall? Yes.
Related Stories recommended by this writer:
• Here is a rundown of what is happening in York for Pride 2022
• All the support networks available to LGBTQ+ students in York
• Take our homophobia on campus survey and help us expose the problem at unis