I tried to make my degree worth £9k for one week
Joe Wicks, breakout rooms, and the library. Mainly the library.
What are we paying for? This has been the chorus of cries from most students given our second term of online university this academic year. Are painfully awkward breakout rooms and last year's lectures worth £9k? 
As an English student, my contact hours have had a beating this year. Going from an already slightly pitiful 9 to twelve hours a week in my first year ,  to 6 1/2 hours this year (with 2 hours of recorded lectures) it has felt like I spend most of my time staring at my screen alone. 
But if there's one thing I'm good at, it's getting my money's worth out of anything. 
So for one week I attempted to squeeze this degree for all it's worth. 
Monday 
Not even the sub-Artic temperature in the library was going to deter me from making use of the space (hence the rather dodgy DIY fingerless gloves). I've been coming to the library to work for the past month simply to get out of the house and the claustrophobia of my room, and after a while you don't even really notice the mask.
I also had 1 hour's worth of Q&A sessions  ( ⅙ of my contact hours for the week ) which often are quite helpful even if I don't have any questions. After getting my use of the uni wifi, I went home to make my Careers Office meeting. 
I've used this service before when the monthly existential crisis about the lack of employment opportunities comes around. Today's issue was the age old question: to do a masters, to not do a masters? Tim Fletcher not only helped me think a bit more broadly about what a masters actually meant, and also highlighted a pivotal service that I didn't even know existed. York has an industry mentoring scheme. For months I had been fruitlessly trying to contact professionals to no avail, and yet here it was right in front of me.
I chose the right week to do this challenge as it was the EY & You week – a series of talks and events by celebrities that all university students could attend. I have to admit, I haven't ever attended an event or talk from Handshake and so I had no idea what to expect. This night's talk was by Dr Alex from Love Island who spoke about mental health and hinted at his new position as Mental Health Ambassador in the talk days before the news was actually released.
Tuesday 
Snow. The universe was clearly testing my dedication to going to the library. But first I had an office hour with one of my seminar leaders. In my First Year I didn't attend a single office hour. I have since worked out that it equates to 12 hours of one-on-one contact time that I missed out on. This term specifically I have been trying to shake the awkward feeling that I am pestering people and seize this opportunity more. With a presentation coming up, those 10 minutes proved to be invaluable in helping set me on the right path. 
The library was a ghost town. I made sure to take full advantage of the printing, water, and wifi service before attempting to get home without slipping over. 
The EY & You talk for this evening was all about motivation – something I have been lacking for the past year given lockdown. But what really excited me was the special guest – Joe Wicks. His vegetarian cookbook had basically become a Bible in my first year flat. Adrienne Hebert – a podcast host – was another guest who I had never heard of but gave some really insightful tips.
Wednesday 
I had a ⅓ of my contact hours today in the form of a 2 hour seminar. Two hours on a zoom call can feel infinitely longer than in-person seminars but I tried to remain present (avoiding the temptation to go on my phone) and actually make notes from the seminar. It sounds like the bare minimum, but I am very guilty of coming away from a seminar without actually remembering what was discussed.
Straight after, with some technical difficulties, I managed to make it onto the Nestle: Having the Confidence to Apply for an Internship, Placement or Graduate Role event. This was just for University of York students and seemed to have a surprisingly low turnout, but gave some good tips and real life stories of how people overcame doubt and applied to internships. 
Thursday
Thursdays by far are my busiest days with 3 seminars back to back (not fun). I had another office hour with a seminar leader, and for the first time at uni I just asked about something I was interested in – no assignment, no exam, just something I was interested in. And she sent me tons of resources afterwards to follow up on. I began to realise that just asking – in whatever context – rather than trying to do this degree completely on my own can sometimes pay off.
Seminars are a tricky one to gauge sometimes; on some days you'll have breakout rooms that just click and on others no one can scrape together anything to say. That kind of agonising silence  with the often added "does anyone know what we're supposed to be doing"  just never seemed to exist in real life ones. 
Friday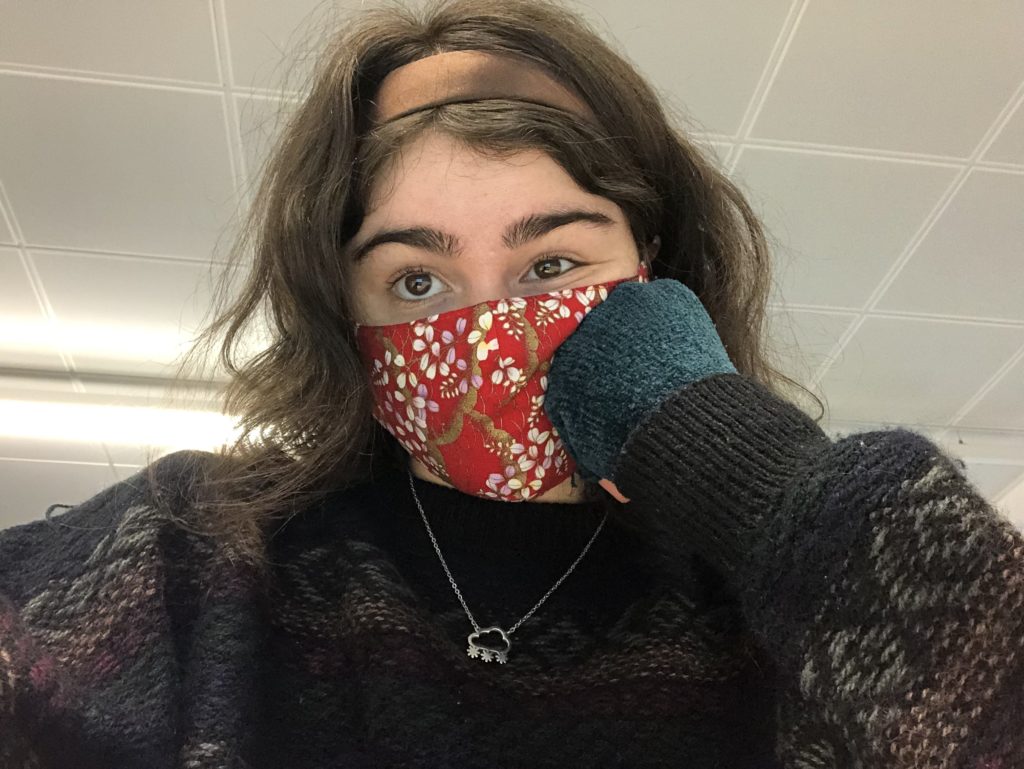 Tired, cold, and full of deadlines I made it to the library again. It's probably one of the only things keeping me sane at the minute, somewhere to go to get out of the house. To feel like I've done something with my day. I finished off my contact hours for the week with a writing support Q&A which I always seem to conveniently miss , but not this week.
12 people showed up. For context, I'm on a course with over 100 people. It was actually really helpful especially because I had submitted some questions for it and something that I think I will return to each week now. It's essentially free feedback. But no one really showed up. It began to make me question my own decisions in my degree so far. I've been guilty of missing workshops, talks, and lectures before. In fact this was the first week in a long time where I had attended everything on my timetable. 
Saturday
I tested out the waters with the mentoring system they have at York today that the Careers Office told me about by sending some questions to mentors in the industry I want to go into. I was amazed to receive detailed answers from these professionals within a few hours of sending them,  also how honest they were about the things I had asked.
I also went back to the library for my fourth day of the week. Might have to change my usual desk soon for fears of boredom.  I set myself the task of watching my lectures today. Unlike last term, my lectures from this term have been recorded for this term specifically (rather than giving us last year's ones with dodgy sound quality and a lot of coughing). I'm going to say something controversial now: I kind of prefer online lectures.
As someone who would spend most of my time last year hungover and watching the clock in my lectures while trying not to cough out my freshers flu too loudly, online lectures have made me focus a lot more. At least this way I can pause, pay more attention to what is being said, and make real notes. No more missing out large chunks of speech because I've drifted into thoughts about how long I would nap after my 9ams. 
Sunday
Forcing your housemate to walk in the hail with you to do the Solar System Walk on Campus isn't necessarily a productive way to get your £9k worth of uni, but can be quite amusing (and cold). It was the final day of this week and with not much else left on my list of things to do I went to the library with one aim: only to use Yorsearch and things the university has paid access for.
As students I feel like this is one thing that often gets overlooked as being part of what we're paying for, academic resources. I managed to calculate that in two hours of being in the library I had used resources that would cost over £85 if I had to buy them on my own. However, what does have to be brought into the equation is that as an English student I often end up spending between £20-60 a term on books alone for my degree – and that's buying them second hand. 
Verdict
Some honourable mentions that were missed during this week: college events, Open Door, mental health and well-being workshops, and the Writing Support Centre. This week was not supposed to be unrealistic, but it did show me that with small changes I could feel like I was getting a bit more out of the uni. This week opened my eyes to a lot of stuff I just didn't know existed on campus. Maybe I've just been incredibly blind to it before now. 
Is online university worth £9k? No. Did I get more out of this week than usual? Yes. 
The issue with online university is simply that your quality of learning environment  being able to debate and discuss without the internet lag, is ultimately compromised. I know that for the most part I am incredibly lucky with the tutors and modules I am taking for this term, and that not every department has provided new changes to try to soften the blow of online teaching. Let's hope that by summer term we'll be able to go back to making awkward small talk outside seminar rooms, and maybe (just maybe) feel like we're getting a bit more for our money than right now.