A Warwick fresher is offering £700 to anyone who lets her live in Bluebell
'Swapping to Bluebell is important to me'
Fresher Facebook pages are littered with society shoutouts, people trying to find group chats to join, and freshers desperately attempting to swap their accommodation.
But one incoming Warwick fresher has taken it further, by offering a £700 reward to someone who will give her an ensuite accommodation.
Rachel, an incoming fresher posted on the official Facebook group yesterday, stating: "I have got Rootes. I would like to swap Rootes for Bluebell/ Arthur Vick/Jack Martin/Heronbank. I would reward 700 pound to that person in exchange. Fist come first serve."
As well as causing a backlash of memes and jokes, the reward of £700 has faced notable anger from fellow students.
Bluebell accommodation, known for being the only halls on campus with a three-quarter-sized double bed and lifts in the buildings, costs a significant £3,240 more per year than a standard Rootes room.
One student, Lucy, commented: "I don't think it's really fair to bypass the system just cause you're rich enough to do that."
She continued: "It's supposed to be a fair system based on people's needs and lots of ensuite are allocated to those who need it for accessibility issues."
Rachel, the student offering the bonus of £700, rebutted by stating: "Rich/ poor is not the point we are talking here…swapping to Bluebell is important to me."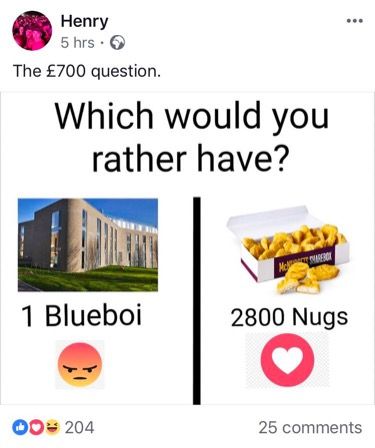 Elijah, another outraged student, said: "No matter your political opinion, £700? To just spend on swapping a room? It's a bloody pisstake and is very revealing lol."
Another Warwick student, Ripudaman, came to Rachel's rescue in the Facebook stand-off, defending her actions and commented that: "It's a bit condescending to imply she is being immoral and that people shouldn't have the opportunity to make a free rational decision to swap their room."
In true Warwick style, Ripudaman received: "Why are you talking like you're John Locke?" as a sarcastic response to his opinion concerning the £700 reward.
Another fresher weighed in on the argument, stating clearly that: "It's her money, let her do what she wants with it."
At the time of publication, the Facebook post has over 60 comments, and memes mocking the incredible £700 bonus have gone viral on the Warwick fresher pages.
Rachel posted to the group saying: "I resolved my accommodation without paying any money."