Bollinger, 'snow' and young arses: Meet Oxford's unusual new drinking society
'Snow = Charlie, Dave, dust, stash'
The Tab can exclusively reveal the latest drinking society to appear at Oxford Uni. The Moncrieff Club which, in a letter leaked to us, "cordially fucking invited" its members to celebrate their "Right Honourable cuntery" at their most recent social.
The invitation, which looks as though it was written in a Berol handwriting pen, was sent to members last week.
As well as "enjoying the Bollinger," members of the society were instructed in the invitation if they wanted to make it "snow," referring to "Charlie, Dave, dust and stash," they had to make it "rain," by bringing an "overwhelming quantity."
The letter was sealed with a signet ring impression and the initials "KTK", presumably to give the invitation, which resembles a 10-year-old's scribbled pen-pal note, some kind of class.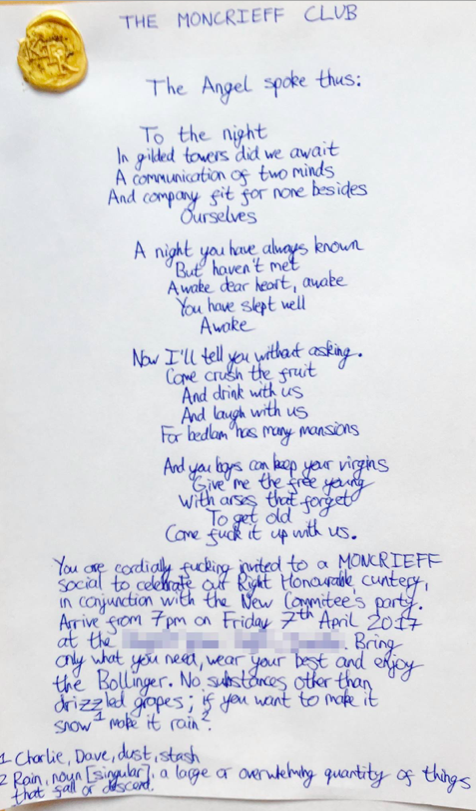 The first half of the invitation was written in verse, exhorting the reader to "come fuck it up with us" and expressly stating that virgins were not to be invited, but "the free young with arses that forget to get old." If this seems a bit lowbrow, it's worth mentioning these requests are mixed in with quotes from a 17th century poem by the second Earl of Rochester.
Oxford is recognised for its notorious drinking societies – most famously the Bullingdon Club. They're known to be full of debauchery, famed for wild parties, expensive drinking and exclusivity. By these criteria, the Moncrieff Club doesn't seem to be hitting the mark.
The full invitation read: "You are cordially fucking invited to a MONCRIEFF social to celebrate our Right Honourable cuntery, in conjunction with the New Committee's party. Arrive from 7pm on Friday 7th April 2017. Bring only what you need, wear your best and enjoy the Bollinger.
"No substances other than drizzled grapes; if you want to make it snow make it rain."
"Snow" was then defined in a footnote as "Charlie, Dave, dust, stash." Just in case anyone was unclear. In a separate footnote "rain" was given the definition of "a large or overwhelming quantity of things that fall or descend," if there was ever any doubt about just how much snow these boys were planning on taking.
The Tab has been told the Moncrieff Club used to host extravagant dinners in both Oxford and London, utilising extremely discreet correspondence. However, now there are only four members. The club is run by these four men, all of whom have a customised tie and signet ring.
The members, and some previous committee members, wishing for the club not to die out have decided to "revamp it and remove some of the more questionable customs."Members must be male, but non-members (including women) can be invited to the tamer drink socials.
For their most recent social, The Tab was told the society pre-ordered 20 bottles of Bollinger for their four members, and booked a table at an Oxford bar. There were "quite a lot of unhappy customers" annoyed at how rowdy the club were being, and that there were "words exchanged" between other customers and the committee. Apparently, the club were about to be kicked out before deciding it would be best if they left voluntarily.
When The Tab spoke to the manager of the bar apparently visited by the Moncrieff, they said they had no recollection of the social.