Campus style: Winter wrap ups
Surviving the storms in style
We've all seen the scandalised weather reports lately. Storm Henry and his windy pals are on their way, so it's time to tie down your garden furniture and don your finest pair of snow boots because word on the street says it just got even harder to survive at uni.
If you were at all worried, cease to be, Nottingham students have got survival style covered. From oversized coats and scarves to beanies and boots, we've got the best ways to work the 'I brushed my hair when I left the house but now I look like Stig of the Dump' vibe.
Maisie, first year Theology and Religious Studies
If in doubt, an oversized scarf will always deliver. Pair it with a duster coat like Maisie for effortless warmth.
Coat: River Island
Scarf: Primark (Bargain! Stylish and overdraft proof!)
Jeans: Topshop
Boots: Topshop
Bag: UrbanOutfitters
Go to winter clothing and store: A chunky scarf and Topshop, they never disappoint for layering!
Brad, first year French and Philosophy
It's not just girls who avoid the windswept look, boys are pulling it off too by donning the beanie.
Coat: My dad's Adidas jacket (practically vintage right?)
Jumper: Superdry
Jeans: Topman
Hat: Burton
Shoes: Onitsuka
Got to winter shop: Ebay
With a mix of parental borrowing and Ebay, second hand clothing seems legit when braving the storms. Why? Because if it can last the test of time it can last the test of gale-force!
Lauren and Toby, first year Psychology
Couples do matching winter wear…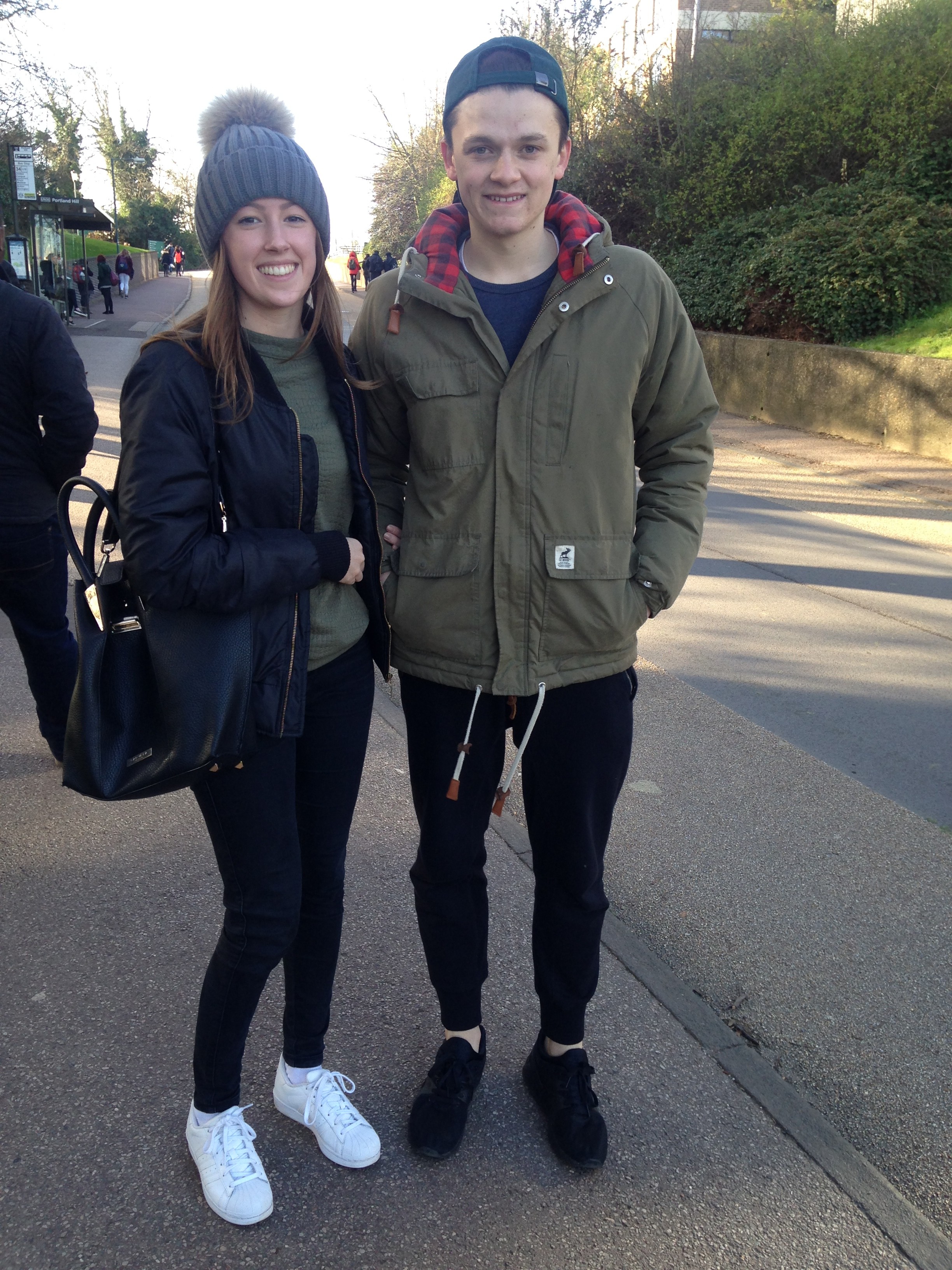 Lauren
Hat: A market stall somewhere I can't remember
Coat: Pretty Little Thing
Jeans: Misguided
Jumper: Misguided
Shoes: Adidas Superstar
Got to winter item: Bobble hats
Toby
Coat: Fat Moose brought on Asos
Joggers: Gap
Shoes: Asics
Go to winter item: Any type of joggers for comfort
Tia Miller, first year Geography
As the 'arctic' conditions roll in, adding some fur to any outfit  creates ultimate glamour. Just remember  to stay faux.
Coat: River Island
Jeans: Topshop
Necklace: Next
Boots: Primark
Bag: River Island men's section
Go to winter item: Anything with fur!
Yvonne Conroy, third Year English
Swap snow boots for Timberland's for practicality AND style.
Coat: Zara
Jeans: Topshop
Boots: Timberland
Go to winter item: An oversized coat, you can wear as many jumpers as you like underneath!
It seems that when the apocalyptic weather does hit (if ever), Nottingham students have got it covered. Swap snow suits for oversized coats, layer up with a big cosy scarf (which can double up as a blanket when stranded in snow), protect the hair with a beanie and brave Portland hill with a sturdy pair of boots. Now you've got no excuse not to make it to uni…