Diary of A Library All-Nighter
The Hallward allnighter has become a rite of passage in Notts; the Tab sent in a poor soul to share his experiences
allnighter
freshers
hallward
Lenton
library
ocean
A staple part of any unay experience, most have taken on the dreaded all nighter.
The barren wasteland that is Hallward, George Green or any computer room is sure to sap any remaining ounce of energy you might have at 4 a.m with a thousand words to go. Luke Black tries to put it into perspective…
18:00 – It's Friday night. Let the games begin. As the Freshers leave for Ocean, the library takes on another vibe – fidgety second-years, zombie-like finalists doing dissertations and the international students who seem to have turned the Library into their primary residence.
I am all settled into my favourite booth in the cafe. Coffee, pro plus, doritos and Maryland cookies in tow. It's going to be a long night…
19:00 – Ran into my chatty Cripps friends, an obscure colleague I once did a group presentation with and even get chatty with one the library staff. Then I see more people I know, and in true procrastinating form, spend another twenty minutes in fruitless conversation.
Deciding to nip this in the bud, it's time to act. After creating a working playlist, organising my desk so that all snacks are within reaching distance and all the pens face the right way, I compile a list of books and spend the next half an hour finding the damn things…
20:00 – Right. 17 books. I surround myself with them, in the hope that their information will transcend through me and onto the page with minimal effort.
21:00 – According to a course-friend and resident Politics BNOC, everyone seems to be doing the same title. I decide that I need to be an eccentric individual.
As John Stuart Mill said: "The amount of eccentricity in a society has generally been proportional to the amount of genius, mental vigor, and moral courage it contained". So I figure I'm a genius and change questions.
21:30 – BOOM. Essay plan done and introduction started. It's that point of the evening where everyone feels like they deserve a break. Even those who have never smoked in their lives venture outside and huddle round the entrance.
22:00 – Coffee numero four and half a pack of pro plus means I'm shaking more than Mt. Etna and sustenance is a must.
Take-out has now become a source of contention after watching the fleet of Domino's mopeds come and go. The pros and cons of Fortune Boy and Dinos are subsequently weighed up.This takes up a cool 20 minutes.
23:00 – Fortune Boy, WHERE. ARE. YOU? You've never failed me before. It occurs to me that many have been in this position before, so why on earth isn't there a 24/7 restaurant in Hallward. Why wasn't this in any of the SU Presidential manifestos?
Crisis averted and nourishment on the table. I have successfully hidden my inconspicuous white carrier bag from the security guards.
00:30 – Past the midnight marker, the half hearted depart for their homes and the weird factor gets turned up a notch. Pretty sure I've found photocopies of someone's arse in recycle…
01:30 – An hour into essay writing, and some kick-ass quotations later, I decide to contact the outside world (a.k.a my House's Whatsapp group):
"Best Ocean pres eva!!!! All of hu stu were der and ders a lizard fight happening in the kictehn!!!! xxxxxxxXXXXxxx luve=ee you xxxxxx"
Brilliant, not only am I missing out on the Big O on a Wednesday but also hilarity and nudity.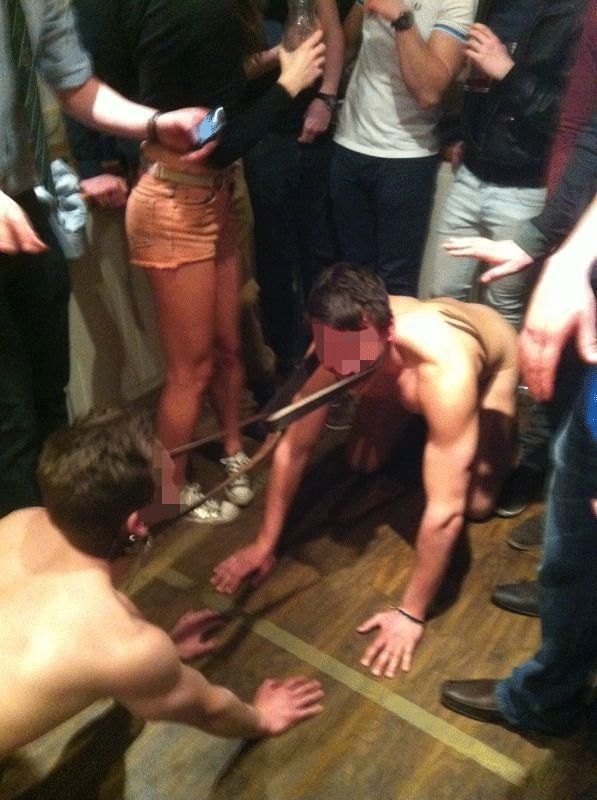 02:30 – Procrastination levels are at an all time high after that, and clearly it isn't just me.
Two guys zoom past the end of my stack racing on wheelie chairs. Then in typical cartoon fashion, I hear an almighty crash and yell, followed by a pissed off security guard and the two villains sprinting away. There goes my concentration again…
03:00 – Most tend to stretch their legs and try clear their minds after losing their concentration (and thereby will to live) and there's at least three other people doing laps of the third floor with me.
One girl however, who earlier looked a touch volatile, has lost it. Sat in the elevator and sobbing her heart out a la ocean steps, she has hit the button for every floor on several occasions  making it known from silent study right through to the cafeteria how hard her life is right now. Get a grip…
04:00 –  It seems that the Hallward has now become some kind of ghost-town. I could do anything up here, I could strip naked and run around aimlessly, I could dance on top of the laptop power points….not even the sleeping international students would care, nor the girl who has brought her duvet here as well. I am king of Hallward!
In fact, I've just seen a couple swoon into the men's toilets…classy.
I decide to join my friends on the basement floor, both are zombie-like, surrounded by coffees and pro-plus. I think they may have finally cracked.
05:00 – The cleaners have arrived. I think. Maybe they're a hallucination. I don't even know any more. Okay they're not omni-present beings but I'm starting to wonder if this is similar to being left behind in Ocean toilets…
06:40 – Good lord it's now definitely the morning. Never have I scowled at the beautiful song of the tweeting birds. I'm out of dorito's and cookies and with not a penny left to buy a shit 90p coffee from the machine, I am starting to feel very sorry for myself.
07:00 – People are arriving. As in, they're starting their day. However, the essay is done and I'm nearly free. Only a handful of those that dared take on the all nighter remain…
08:00 – FINITO. I approach the printer, my hands quivering, I just can't believe that its done. Don't fuck with me now world.
09:00 – Home. Bed. Goodbye cruel world.