This is what happens when a normal person tries to recreate celebrity snaps on Instagram
It was harder than it looks
noad
Yes, celebrities on Instagram seem to know what's up. They always have their appearance down a T. So much so it makes them look slightly unhuman.
They're out of proportion, other-wordly with their flawless skin and sultry poses. They've been attacked for using Instagram, distorting it, to negatively affect "normal people"s perception of body image.
It's been alleged it's the use of clever angles, lighting and even some apps which help them look so good.
But surely it couldn't be so hard to be just like them? I tried to recreate their iconic snaps on my own Instagram to find out.
Having procrastinated my way through the Easter holidays re-watching Game of Thrones and crying over Blackfish (btw save the Orcas). I decided to set myself a challenge.
I wanted to see if an average everyday student could transform herself into a "perfect celebrity" on Instagram, to prove the body standards set by celebrities even exceed what they look like in real life. And to see what it really feels like to have the responsibility which comes with fame.
So I made my Instagram profile public, ran up a load of hashtags and caused a certain amount of confusion. As I began my quest into Instagram stardom.
People judged, and the comments started rolling in, but I didn't care. This was more important.
The Original Version
My Version
To my surprise I was managing to gather a handful of likes on a picture of me simply pouring some San Pellegrino (posh I know).
Granted, it wasn't 70,070 likes, but enough for me to question "is this what it really feels like to be famous?"
The Original Version

My Version
At this point, I got my first taste of stranger love, while my ordinary followers were too busy wondering what the fuck was going on.
Thank you Andreakroma for appreciating my fake #dolce
The Original Version
My Version
Yes, somebody even thought I was wearing a real vintage Alaia dress (a supposedly crazy expensive fashion label I had never heard of).
Unfortunately I had to burst their bubble pretty quickly.

The Original Version
My Version
"Staying comfortable?" errrr there was nothing 'comfortable' about this.
To be fair have to credit Kylie for managing to stay supposedly 'comfy' in those @meundies.
The Original Version
My Version
Unfortunately, I was unable to get my hands on two year old Marc Jacobs snow boots.
But for the authenticity of the photo I managed to find a pair of two year old socks.
The Original Version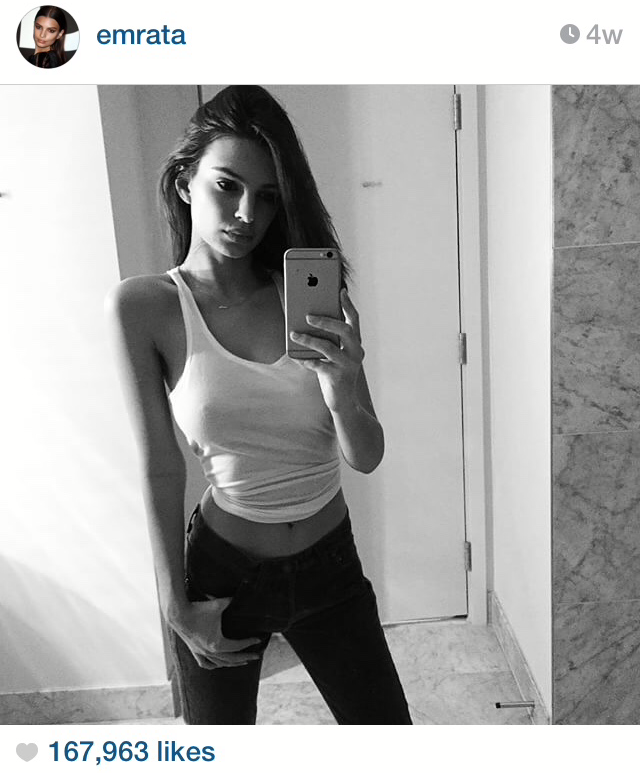 My Version
What can be concluded, after an unintentional #freethenipple, is being a celebrity on Instagram is harder than it looks.
I even got an insight into what a celebrity might expect in their comments section.
And I have to credit celebrities for coping with being in the public eye relentlessly. No wonder they feel like they have to look "perfect" 24/7.
You can understand the pressure for them to look more "real" and show their lumps and bumps (like Chrissy Tiegen did recently), rather than relying on extensive bedroom photoshoots and ridiculous poses.
Living like this made me realise what we see on Instagram is never what the person actually looks like. It made me think differently about comparing myself to someone else's "good picture" and feeling awful.
You should love yourself for who you are, and maybe take more outside photos.