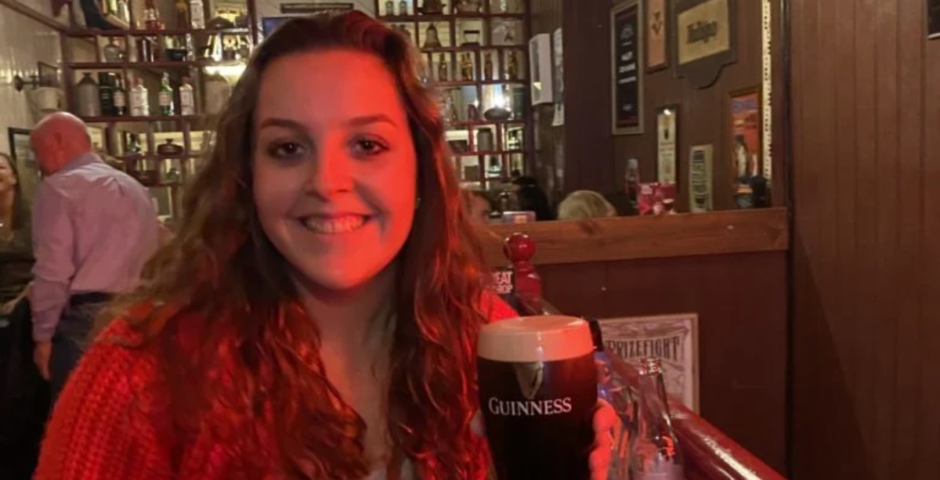 Buckle up Edi students, we're doing Dublin in eight hours for only £30
It WAS meant to be 10 hours, but Ryanair only offers failure and sadness
As an international student, the best part of studying in the UK is how close and cheap it is to travel to Europe. And while trips to Dublin from Edinburgh are reasonably cheap anyway, I haven't seen them as low as they have been recently, with flights from £14.99 each way.
Wanting to see the Irish capital during the still relatively nice weather, my friend and I booked a Saturday day trip and eagerly planned our tight itinerary.
To fully maximize our day in Ireland, we booked the earliest and latest flights offered by Ryanair. However, after flying with them to Paris Beauvais only last month, I probably shouldn't have expected things to go right. After going to their humid corner of Edinburgh Airport and waiting until boarding started, we were told they weren't actually going to be able to depart until around 9:55, not due to arrive until just after 11. (Ryanair only offers compensation for delays over 2 hours, and our delay was only 1 hour 50 minutes. Do I even have to say anything about that coincidence?).
This delay meant we did not have the time for Goose on the Loose, a cute brunch place we'd found online right by Trinity College with a Nutella Baileys crepe we were both drooling over from the point of mental conception. So, instead, we had an airport 'brunch', a Pret sandwich for me and a Krispy Kreme for my friend. When we finally made it onto the tarmac, things went back to plan, and we made it out of the Dublin airport around 11:30.
Immediately outside the airport are the Dublin Express bus stations with 2 different routes around the city. We opted for the 784 route, buying open return tickets for €12, and getting off at the end, right next to Harcourt Street, which was about a seven minute walk from St. Stephen's Green.
St. Stephen's Green was very cute. Although smaller than we had thought, this worked out well for us, given our itinerary had to shrink by two hours (I have LOTS of choice words for Ryanair). We did a quick walk through, stopping to take a few minutes near the pond, especially as two swans came right over to eat some bird feed. There was a pretty bridge over the pond we liked too.
Next, we made our way up Grafton Street, popping into stores and desperately wanting Starbucks but knowing we did not come to Ireland for Starbucks (isn't that always the dilemma, though?). Grafton Street was cute and lively, but it's just a high street, so we didn't spend much time there. However, there were little flower stalls in the street we loved, as well as Grafton Street connecting right down to St. Ann's Church, which was beautiful.
Grafton Street leads right up to Trinity College, home of the Book of Kells in its Old Library. However, we didn't really want to pay around €20 to see that, nor did we have the time, so we opted to just walk around the central quad and be jealous of how consolidated their campus seemed to be. (Looking at you, Edinburgh, why are you trying to make me walk from 16-20 George Square all the way to Roxburgh's place in 10 minutes? The STEM kids in the King's Buildings are crying too). Not to mention, the central part of the campus is beautiful, some of the buildings were straight out of Monster's University.
With half our day already gone by 1:30 when we left Trinity, we hopped on a bus and made our way to St. Anne's Park for the Red Stables Market, which happens every Saturday from 10 am-4 pm. I'm a sucker for a good farmer's market, and our itinerary research had told us that this was one of Dublin's best. It did not disappoint. St. Anne's Park is huge, and it was a short walk from the bus stop to the central area where all the food and goods stands are set up.
The Red Stables truly put my beloved Grassmarket to shame. There were at least 10 different food stalls with offerings ranging from Chinese dumplings and noodles, chargrilled BBQ, falafel, and crepes (but cash only – our hopes of a Nutella crepe had been risen and crushed once again!), fresh baked cookies and more.
Down past the food were some fresh produce options and some more crafty stands. We shared a white chocolate lemon cheesecake cookie as well as some pork dumplings, and promptly went back to buy six more cookies between us. Seriously the best cookie of my life, and baked right there in the cart.
We also picked up some locally made cheese, and while I went safe with hard goat's cheese, my friend picked up a soft cheese that got her bag searched at the airport, thankfully though, she got to keep it.
Finally, we went on the Great Guinness Quest, making our way back to city center and crossing the iconic Ha'Penny Bridge over to the Temple Bar neighbourhood, full of shops, cute bars, and obviously iconic The Temple Bar. We snapped a couple of pictures outside it, but the line was insane and we had an hour before we had to go back to the airport.
Instead, we looked into a few cute stores, where I asked the girl ringing me up for a good pub in the area. She directed us to Mary's Hardware up the road and assured us that the Temple Bar did not need to be done anyway, unless we wanted to pay €10 for a "shit pint". I love her.
Mary's was great and full of open chairs, so we paid €5 for a pint of Guinness to finish off our Irish experience. I finished it and hated myself the entire time, but I committed to a day in Dublin, and that meant chugging it in a rush to get moving once more. But the next time I want a mouth full of dirt, I'll faceplant in a field. My apologies to Ireland and lovers of Guinness everywhere.
Finally, the last thing we wanted to see was Dublin Castle, which in our rush we did wrong. We entered from the wrong side and really only saw a courtyard, not the beautiful front façade, so we ended up just leaving and running to our airport bus stop down back by Trinity. We were back in Edinburgh by 9:30, my watch having happily completed its rings, and my bag full of cookies and cheese like a jet-setting rat.
Overall, Dublin was great. There was lots more to do that we didn't have time for, and I definitely want to go back. We didn't get the chance to actually sit down and have a meal, nor did we get tickets for anything, Dublin Castle would've been at the top of our list, but I think I'd go and cough up the money for The Book of Kells and the Trinity Library, too.
Next time, I'd probably spend a night in Dublin, but this was not an overnight trip, this was a day-in-Dublin challenge. I would definitely recommend going on a Saturday, obviously, so you don't miss any classes (because I would never do such a thing), but also because it means the Red Stables Market is on, and those cookies were life-changing.
£30 for a day trip was a fair price for getting to fly to the capital city of another country, and while I wish the day didn't start with four hours at the airport (BOTH of my middle fingers for that one Ryanair, seriously), our day was fun and had we not set out to 'do' Dublin in a matter of hours, we could have easily spent the day passing through all the cute little shops and cafes, shopping and maybe even finding time to sit down for a meal.
Recommended related articles by this writer:
• Seven things to look forward to if you're an Edi student moving from the countryside
• Edinburgh University spends over £17,900 on Principal's house bills
• What type of Edinburgh student you are, based on your favourite member of One Direction