I tried to find my Valentine using different dating apps
I'll still probably spend Valentine's Day in the JMCC
Dating apps are everywhere, whether you're in a relationship or not, you probably know what Tinder is and if you're single you've probably got a profile. I decided to give in and see if any of these apps could actually get me my Valentine.
I have never used dating websites before this week, but after deciding to do this article I took the plunge and downloaded a few apps that interested me; Tinder, Jswipe, Happn and Veg. After creating my profiles I was actually quite excited, flicking left or right, awaiting my first matches.
Veg
Veg is a dating app for Vegans who hope to share their weird eating habits with others. I'm nowhere near being a vegan but I hoped that they wouldn't be able to sniff that out over the internet. Putting 'only one type of meat I'm willing to eat' in my bio definitely did not go down as well as I hoped, as after 24 hours no one had reciprocated my match. I really hadn't been picky with my matches – perhaps my tongue-in-cheek bio was just a little too close to the bone.
I couldn't even fish out the other fake vegans, there was part of me which was anticipating maybe a date in which I would arrive and he would confess he wasn't really a vegan either then we could go and get delicious meaty burgers.
In my opinion the Vegans must just be too sensitive about their dietary habits…lighten up.

Hppn
The premise of this app is that it tracks your movements throughout the day, and matches you with other Hppn-users that you have walked past. I see a few pros and cons to this. On the plus side it's a great way to get over your timidity or lack of time and still contact new people, but on the other hand I think it stops people from using the good old fashioned way of actually starting a conversation with someone. Ultimately I felt uneasy about the concept of being tracked and I felt that if I'd missed these people in real life, then that was fate.
JSwipe
Jswipe is an online dating app for Jewish people, meaning that I was a phoney once again. My bio read 'willing to convert' which if I met Mr Right then strictly is true. Although I was pretty certain my Arabic name and Palestinian roots may have given me away I still swiped away.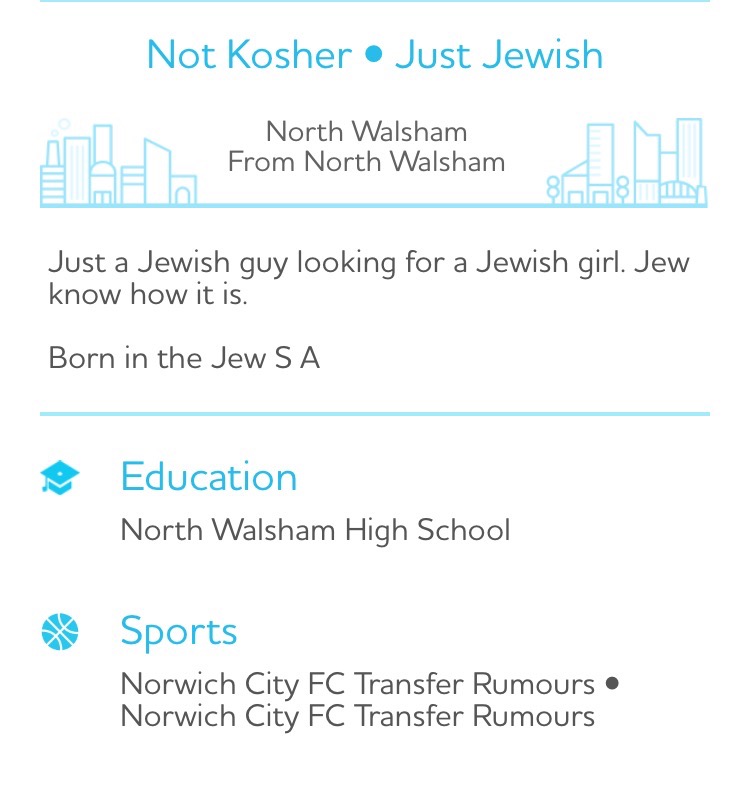 Some success. I finally had a fair number of matches and a few messages; the best being the cheeky Jewish chat up line of "Hey looking for something to atone for on Yom Kippur". Despite the nice chit chat none of these formulated into real dates.
Tinder
Ye' old faithful. I don't think I need to even explain Tinder, it is the ultimate and original dating app.
My friends helped me create my profile and choose the pictures, stating they needed to show that I was 'up for a good time'. My matches were pretty much instantaneous and quickly the conversations started. The aim of my profile was actually to get a date and finally after a few weirdos I spoke to someone who seemed normal enough,.
We arranged a date and after doing some shots I jumped into my Uber to meet him. Little did I know that I'd actually get asked out by my Uber driver taking me to the date.
When I first hopped into the car I did my standard question 'have you been on long'. After we spoke about how he was a refugee from Afghanistan moved by the UN and how he would like to live in Canada one day. I was very interested in his life but as we soon reached the Dragonfly he ruined it all by asking for my number to go for a drink to which I replied , "ah sorry but I'm actually off on a date now."
He then said, slightly creepily: "Oh I wouldn't have dropped you off if I had known it was a date!" I nervously chuckled and only have him the three stars.
As the night went on we talked about an array of things; our respective hometowns, his MA, Japan, trout tattoos and Black Sabbath.
One of the peaks was definitely the tattoo discussion –
'Do you have any tattoos?'
'No do you?'
'No but I'm going to get a tattoo of a trout on my shoulder,'
'Oh.. really, why a trout?'
'I dunno really, I really like trouts and my dad loves fishing,'
'So will it be a detailed illustration of a trout?'
'Nah, only an outline,'
'Then how will people know it's a trout and not just a fish,'
'It'll be trout shaped,'
'Ah, I see.'
Despite his offer of a Valentines date, I felt he was not the one.
Ultimately, my whole perspective of dating apps has changed. I completely understand why people use them, they provide a quick and easy way to connect with people. The whole experience has given me memories but no Valentines.