How the election night unfolded in Potterrow
It was the biggest U.K. election party outside London
November 9th 2016 will forever be remembered as the day that Donald J. Trump was elected as the 45th President of the United States.
Edinburgh students, who were overwhelmingly backing Hillary, were looking forward to a night of celebration in what many viewed as essentially a midweek Big Cheese where everyone pretended to be political experts for one night.
The promised VKs and the likelihood of a Hillary win looked like the perfect mix for a huge midweek night at what was being dubbed as the biggest election party in the U.K. outside of London.
In an eventful night where someone was kicked out for pouring a drink on someone she disagreed with, and what started as a party atmosphere, fizzled out to something more reminiscent of a funeral.
Here's how the roller-coaster night panned out.
1am 
It was party time.
Hillary supporters were in high spirits as premature polls placed their candidate significantly ahead of Trump. The Potterrow dance floor was full, people were drinking, laughing and confident for the night ahead.
Maybe people were getting ahead of themselves, but many were preparing themselves for having the first female President in the history of the United States.
At this point, people were confident that Trump's many flaws would prevent him from becoming President. Ellie, a third year Theology and Classics student, said: "I've honestly never met someone who supports Trump in my life.
"He's a misogynist, he's awful and I just can't imagine him becoming the most powerful man in the world.
"I'm not the biggest Hillary fan, but there's no comparison with Trump. Having a woman as the most powerful person in the world would be a great step as well."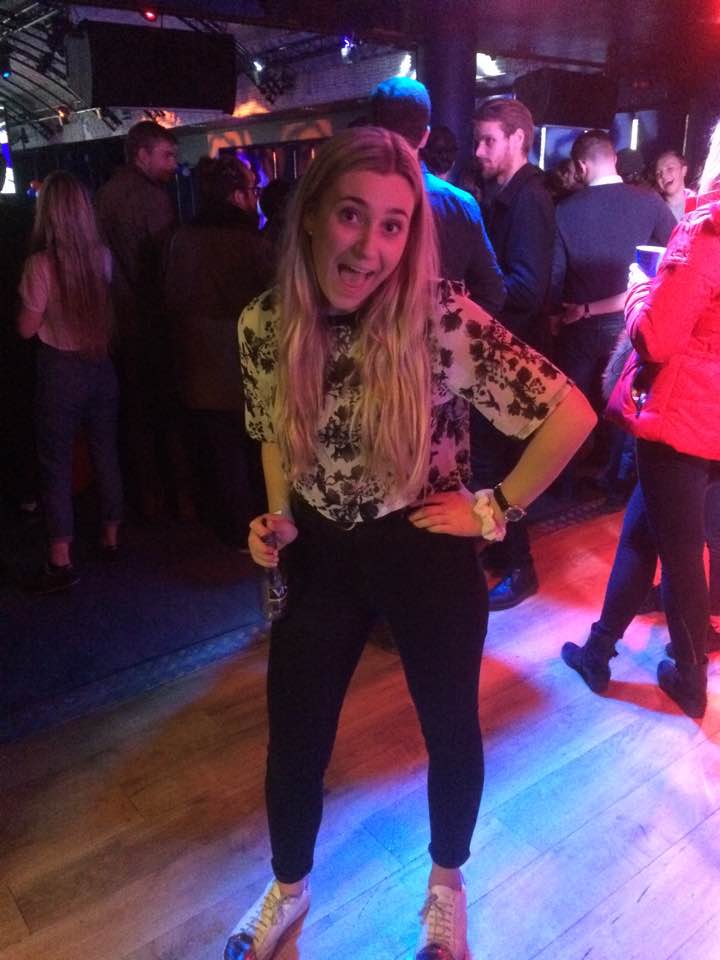 Fourth year Emily, studying Politics, also expressed her dislike for Trump, saying: "He is disgusting. He sums up everything that is wrong with our society.
"If Hillary wins, it will be a triumph for humanity. Forget that she's a woman, she's the most qualified person for the job.
"Look at all the shit she's had to go through, it's ridiculous."
1:30am
Some of the few Republican supporters tried to give away Republican badges by throwing them around Potterrow with most people who picked them up unaware of what the badges symbolised.
2am
The predictions shown on the big screen very quickly told a different story to what was being said earlier in the night. It was starting to become clear that the race would be tighter than people felt comfortable.
Charlie, a third year Economics student, was one of the first people to stick their necks out and call a Trump win. He said: "Logically, he's going to win from here. Look at the results coming out, he's winning the key states, particularly Florida.
"I don't like Hillary, but Trump is far more dangerous than her. Some people will probably find the Trump presidency amusing for a few days but it'll sink in and people will realise what they've voted for and how much damage he can cause."
2:45am
By this point, Hillary's chances were drastically declining. Ben, a fourth year History and Spanish student compared the experience to how he felt during Brexit. He said: "On the last day of my year abroad, I was in a bar in Spain convincing my Spanish friends that a Brexit vote was impossible.
"Over the course of the evening I was proved horribly wrong and tonight feels a lot like that night in June.
"It's not looking great at the moment, but I hope places like California will pull us through.
"Even if Trump wins, I have faith that there are enough sane Republicans that can hold him in balance."
3:20am
The atmosphere was a lot more subdued at this point, so we took to the opportunity to talk to the President and Vice President of the North American Society who put the impressive event together.
Their President, Nicolas Vit,said: "It was a bit of a nightmare getting a license for this, it took months of planning.
"I can't tell you exactly how many members of the society are pro-Trump or pro-Hillary but all I can say is, we tried putting on a debate in the society and we couldn't find anyone who wanted to speak on behalf of Trump."
Meanwhile his Vice, Charlie Laframboise, added: "The event is so dependent on the result unfortunately. We're both Canadians, but we can still say that the spirits are low at the moment.
"A Trump win means something for everyone in the world."
3:40am
It took us four hours to finally find someone voting Republican. We found James, an American Business and Finance student, who made it clear his vote for Trump was a vote for the Republican party, not the candidate himself.
He said: "Trump is an asshole, I won't deny it. He doesn't represent the best view of a Republican candidate at all.
"I wish I could vote against Trump, but I think the policies behind each candidate are far more important than their personalities.
"The policies from the Republican Party are ones that I agree with.
"The most important vote tonight is actually the Senate vote, not the Presidency.
"Trump won't veto policies put forward by the Republican senate. It's not about him, it's about the party getting its policies through."
4am
At this point it was becoming pretty clear that Trump would emerge as the winner and Potterrow began to empty as a result.
5am
The last and most certainly the darkest hour of the election night. The few loyal Clinton supporters seemed completely devoid of hope.
A first year Architecture student, Caroline, told us: "There are lots of shitty people in the world with shitty views. He's giving more press to people with racist and misogynistic views."
5:30am
The night turned sour when a Clinton supporter grabbed a drink and poured it all on someone's head. She was allegedly upset at something that was shouted out earlier in the night. The bouncers were quick to kill any tension and were very quick to escort her out of the venue.
The incident was witnessed by Cameron, a third year Economics student. He said: "Some people obviously couldn't accept the result.
"She was an English girl who had nothing to do with the election and what she did was out of order."
Shortly after the incident, people were asked to leave with Trump in pole position to win the election. What promised to be a night of celebration and partying, slowly became a mournful occasion that left party-goers with a better taste in their mouths.
The pouring rain that greeted everyone as they left Potterrow accurately summed up the mood of most people by the end of the night.