Freshers groups bring you more entertainment than a night at the Fringe
Facebook Freshers groups highlight everything that is wrong with teenagers.
These groups are designed for overly-keen students to meet their course mates and flatmates before they even get to uni.
And most posts are along the monotonous lines of "Is there anyone doing Geography and Italian?*"or "Should I bring a kettle?"
However, there are some bolder, braver freshers than some.
For example, those who shun the social conventions of using Google or another search engine that they inexplicably prefer:
Is there? Is there?
It would admittedly make much more sense to google this but how else would he indicate to his new found friends that not only has he a taste for high end fashion rarely seen outside the back pages of GQ but also that he efficiently manages his time.
This poster was kind enough to ensure that her classmates were aware that she is a medical anomaly and that sushi must be in her body for her to function.
What Sushi Girl fails to reveal is how severe this need is. Does she merely eat it? Or is she some horrific salmon injector like a Japanese version of Trainspotting?
Perhaps a wiser post would have been regarding the nearest rehab centre in Edinburgh.
Other posts come from kinder freshers offering services.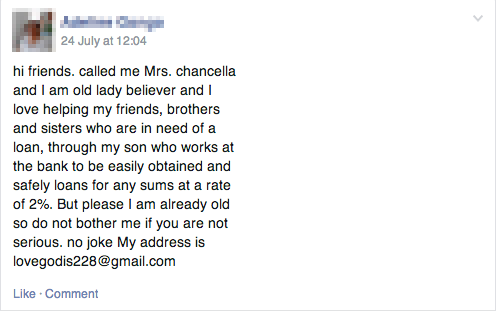 Many of the freshers ineligible for SAAS funding won't be as crippled by student loans thanks to the pure, unadulterated goodness of Mrs. chancella's heart.
She truly is one of the nicest old lady believers I have ever had the pleasure to do business over the internet with.
A furnished apartment?! Close to the UN?! As a politics student, I was not going to let this amazing chance slip up and promptly rejected my offer for university accommodation.
There are some posts though that dispense the best thoughts and wishes from one fresher to thousands of others:
Although I didn't recognise most of the words he used, the message was clear, and this young man inspired me to get absolutely wrecked.
I was briefly kicked out of my house because of my drunken behaviour involving my dad's guitar but all's well that ends well eh?
Other freshers need some a shoulder to cry on and some reassurance:
We've all suffered from nightmares about going to other Russell Group universities where the standard of education is similar and we'd probably make friends and have a jolly good time.
In fairness, I sympathise because Durham is a fucking dump.
Last but not least, freshers groups are an opportunity to share excitement.
Me too, insomniac, me too! Although, if these symptoms do persist, I'd seek some medical advice.
Some of these posts, amongst the many others that remain in the groups, are manifestations of the nervousness and the insecurities that students coming from Edinburgh and beyond feel and will continue to feel during Freshers' week.
Make an effort to speak to people and make new friends. Just don't talk to anyone in the years above you.
*Apparently nobody is doing Geography and Italian because Edinburgh does not offer this course.