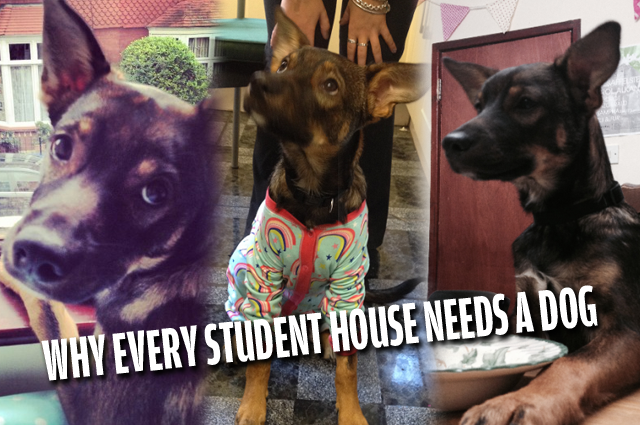 Why every student house needs a dog
Your landlord might not like it, but here's 12 reasons why you should get a dog today
Every student thinks about getting a house pet at some point, and some have even taken the plunge – but how we got ours was a bit different to the bog standard 2 rabbits for £35 at Pets at Home (still a great deal though).
Whilst working in Portugal this summer I rescued a puppy, Sebastian, from a tramp who was mistreating him. I planned on rehoming him whilst I was there, but after getting attached, I couldn't bear to leave him. My friends and I managed to get him home with a puppy chauffeur, and now he shares a student house in Liverpool with 6 girls.
Constantly entertaining and loving, he's obviously the most popular housemate. Here's 12 reasons why you should ditch the boring goldfish and upgrade:
Unconditional love – When none of your Tinder matches are talking to you, his adorable face will greet you with love when you come through the door… alone.
Routine – Although lying in bed until 4 seems appealing, getting up early for 'wee wees' makes the day last way longer.
The responsibility – Students can be pretty selfish, but having a furry friend that depends on you teaches you there's more to life than getting drunk and eating Subways.
Dogs are good at keeping secrets – You can guarantee your dog isn't going to blab your deepest darkest secrets after too many quad vods.
Exercise – Screw paying £9 a go for Bikram yoga, running round the park playing fetch is completely free!
Comedy value – We've all spent hours watching animal videos on YouTube, but they're even funnier in real life.
You become more tidy – No more excuses for leaving a week old kebab on the floor to rot: otherwise you'll also be dealing with noxious farts and concealed piles of sick.
Babe magnet – If you're a guy, having a cute dog is more beneficial than a big penis.
Exam time blues – It's been proven that cuddling a cute animal can lower your stress levels, and we could all do with that.
Night out conversation starter – Making friends in the smoking area couldn't be easier with man's best friend in pride of place as your home screen background. Just remember not to go on about it – you don't want to scare people off.
Perfect Twitter material – Giving people abuse off your dog's account is way funnier and even more satisfying. Follow him – @SebRossett

Unwanted one night stand in your bed – Send in the hound and hope for the best.
Want more from us? Follow @TheTab on Twitter