Thousands of people take to Parker's Piece for Black Lives Matter protest
The estimated 4000-6000 protesters tried to maintain social distancing guidelines
Thousands of people took to Parker's Piece, Cambridge, for a Black Lives Matter peaceful protest on Saturday. Despite the torrential rain, it is estimated that 4000-6000 people attended to honour George Floyd and show support for the Black Lives Matter movement.
Organised by a group called Cambridge for Black Lives, protesters arrived at Parker's Piece at 2pm for a "peaceful" protest, wearing face masks, gloves and non-identifiable clothing to ensure safety.
Although there had been plans to do a march, the protest was made static to ensure it maintained government guidelines about social distancing.
Cambridge is one of many British cities showing solidarity with the US, where there have been widespread protests against police brutality and racism. Although George Floyd's death inspired the resurgence, the Black Lives Matter organisation was founded in 2013, and the protests have focused on many other killings of black people, white privilege and institutionalised racism.
Upon arrival at the park, stewards in hi-vis jackets directed groups of protesters to sit three metres apart, even if they were from the same household.
Munya Jiri, a 23-year-old student at the University of Leicester, hosted the event. Before the speeches began, the thousands in the crowd were encouraged to take a knee and hold up their placards, in honour of George Floyd and other black deaths.
Munya said: "It's almost like we all got front row cinema tickets to a lynching. You know, George Floyd, we watched him die. For a lot of people it's shocking, but for the black community, this is something that we're seeing day in, day out.
"It's important for us all to remember that this isn't just America. This is rife in our own city. From the age of seven, was the first time I started facing direct racism. I hit secondary school and [racial slurs] were said to my face daily. And when you have those things said to your face daily, it destroys you. It brings you down."
Barnie Haktara, another speaker at the protest, listed the names of innocent black people who lost their lives at the hands of the authorities. He asked that the crowds hear their names and remember them. He listed a total of 29 names.
He also said: "We are the children of colonialism. The legacy of the men who owned men. Our history we never learn in schools; our lessons on race came from our parents telling us to love ourselves, but our friends telling us to be ashamed of our heritage and skin."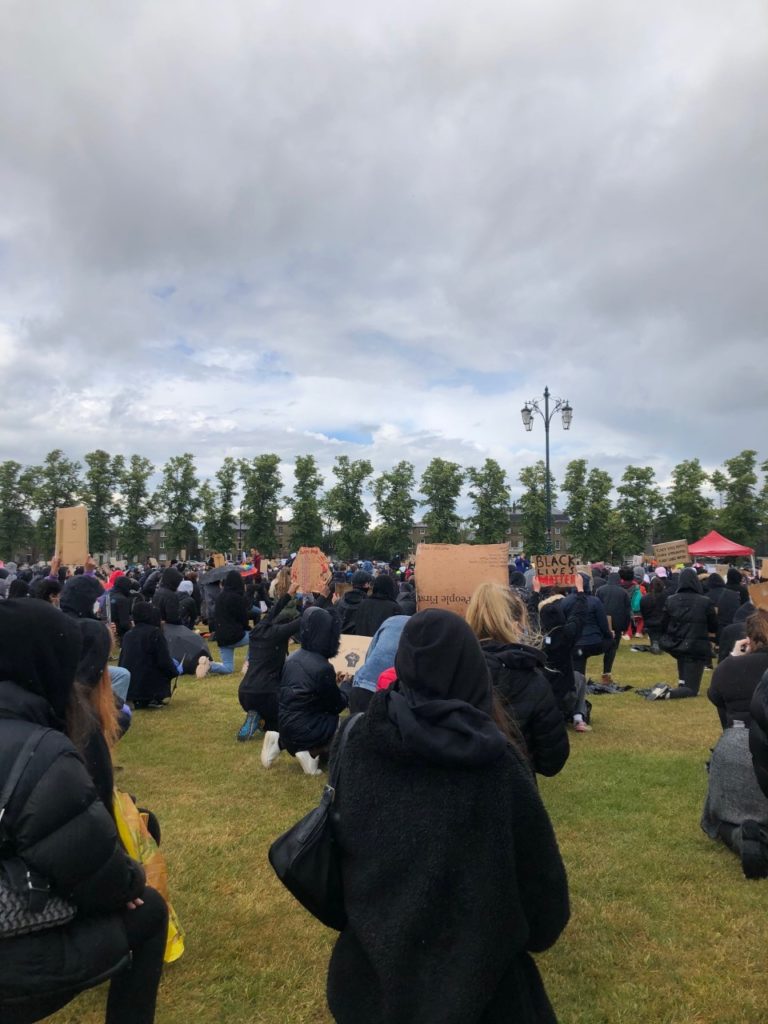 Wanya, a Labour party activist, also drew attention to the lack of British imperialism and colonialism taught in schools.
He said: "I'm not going to be angry at you for something your forefathers' forefather did, but I am going to be angry at you for not teaching it."
Letitia Jiri, Manya's mother, also spoke at the protest. She discussed the struggle of raising black children among institutions that uphold white privilege.
She said: "My children are well-travelled, they've been to museums, they learn piano, they have any support that a middle class child has had. But still there was something different there. They just could not match up, why is that? Because they are black. There is no other reason, it's because they are black. I as a mother, I cannot change that. Do I want to change that? No. What I want to change is the treatment that they are getting in every single institution.
"We are fighting black people being murdered, but they are murdered not only through the actual killings, they are murdered from childhood, in institutions, in schools."
Alongside the speeches, there were also two musical performances. Kaye-Marie, the first artist, sang an acapella cover of 'Glory' by John Lennon. The second artist sang 'I Know Where I've Been' by Queen Latifah. Both performances can be viewed on Cambridge For Black Lives' Instagram page, @cambridgeforblacklives.
Information about the next protest they are hoping to host "after isolation" will also be available on their Instagram.
To sign a petition to teach British children about the realities of British Imperialism and colonialism, click here.
To find out more or make a donation to the Black Lives Matter movement, click here.
All images are author's own
Related stories recommended by this writer:
'To be Asian is not to be anti-racist': Why we need to address racism in Asian communities
'Silence is compliance': How you can speak out against systematic racism