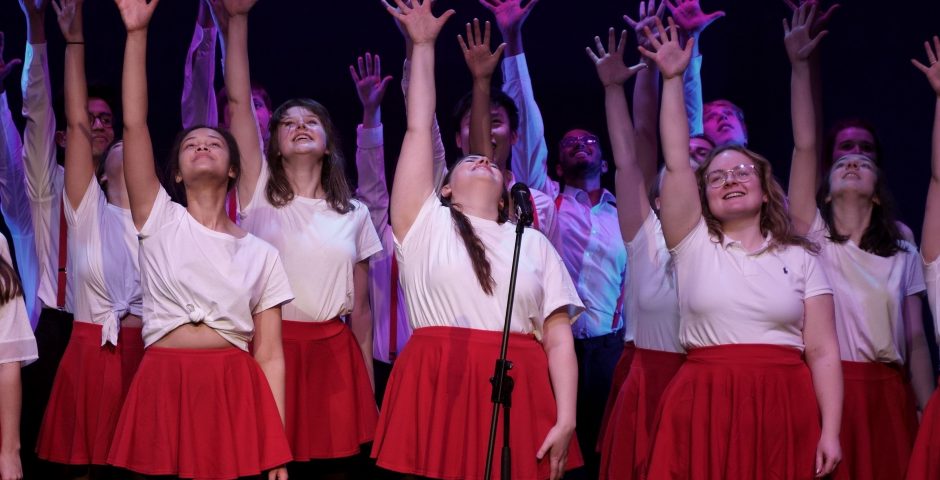 Review: Seasons of Love
A heart-warming mix of musicals for even the most disillusioned Cambridge student.
In my badly lit, slightly damp and suspiciously cold college room, I sat mindlessly staring at my laptop. I was tired. My hands ached from months of typing. My eyes drooped as I squinted at indecipherably small words on the back-lit screen. I rubbed my temples wearily. I had, after months of relentless work, become a fossilised Cambridge student.
'What I need', I thought to myself, 'is a break'. And what better way to relax and shake off the end of term blues than to go to a fabulous musical performance, with some of the best musical numbers, catchy acapella harmonies, show-stopping choreography and get-up-and-dance tunes, all done in 60 minutes?
As I cycled into central Cambridge, I was skeptical as to whether or not the CU Show Choir's 'Seasons of Love' would satisfy my desperate need to soak up some good old musical bangers. With my cynical attitude, there was every possibility I would come out feeling disgruntled and even more like the weathered Cambridge student stereotype.
My skepticism was unfounded. As the curtain rose and three multicoloured spotlights appeared on stage, my spirits soared. The live orchestra began and I was greeted with a vibrant array of red and white costumes, twenty happy faces and an almost overpowering amount of infectious musical energy.
From that moment on, I knew that I could properly relax into a night of slightly slap-dash, but nonetheless lovable musical entertainment.
The choir's opening number, '9 to 5' by Dolly Parton, was seamless. The choreography was slick, the vocals were superb and the energy levels were almost as high as my hopes at the beginning of term tend to be.
When the chorus came, it was all I could do to stop myself from singing along. Other audience members were less restrained than I. I was forced to suppress a smile as I heard individuals almost involuntarily bursting into song at various points during the rendition. It was an irresistible opening number, and a feel-good performance if ever there was one.
The show continued in a concert-style performance. Before each tune, a bashful choir-member or sparky duo would introduce the proceeding song the group were about to perform. A classic but excellent trope, this encouraged active audience engagement and we laughed along. It brought character, life and atmosphere to an already exciting series of performances.
The show had a clear structure and I found myself looking forward to the musical numbers all the more when wittily introduced with such style. A particular highlight was the somewhat cheesy but good-spirited introduction to a 'Take That' medley.
Full of puns, jokes and much audience hilarity, my shrivelled soul was forced to acknowledge the light-hearted good which still exists in the world, despite a somewhat traumatic Cambridge term.
The lighting of the performance certainly helped to emphasise the musical experience. Bright, block colours throughout each song brought character to the show, and reflected the high energy of the performers perfectly. An especially vibrant rendition of 'Summer Nights' from Grease, with red and purple lighting, brought an unmissable pizzazz to a musical favourite everyone loves.
Whilst it might be a classic 'English student stretch' to claim that the shifting pink, green and blue lighting of 'Seasons of Love' was an intentional decision to emphasise the shifting seasons the performers were singing of (old habits die hard), it is undeniable that the lighting brought an extra sparkle to the performance.
Overall, the show was extremely enjoyable, despite the somewhat lop-sided choreography and occasionally questionable top-note. The performers were talented individuals and had an undeniable flair for what they did. The closing Christmas banger with matching Christmas hats coated the main stage of the ADC with a Christmassy spirit and reluctantly converted the Scrooge within me. 'Oh woe!' (my fossilised Cambridge student spirit raised its ugly head), 'If only life were constantly as happy as those lovable musical Maestros have made me feel tonight!'

Rating: 4/5 stars