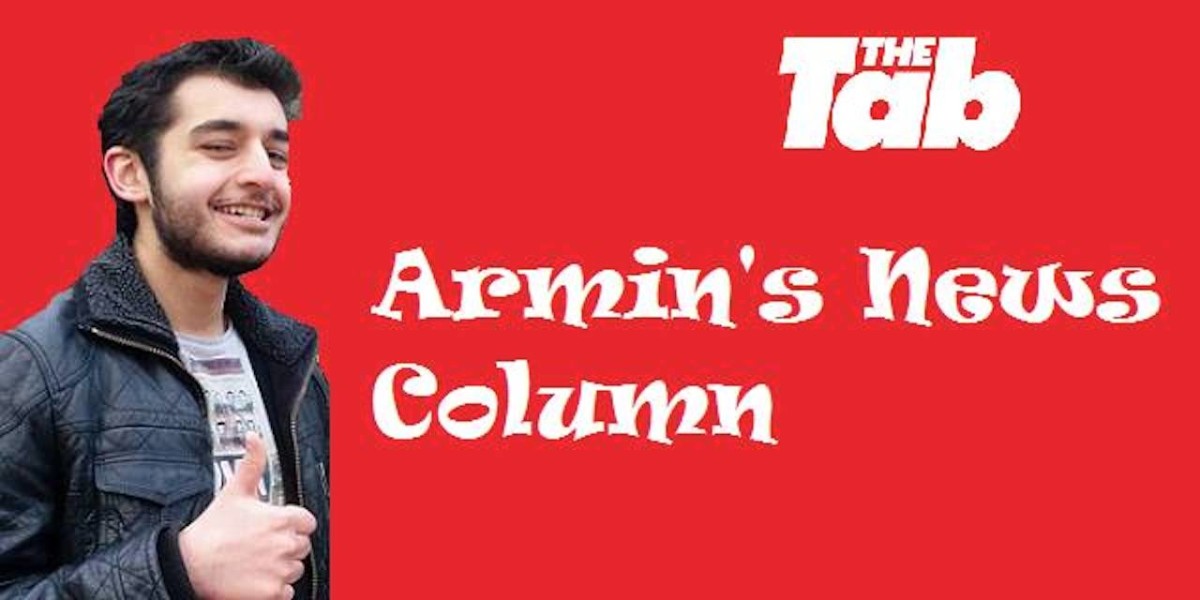 Easter News Roundup: Fruitcakes, Cocks, and Ankara
ARMIN SOLIMANI brings you all the news, all the goss, and whatever other nonsense you swan fetishists have been getting up to over these most sacred of holidays
allan hennessey
bronze cock
bronze cockerel
cake
David Attenborough
je suis ankara
je suis charlie
jesus college
nigeria
nigerian royalty
NUS
Peterhouse
Priscilla Mensah
Armin updates you with all that you missed while in exile from the Bubble.
No, don't adjust your word-a-day calendar – forgivably optimistic March really has rolled into substance abuse April, and your word of the day is "Fuck." Spring has sprung, and the Easter holidays, like so very many things we thought would last forever – class lists, getting three trains and a rickshaw to Oxford, the CUSU presidency of Comrade Priscilla – have faded into the distant past; a simpler time, when a few trips to Lola's weren't the difference between gainful employment and a 'gap year' spent watching fat people yell at Jeremy Kyle.
But don't reach for the bottle just yet, as Cantabs have been out in force over the past few weeks, somehow making more DM headlines than Katie Price's ongoing feud with her own liposuctioned pre-teen offspring. Quit googling "how to intermit but keep my loan", briefly re-remind yourself why an arts degree isn't a 'fast stream' to the job centre, and shovel some holiday news roundup down your over-intellectualised gullet.
Priscilla's NUS campaign gets off to a ridiculous start
Our very own President Priscilla has set her sights on the NUS VP for higher education position. Unlike most of our own desperately tragic elections, this one is actually contested – she's running against a totem of the pointless political scene, Sorana Vieru, whose manifesto proudly boasts that her long, futile NUS career has lasted a full seven years.
In a depressingly predictable turn, racial issues immediately dominated the campaign, with supporters of Ms Mensah's rival, the Student Broad Left, implying Priscilla would be less capable of dealing with racism at universities than her white rival. Indeed, if there's one thing we all know about hugely successful black women from London council estates, it's that they just can't understand the challenges of racism.
As long as they don't touch our 10% off at topshop, we wish Priscilla and the NUS every success in the vital work of our student representatives – finding that elusive two state solution, impeaching George Osborne, and of course, finally eradicating hand-raising. Maybe after they've defeated Islamic State they'll get round to cutting rents and that.
David Attenborough abseils down 50ft wall to inaugurate £26 MILLION conservation centre
National treasure, beloved Cantab and Anti-Starkey David Attenborough was harnessed up and thrown down the wall of a new conservation centre named in his honour.
90 years young and still going strong, Attenborough announced that, "By bringing together leaders in research, practice, policy and teaching, we stand the greatest chance of developing the solutions required to save our planet."
Massive fruitcake in shape of Peterhouse is made, eaten
Arguably the most impressive thing to be produced by our fairly lacklustre cohort, this leviathan cake measured two square metres and was a perfect scale model of Peterhouse college. The cake cost thousands of pounds and took over 200 hours to make – and sweetest of all, it was a birthday gift between a pair of actually married students, commemorating their hobby of climbing the Peterhouse roofs.
Abu Cantab
Allan Hennessy publicity stunt reacts to anti-Allan publicity stunt with publicity stunt
Perennial activist and #5 Tab BNOC Allan Hennessy is back in the spotlight with the Je Suis Ankara campaign. Despite brilliantly dismantling Eurocentrism with a French hashtag, Allan's campaign came under fire from one Cantab facebooker, who posted a parody B&W pic calling Allan out on his alleged narcissistic motivations.
A Facebook flame war ensued, with vitriolic abuse reaching a high point with claims that the post was mocking Allan's impaired vision. In a potentially unrelated yet groundbreaking move, Hennessy deleted his Facebook profile after repeatedly claiming to be the subject of an online hate campaign and the target of 'snakes in the grass'.
Nigerian royal delighted with cock
The bronze cockerel repatriated to Nigeria from Jesus college has been praised by their royals. To anyone disappointed by the initially muted response to a metal chicken from a government simultaneously dealing with Boko Haram and ecological devastation, the royal's praise comes as welcome news.
The war on symbolic violence continues however, with a large portrait of former South African PM and Cambo Chancellor Jan Smuts finding itself in PC brigade crosshairs. Apparently opposing apartheid and co-founding the UN makes him just another race hating dinosaur, like that megalomaniac gay rights campaigner Peter Tatchell.
Class lists get a poor grade
And finally, it looks like they're getting rid of class lists. Presumably, this is part of CUSU's long term plan to turn a leading academic institution into a fairly shit summer camp. Well, stop studying for those exams, because without class lists you can tell people you've aced it – your grade becomes a Schrodinger's cat of sorts, both a first and not a first at the same time.
That's all for now, have a great term. I'll be back with a roundup every week.