Football Cuppers: Pembroke reveal their lineup for the final
Now we look at the Pembroke squad that will take to Grange Road tonight to battle it out for the biggest prize in college football.
Cambridge
Cuppers
football
grange road
kent
PCFC
Pembroke
Sport
Tab
Fergus Kent (Goalkeeper)
A 2013 Blue, Fergus credits his success to the brief course of ballroom dancing lessons which he attended in first year. Such is his value to the side that he was chauffeured from Northampton to Cambridge for the semi-final after attending a 21st in Blackpool.
Subject: Law
Kindred footballing spirit: Peter Schmeichel
James Weber (Goalkeeper)
Famous for his authoritarian approach to the captaincy of the PCAFC 2nd XI, Weber has nonetheless proved a capable understudy to Kent and kept a clean sheet when called upon against Emmanuel.
Subject: Natural Sciences
Kindred footballing spirit: Carlo Cudicini
Mark Bittlestone (Defence)
A renowned 'tryer', Mark has played every game for Pembroke this season. A right back who can defend and attack with equal facility, he provides balance and panache to the team's back four.
Subject: History
Kindred footballing spirit: Lilian Thuram
Jamie King (Defence)
Such is Jamie's agility that Las Vegas's famous 'Cirque du Soleil' have offered him a job as a contortionist on completion of his Clinical Medicine Degree. Another ever-present in Pembroke's back four, Jamie hopes to end his Pembroke career with cuppers victory, having previously played in 3 losing semi-finals.
Subject: Clinical Medicine
Kindred footballing spirit: David Luiz
Matt Hudson (Defence)
When not galavanting off on stag weekends in Prague, Hudders is a towering presence in Pembroke's defence. His considerable footballing ability is alas not matched by his eye for a flutter, having made a sizable and ill-advised bet that Arsenal would finish outside the Champions League places this season and that their place would be taken by Southampton
Subject: Economics
Kindred footballing spirit: Ricardo Carvalho
Tom Ogier (Defence/Midfield)
Channel Islander Tom has made a meteoric rise this season. Curiously, he started this year as a 3rd XI (bottom of Div 6 with 1 point and a goal difference of -29) player, before someone realised that he was really good at football and promoted him straight to the 1st XI. Tom's effectiveness is diminished only by the fact that he often has to leave at half time to play Badminton (at which he is also extremely good).
Subject: Natural Sciences
Kindred footballing spirit: Graham Le Saux
Harry McNeill Adams (Defence)
A defender described by various sources as 'Bramblesque', 'angry' and 'frankly unpleasant to play football either with or against', his season included a 15 minute spell on the left wing where he looked about as comfortable as a hippo competing in the Winter Olympic Figure Skating competition.
Subject: History
Kindred Footballing spirit: Chris Morgan (violent Sheffield United centre back of the early-mid 2000s)
Rory Scott (Defence/Midfield)
Captain, engine room, spiritual leader, Rory Scott has bestrode Pembroke football like a Colossus this season. He forms part of a deadly midfield three along with Carroll and Hinksman.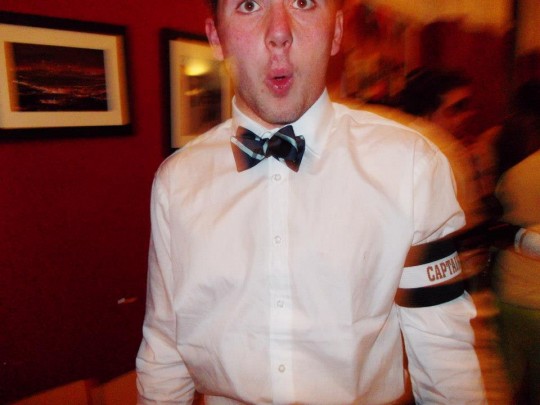 Subject: Law
Kindred footballing spirit: Javier Mascherano
George Hinksman (Midfield)
When not on the lash with former Archibshop of Canterbury Rowan Williams, George is at the heart of Pembroke's creativity in the centre of the park. He will be looking to add to the 4 goals he scored against a hapless Churchill side.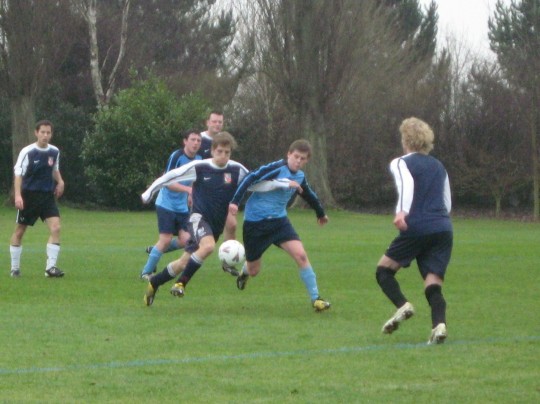 Subject: Natural Sciences
Kindred footballing spirit: Yaya Toure
John Carroll (Midfield)
Don't be fooled by JC's easygoing demeanour, for he is a fierce competitor with an extremely strong beard. His greatest achievements this season have been creating and scoring loads of goals and, more impressively, victory in PCAFC's internal game of 'wizard's staff' last Sunday.
Subject: Maths
Kindred footballing spirit: David Silva
Joël Reland (Defence/Midfield)
Representative of a new breed of footballing hipster, Reland's cultured approach to football has seen him make a huge impact wherever he has played, whether at full back, centre midfield or on the wing.
Subject: History
Kindred Footballing Spirit: Xabi Alonso
Olly Layton (Attack)
An elusive presence both for opposition defences and his own captains, Layton became the first player in history to miss a crucial league match for a romantic mini break to Kent. After almost scoring with an audacious chip 10 minutes into his PCAFC 1st XI debut, he has made himself a permanent fixture in the squad.
Subject: Classics
Kindred Footballing Spirit: Samir Nasri
Peter Harries (Attack)
Former PCAFC Captain Pete Harries has had dreadful luck this season, hitting the crossbar at least once a game while creating chances galore for others around him. One of the hardest workers and most versatile players in the team, Pete hopes to win Cuppers after defeats in 2 semi finals and 1 quarter final.
Subject: Clinical Medicine
Kindred Footballing Spirit: Franck Ribery
Quinn Coan (Midfield/Attack)
On loan from Occidental College this year, Quinn has added pace, skill and determination in equal measures. Like Bittlestone, Quinn is equally comfortable in defence and attack and contributes a great deal to Pembroke's ability to defend from the front.
Subject: HSPS
Kindred Footballing Spirit: Dani Alves
Marcus Nielsen (Attack)
Fresher Marcus Nielsen has made a great addition to an already superb squad. With an incredible 21 goals in 12 games and 8 in 4 in the cup including 5 hat tricks, he is sure to give Jesus's defence a torrid night.
Subject: Maths
Kindred Footballing Spirit: The great Lionel Messi
The final will kickoff at 7pm this evening (Friday) at the University Rugby ground on Grange Road, it should be a great atmosphere!