Dear freshers: Here are 19 things you have to try in Bristol before term ends
There's more to life than BED Mondays and Taka Taka
Do you spend your Friday nights deciding between The Berkeley and W. G. Grace? Have you spent all of first term alternating between BED Mondays and Lizard Lounge, exclusively eating Taka Taka or Jason Donervans? If the answer to any of those questions was yes – this guide is for you.
You are living in one of the best cities in the UK. Don't waste your three years at uni just drinking £7.15 pitchers from Spoons.
Bristol has great nightlife, scenic views, and plenty of food spots to try out. From proper Bristol pubs to wholesome viewpoints, this bucket list narrows the choice down a little bit and gives you a good idea of everything you have to do here.
1. Sandwich Sandwich
Forget your Sainsburys meal deal for one day, and tuck into lunch from here instead. Sandwiches never tasted (or looked) so good.
2. Enjoy the best cider in Bristol at The Apple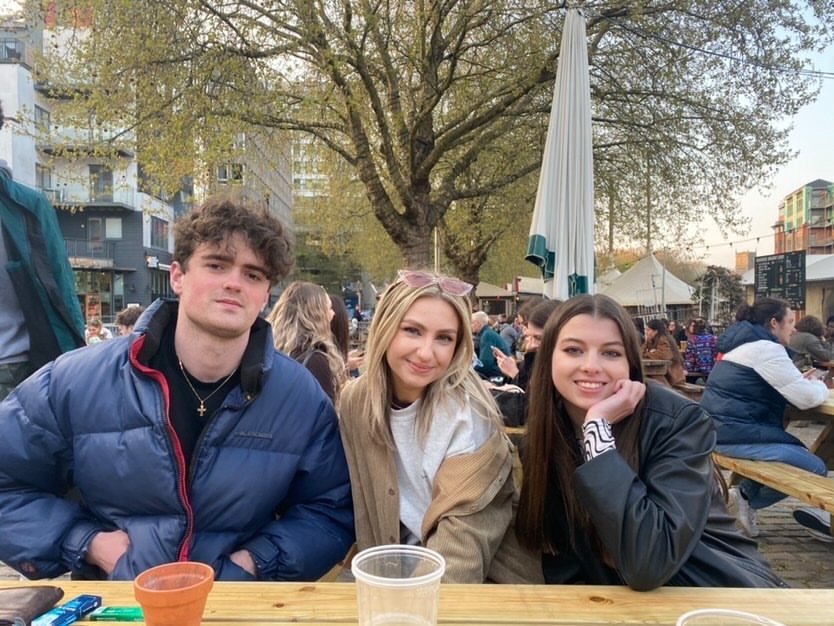 You've probably figured out by now that cider is pretty big in Bristol, and where better to drink it than on a boat by the water? Their weekday student deals make it pretty easy and affordable to get pissed, so forget your afternoon lectures, and go to The Apple instead. 
3. Take a Voi and get pretty much anywhere in 10 mins
Are you even a Bristol student if you don't unironically use a Voi to get around? 
4. Attempt ten before ten at The Cori Tap
Organise a night out with your mates to the Cori Taps and try out the ten before ten challenge. For those freshers who aren't entirely sure of what it entails, the Cori Tap challenge involves ten half pints of 8.4 per cent cider before ten o'clock, and no-one I know has made it out of the pub still standing (quite literally). 
5. Try the pub quiz at Steam or Hope & Anchor
There's no better way to spend your student loan and procrastinate uni work than on overpriced drinks at a pub quiz you are definitely not going to win. A student highlight is Steam, which takes place on a Tuesday night. 
6. Watch the sunset from Brandon Hill
 The perfect place, no matter the season, to sit and watch the world go by. Its up there with one of the most wholesome places in Bristol and it's only a five minute walk from uni!
7. St Nick's Market
St. Nick's Market in the city centre is filled with independent shops and food stalls to try out. One highlight there is Eatchu. Make sure to come back in the evening and head to Mr Wolfs for one of the best intimate clubs in Bris.
8. Thekla
If you've spent one too many nights out in the Triangle clubs then Thekla is the place to go to next. Thekla Thursday is a rite of passage if you want to meet equally indie kids with nose and cartilage piercings dancing the night away to your favourite indie tunes.
9. Go to Stokes Croft and not just for Lakota
Stokes Croft is home to some of the best food in Bristol like Caribbean Croft, OM burger and The Crafty Egg. It has some great venues too, The Crofters Rights being one of them.
10. Try Seven Lucky Gods
Japanese tapas on the harbourside, yum.
11. Spend an afternoon in Mrs Potts Chocolate House
Mrs Potts Chocolate House is a bit of an establishment in Bristol. With hot chocolates, brownies and chocolate dream cake, its the perfect place for someone with a sweet tooth. Take a look at their Instagram, which gives you an idea of just how much chocolate you can consume there.
12. Pizzarova

The Pizzarova opposite College Green is another iconic spot in Bristol. They have student discount, and also offer vegan and vegetarian pizzas with all sorts of toppings.
13. The absolute institution that is Eat a Pitta
Another Bristol classic. It should be obvious by now that a typical Bristol Uni student's diet is 90 per cent hummus and falafel. I recommend their falafel boxes. So good.
14. Visit Bristol Zoo
Head over to Bristol Zoo before it closes down next year. It's just off The Downs, so not too far for Stoke Bishop freshers.
15. Bruch at The Bristolian
It's not as well known as Boston Tea Party, but the Bristolian is the perfect place to go for a proper cooked breakfast. It's just down from Gloucester Road, another part of Bristol which is worth exploring. 
16. Have a drink at The White Lion
Watch the sunset at the Clifton Suspension Bridge whilst enjoying a drink from the balcony of The White Lion. It's less of a student pub, but definitely worth going to just for the views.
17. Three Brothers Burgers – the best value for money burgers in Bristol
It's conveniently located right next to the Apple, and puts on weekday deals including £5 for a burger and chips before 5pm. 
18. Drunk M&Ms
Nothing better than cheesy chips at 4am after a night out. At this point I'm not even embarrassed to say I'm on first name terms with the guys who work there.
19. Go for a walk through Clifton Village
After a week of heavy nights out, a short trip into the more civilised world of Clifton Village is the perfect detox from the chaos of fresher life. Head down to the observation point, grab a hot chocolate from the Observatory Café, and take in the scenic views.
Related stories recommended by this writer:
• We've worked out every Bristol girl you are going to get off with this term and in which club
• 12 ways to say you go to Bristol Uni without actually saying it
• Confirmed: Bristol Uni staff to go on strike for three days in early December