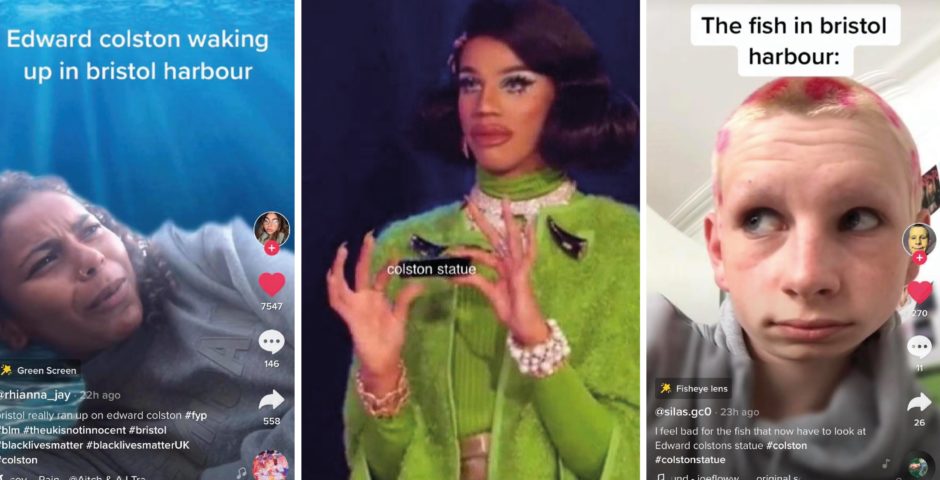 All the best memes from the historic fall of the Colston statue
Because our generation can't help but historicise an event with a meme
Yesterday saw the historic moment where the statue of a slave trader, Edward Colston, was torn off its plinth in Bristol city centre and rolled into the harbour at the Black Lives Matter protest.
Naturally, for our generation, the internet has glorified this moment in the way it knows best; through memes.
Here are some examples of the quality content created to mark this historic occasion:
Wiki worked hard
Upon protesters rolling the Colston statue in to the harbour, Wikipedia changed their bio for Colston, noting that he 'won the inaugural Bristol diving championship of 2020, with a well received forward tumble scoring 8.8 points'.
Colston statue rolls into the harbour to the song 'Good Form (feat.Lil Wayne)' by Nicki Minaj
The fancam. The soundtrack. I can see it now quoted in history textbooks.
An absolute TUNE
What a soundtrack.
'It's… a piece of metal shaped like a racist slave trader'
No historic event is complete without at least a few Drag Race memes.
Naomi Smalls is sending Colston home
If you know, you know.
'Well pick it up if it bothers you'
I think we could all get on board with seeing Home Secretary Priti Patel going for a nice little dive in the harbour.
TikTok came through, obviously
Colston said, 'What's going on, why am I wet?'
'Hey… how y'all doin'
We all feel bad for the fish at the end of the day.
'Hello, how are you, I am under the water, please help me'
A classic sound for a historical moment.
2020 Vol 1,2,3…
2020 is going to be a whole history module within itself.
Colston got an RKO
This one was inevitable, let's be honest.
Fake Taxi got involved…
I'm just going to leave this one here…
Wiki back at it again
Feature image credit: @rhianna_jay, @cher0bia_, @silas.gc0 
Related stories recommended by this writer:
• 'We are here to fight for black lives': Thousands gather for Bristol Black Lives Matter protest
• 'I cannot pretend I feel any sense of loss', says Bristol's Mayor Marvin Rees on Colston Statue
• Anonymous Bristol Uni students are calling out racism on campus in new Insta page