Here's what it was like inside the Bristruths Birthday Bash
There was even a 'Pin the Blame on Hugh Brady' board
So if you haven't been living under a rock, you'll know that Bristruths celebrated its first birthday last night at Lizard Lounge, and invited you to party with them in style.
Upon arrival we joined the busy queue for the sold-out event full of excited (albeit a bit chilly) ticket holders. As UBTV came down the queue shining bright lights and cameras in people faces, there were rumours of a Taka Taka vending machine as guests anticipated what was in store.
Upon arrival we were stamped, not with the traditional lizard, but a Bristruths logo. Inside, Lounge was kitted out with Bristruths decorations, including Bristruths logo bunting, balloons and, obviously, your favourite Bristruths posts up on the walls. These decorations warranted the approval of guests calling the event "absolutely fabulous".
The organisers even made their own themed drinks menu. This included a cocktail jug called "The Truth Hurts" and a bottle of Vodka and mixers called "Nothing but the Truth". There was also a raffle for some free prosecco mid way through the night – ain't no party like a Bristruths party.
The main attraction came in the form of a "Pin the Blame on Hugh Brady" post-it note board. In true Bristruths style, this was an opportunity for party-goers to rant and call out the university on its mental health issues among other things. Of course there was some unrelated content…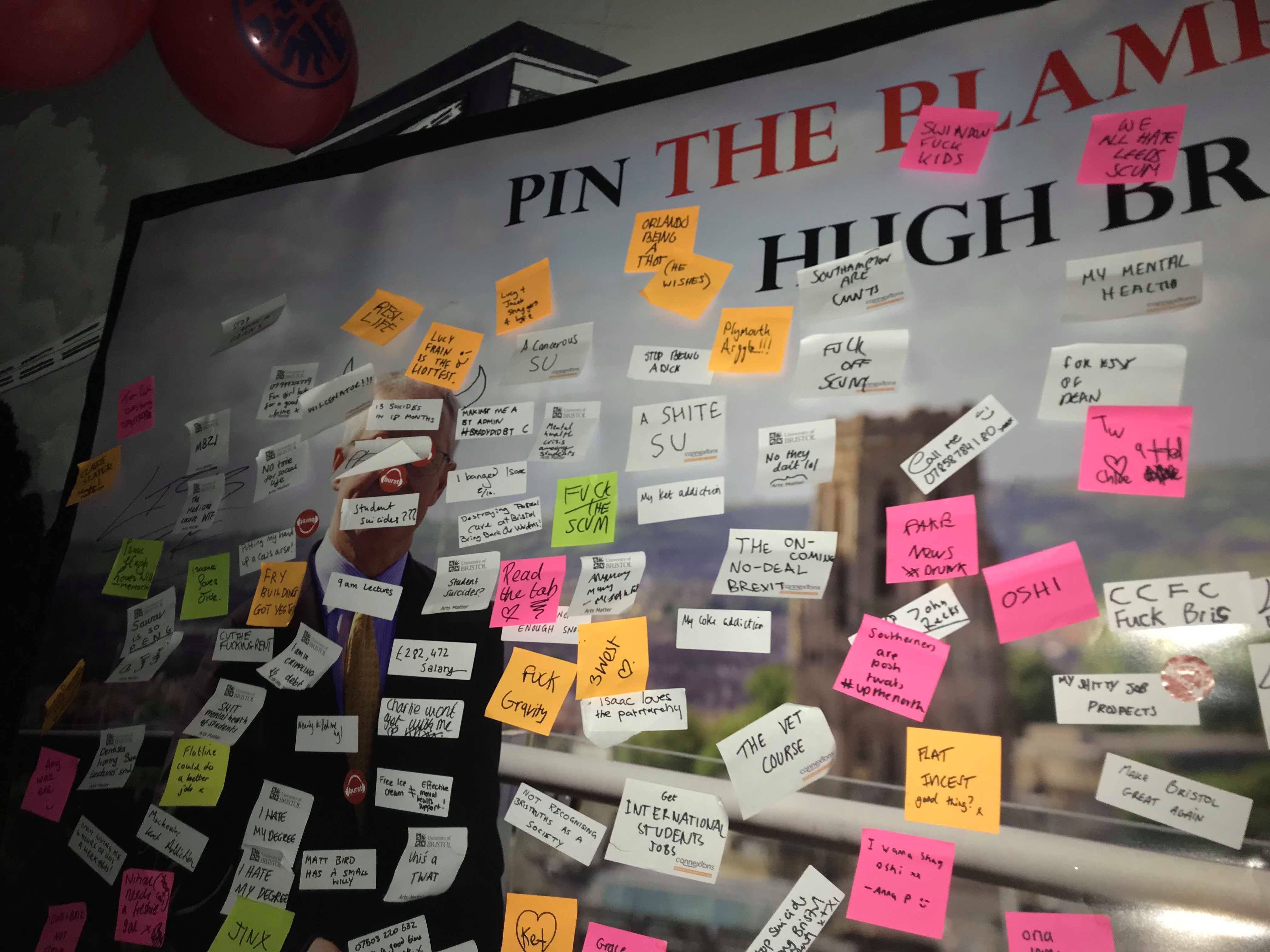 There was also an opportunity to buy a Bristruths T-Shirt. That's right, exclusive merch! For just £5, Bristruths lovers bought them show their support and possibly cover up their own drink spills.
However, no night out comes without a little drama. The birthday party faced rivalry from a neighbouring club, who tried to steal the spotlight and hold a 'Bristruths Appreciation' night. This was then promptly changed to 'Bristol Truths' night.
An attendee of the rival event said, "I went to Bristol Truths like a true pleb, it was just full of rejects".
Despite the controversy, everyone in Lounge was dancing and celebrating with a themed cocktail jug in hand and proudly sporting a Bristruths T-shirt.
I think we know who had the better night here. Happy Birthday, Bristruths!