Brunch 808 at Motion: Trialled
A daytime adventure in Motion
Want to hit Motion around lunchtime on a weekend? Are you 28 or older and trying to spice up that business lunch your boss insisted upon? Do you want to whip out that fluorescent neon jacket you couldn't bear to part with, but you can't face the nighttime raves?
If the answer is yes, look no further than Motion's daytime 'parties'.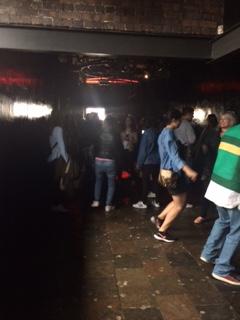 Firstly, the queue was the shortest I have ever seen for Motion. In fact, there was no queue. Which was a wonderful surprise for two very brunch ready, hungover students.
After a hard night out, the last thing you want to do is stand outside, smelling that sweet sweet redemptive smell of a fry up, knowing that you have a good 20 minutes to wait in the outside queue to then move to the inside queue for the exact same fry up you had been tormented by.
After a light search by a smiley bouncer, we entered into a very empty Motion courtyard and began our foray into food land.
The street food consisted of three vendors; Vietnamese street food, a burger joint and pies. Oh, and prosecco being sold for £4 a neon flute which was rather snazzy, I give them that.
Overall, the food was about a 7/10. I opted for the Vietnamese vendor, and had rice noodles in some kind of chilli chicken broth. As it was free for me, although (it came included in the £15 booking fee) or £7 if you bought a food ticket specifically,  I was pleased.
It was nicely warming, and had a heaped amount of bean sprouts which I am all about.  Would I ever actively search it out again? No, but beggars can't be choosers.  
My friend tried out the burgers, sold by a vendor called Burger Theory. They were alright by all accounts. Most people seemed to go for them. They were by no means 'lie-on-ground-and-cry-because-hot-daymn-you-have-discovered-the-god-of-burgers', but they would tide you over til dinner.
Overall, if you are slightly older and looking for a nice time out, this seems to be your kinda place. I truly didn't see anyone that wasn't grinning for at least a brief moment. It was definitely a 'bring the gals out on a nice throwback to being a student but now we're serious adults' vibe. Inside was a mini dance floor, and the DJ was throwing out some bass.
However, bass at 2.30pm just isn't for me but clearly I was the only one that held that view, as the neon jacket-ers were getting down.

I did however discover that there is very little difference between drunken students and drunk 30 year old women in the toilets.
Females everywhere will still take their friends with them, try and fit them all into the cubicle and failing that, will just have a nice chat through the door. Or just not shut it at all, as I discovered to my surprise at lunchtime that day. Some things never change.