Here's how UoB students can have a merry Christmas during lockdown
12 things to do for 12 days of Selly Christmas
It's 2020 – you have every excuse to celebrate Christmas early this year. Full respect to people who started early in November.
From DIY Christmas decorations to making Christmas cards together there's so much you can get up to with you student house during the last few weeks of lockdown.
We all deserve a feel-good festive night in. So get your Brum family together for some cute, cosy Christmas festivities! Here's 12 of our top ideas:
DIY Christmas decorations
Honestly, who has the money for shop-bought decor, even if it's from Poundland? Clock into your primary school arts skills and get crafting! Paper snowflakes, paper chains, go all out and dig out the paints. Wrap fairylights around your fanciest houseplant. Make a house a home; and a tacky one at that. Here's some ideas…and yes, "for kids" was whacked on the end of my Google search.
House Christmas dinner
Disclaimer: be prepared for chaos – a house full of students who don't really know how to cook, crammed in a tiny kitchen, trying to work out what goes in the oven when. But it's all in good Christmas spirit. Schedule who's on the carrots, parsnips, who's the best at making homemade Yorkshire puds. Don't forget Christmas crackers, because what's a Christmas dinner without paper hats!
Festive Bake-Off
Following on from the foodie plans, have a festive baking session – and make it a competition that Mary Berry would be proud of. Christmas is the best time for cosy treats – mince pies, shortbread, cookies, gingerbread men, Christmas cake… *chef's kiss*. You could even settle some prizes for the best baker, although let's be honest, the week's worth of treats is a good enough prize as it is.
You could also make a gingerbread house – either buy it as a decorating set, or make it from scratch – it's your call. Though if it's edible, it'll do.
Christmas movie night
Honestly this one could go on for days. Whether it's classic movies like It's a Wonderful Life, family favourites like Elf, or those average American Christmas films that all seem to have the same general plot and are always on telly – any Christmas film is a a gooden'. Get in the mulled wine and mulled cider, some microwave popcorn and cuddle up under the blankets.
Cheese board night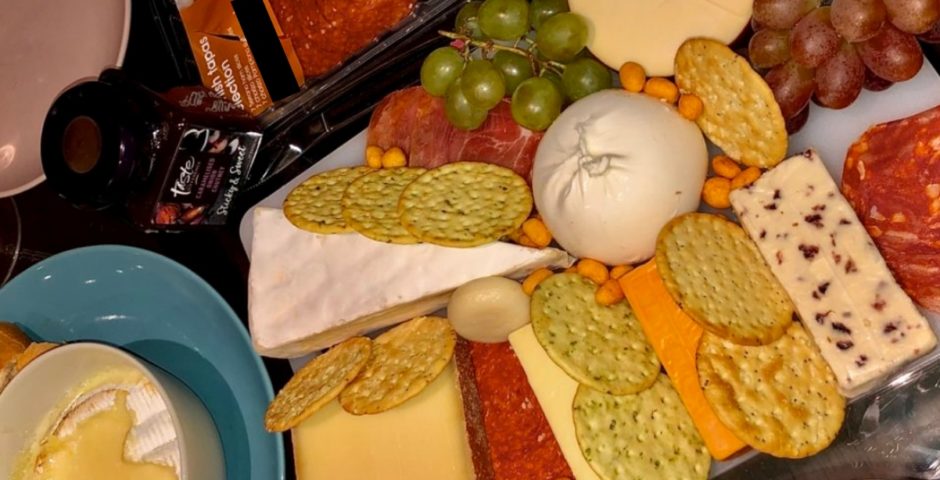 Let's get classy – who doesn't jump at any excuse to drink wine and eat cheese? Make a trip to Aldi; maybe even the big Sainsbury's and get planning how you're gonna make the most insta-worthy Charcuterie boards Selly has ever seen. It doesn't stop there – you may as well make a dessert-themed one too!
Secret Santa
Make sure everyone feels special and has something to smile about this year – we all deserve it. Start secret Santa early so you can gather as many hints as you can, and have a fake Christmas where you can all open your prezzies in your PJs and guess what's from who! There's all sorts of options – the classic bath bomb, trusty booze, maybe a book by their favourite author, a bit of home decor to jazz up their student home.
Board games night
What's Christmas without an overly long game of Monopoly? Dig out your board games, put your phones away, and have a proper family day. Trivia games are great and competitive (remember there's no shame in playing the family/kids version of Trivial Pursuit. The real deal is difficult stuff).
Christmas-themed quiz night
Throw it back to lockdown one and have a quiz night. For the music round, get on "guess the lyrics", "beat the intro", "guess the artist" for all the best Christmas songs, have a round about classic Christmas adverts (John Lewis we're looking at you), or a round about Christmas movies. Even just fun facts about Christmas is fab – Father Christmas, the reindeers, Christmas history – you name it.
DIY Christmas club night
Who needs a Christmas night out when you can do it from home? Get dressed up and pop on your Christmas jumper, or maybe even your sexy elf costume, dig out the disco lights and blast some festive tunes. Extra points for people who make festive cocktails.
Christmas lights drive
Who needs Blackpool illuminations when you can take a drive around the lovely roads of Birmingham? If anyone in the house has a car, go sightseeing (if you can call it that). A house in Birmingham last year was named the "best in the country"… maybe not impressive enough to make an entire journey for, but it's 2020, we'll take any opportunity for leaving the house.
Roast some marshmallows
If you have a garden, get a little firepit on the go, play some cosy Christmas songs for a song-song, gather your blankets and roast some marshmallows. Granted it'll be freezing – but that's what hot chocolate and Christmas jumpers are for.
Make Christmas cards together
With 2020 making us feel more separated than ever, Christmas cards are a lovely way of connecting with people you love from afar. A homemade card makes it even more special. Print out a cheesy Christmas family portrait, go wild with the glitter, or try for some genuinely impressive art. Or just buy some from the shop and write them together. It's the thought which counts.
Related stories recommended by this writer:
•Here's how UoB students master the art of wine and cheese night
•Lockdown 2.0 is the absolute last thing I need as a student with mental health issues
•Here are the UoB entrepreneurs running a business during lockdown