Jack Mably is your new Guild President
After a week of voting and a cardboard-strewn campus, the results are out.
Winning by a significant margin, Jack will become the Guild of Students' President for the coming year.
His manifesto offers a wider range of events, better job opportunities for graduates, improved wifi and a revamped Joe's Plus Card.
He said he was "over the moon" and thanked everyone who voted for him.
Alongside Jack, Izzy Lenga will be the Guild's new Education Officer, despite her predecessor Joe Armer's best attempts to tie his own tongue in a knot while announcing the results.
The position of Sports Officer went to Remy Claustres, after narrowly beating opponent Allan Stewart over six tense rounds by 35 votes.
Ross Strong gave a speech telling the audience he believed he was the right person for the job that needed to be done – clearly he was right, as he rose above the lack of any challenger to win the position of Welfare Officer.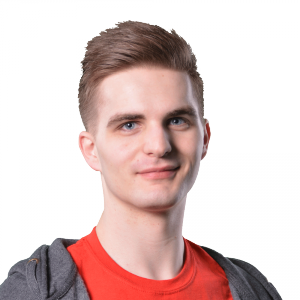 Ben Chapman will head up the Activity and Development department, after three rounds of voting.
The position of Representation and Resources Officer also went into numerous rounds of voting, concluding with Daisy Lindlar's victory.
The Guild's new Housing and Community Officer is Roberto Sorrentino, again thanking all who helped him over the last two weeks.
Part-Time Positions
Katie Webb was voted the Guild's new Anti-Racism and Anti-Fascism Officer, narrowly beating Maaria Ashraf.
Louis Addlington-Lee stormed the category of Community Action Officer, with over 85 per cent of the vote.
Hayley Graham secured the role of Disabled Student Officer, giving an impassioned speech about defeating the "monsters under the bed".
The Guild's new Ethical and Environmental Officer is Sam Benson.
Mohamed Hussain won the position of Ethnic Minority Students' Officer with 290 votes.
Adam Elmi pulled a J-Law style stunt on his way up to thank those who voted for him as Home Students' Officer.
The position of International Students' Officer went into a second round, but Abdul Shittu finally won.
Chavonne Brown overcame the notoriously tricky competition in the single-candidate election for LGBTQ Officer, as did Eleanor Keller in the Satellite Sites category.
Alexandra Binnie won the position of Women's Officer in another narrow category.
Although voting was higher than last year, it is still down over 10 per cent.
We wish all of them the best of luck in the coming year (and in cleaning up campus).