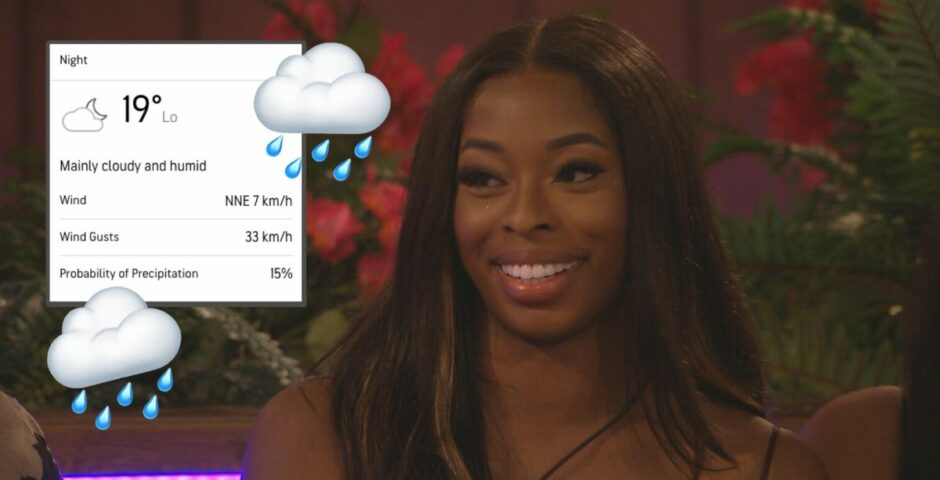 So, just how rainy and grey is the weather actually at the Love Island villa?
None of them are coming back with a tan
The world's weather has gone berserk. There's a heatwave in the UK, an orange smog in New York and a grey wet cloud hanging over the Love Island villa. Yup, Spain is seriously letting the summer of love and its tan-ready contestants down. A washout.
Basically as soon as Love Island 2023 kicked off, viewers began to notice the usual sunny weather of the Balearic Island of Mallorca was less than balmy. Mitchel rushed to get Molly Marsh a jacket as she sat shivering around the fire pit. Other boys told girls in heels to watch out for the wet decking. Often, you can visibly see goosebumps beneath the bodycons.
"Looks like they are freezing their tits off," wrote one viewer. "No sunshine this year??? The weather ain't weathering like it used to," added another. "Honestly, you couldn't pay me enough to be chilling in a bikini if it's freezing," added a third. "I'd legit be in trackies and a hoodie and under a blanket."
But just how cold is it in the Love Island villa right now? Isn't Spain sunny in June? Well, the Love Island villa (real name Villa Alchemy) is near the Majorcan town of Sant Llorenc des Cardassar, in the shadow of the Levante hills. And, according to the most precise weather reading you can get (AccuWeather) that means Islanders are dealing with 71 per cent cloud cover and lows of 19 degrees at night. Combine that with 33 km wind gusts and it's not hot.
For reference, in 30km gusts, small trees are swaying from side to side and (bare minimum) you're going to need a cardigan. Yet, these girls are huddling for warmth in nothing but strappy stillettos and Oh Polly dresses. Brave, brave, women.
And it turns out it might still be too cold even for any of the contestants to swim. In previous summer seasons, contestants have revealed they've never gotten in the villa's pool in Spain because it's so cold: "We went into the villa at the end of May and it's just about getting in to summer, the pool hasn't been heated or anything," Kady McDermott told OK!
They'll all be catching hypothermia in the heart rate challenge if this keeps up.
Love Island 2023 is on ITV2 and ITVX. For all the latest Love Island news and gossip and for the best memes and quizzes, like The Holy Church of Love Island on Facebook. 
Related stories recommended by this writer:
• From Molly-Mae to Molly Marsh: Why all hot girls sleep with stuffed animals 
• Enough is enough George Fensom should never have been allowed into the Love Island villa 
• Right, this is how good Tyrique from Love Island actually is at football