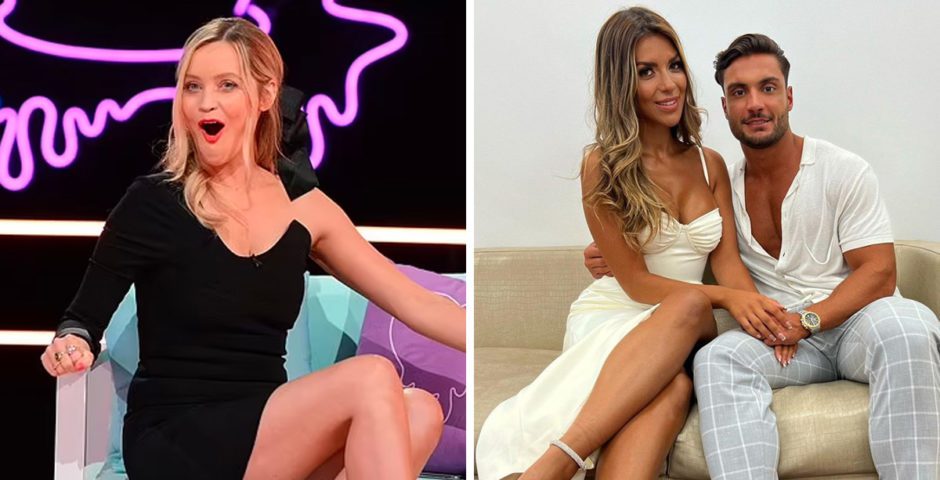 A bust up so big producers step in: Everything we know about the Love Island 2022 reunion
Jacques swerved it, Luca and Gemma argue, and apparently Coco walks out 😬
The Love Island 2022 reunion episode is this weekend, and it looks juicy. It was filmed this week, as the Islanders have returned to the UK, so a lot of details of what went down are already known.
The Islanders have been posting pictures of themselves all dressed up for the show, but it sounds like it was anything but glamorous in some parts. Apparently there was a bust up so big that producers had to step in, and there's a lot of drama addressed live on the show. Here's what we know about the Love Island 2022 reunion, plus a whole bunch of pics the Islanders have shared from it.
Jacques didn't go to the Love Island 2022 reunion
After quitting the show to focus on his mental health, it looks as though Jacques has given the reunion episode a miss. According to reports he chose not to go, and Luca and Dami said in an Instagram story video that he wasn't there. Tbf, it would have been a bit awkward for him to sit next to a loved up Paige and Adam when he said he was waiting on the outside for her, and literally turned down huge TV opportunities in order to stay with Paige.
Summer and Coco had a bust up, and producers had to step in
It's no secret that Summer and Coco have been beefing ever since they left the villa. It all stems from drama surrounding Josh LeGrove. Summer and Josh have started dating since they both left the Love Island villa, and then Coco went on a podcast and spoke about how she regrets not sleeping with Josh when they were on the show. Clearly Summer doesn't like this, and she and Coco have unfollowed each other on Instagram.
Apparently this all comes to the boil in the Love Island reunion, and Summer and Coco get so heated the producers have to step in. Hattie Toll, who says she was there, explains that Summer talks about friends not being real, and Coco jokes that it was "just banter". Producers are said to have been unaware of Coco talking about Josh previously, and Coco ends up storming out of the reunion. "It was all a bit mad," Hattie said.
There's apparently no talk of Jacques to Paige
He's not there himself to talk about it, so it's been said that the show has chosen not to discuss Jacques when speaking to Paige during the reunion.
Luca and Gemma reportedly have had an argument about the reunion
According to reports, Luca and Gemma have been pretty frosty with each other since filming the reunion. Pictures of them getting into a taxi together, looking rather angry, have emerged, and it's been reported that Luca told one of the photographers they'd had a bust up.
Noticing the tension between them, a photographer outside where the reunion was filmed reportedly said: "You've got your hands full there!" Luca then replied: "Oh don't mate! She's got the right hump with me!"
We will revisit some of the biggest moments from Love Island 2022
The extra episode is an explosive catch-up show, where the Islanders meet up again for the first time since leaving the villa. They awkwardly have to sit and chat to people they pied and didn't get on with, and talk about everything that went down over the eight weeks.
The Islanders will spill all the tea on their time in the villa, as well as what their lives are like now. Laura Whitmore will host alongside Iain Stirling, as they revisit some of the biggest moments from the show this year. Plus, of course, we will have a bumper check in with the king and queen, Ekin-Su and Davide.
The Love Island 2022 reunion episode is on Sunday
The reunion episode this year is an hour and a half, and will air on Sunday night at 9pm, on ITV2.
The Love Island reunion 2022 will air on ITV2 on Sunday 7th August at 9pm. For all the latest Love Island news and gossip and for the best memes and quizzes, like The Holy Church of Love Island on Facebook. 
Related stories recommended by this writer:
• Stop what you're doing, Casa Amor Islanders have done a tragic video ad for Drayton Manor
• Secret kisses and huge rows: The shocking unaired Love Island 2022 scenes we never saw
• The Love Island winners' league: The couples who received the most votes, ever