It turns out you can buy the outfits from Euphoria and they're actually pretty affordable
Your 2022 wardrobe will be unmatched
Last week saw the return of Euphoria after its hit debut back in 2019. With its Gen-z and E-girl aesthetics Euphoria has started numerous TikTok trends. The centre of it all is costume designer Heidi Bivens, creating an iconic wardrobe for the characters. There is no question that the Euphoria cast have the best outfits of any high schoolers on TV.
Only two episodes in, the new season has already captured the adventurous, edgy and high-fashion styling of the show. Viewers were not disappointed and many have been browsing the internet dying to find the sources of all the iconic outfits. There is no doubt that the show has an undeniable impact on setting new fashion trends. So here's a collection of some outfits that you can incorporate on your nights out or your everyday style. A lot of them are actually pretty affordable.
Maddy Perez's black cut out dress
Believe it or not web searches for "black cut out dress" increased by nearly 900 per cent after the premiere of Season two. The all black cut out dress and matching gloves are by the brand AKANA and it comes at no surprise that it is already sold out. Paired with this look was a "BRAT" necklace from Claire's.
Cassie Howard's ruched blue bodycon
In this notable scene that has been recreated by many users on TikTok, Cassie is wearing a blue bodycon dress by the British brand House of CB. The blue dress has already gained a 143 per cent increase in searches. Whilst it is sold out, other colours in the exact style are still available. It is the perfect dress for a night out.
Kat Hernandez is cozy in green
The cozy green cardigan is by the brand Danielle Guizio retailing at $200USD. Stradivarius offers many dupes for the green cardigan that Kat is wearing. They have different shades and lengths retailing at around £10. A Cramps graphic t-shirt for £19 is paired with a mesh midi skirt from OMighty weekend retailing at $66USD. Kat rocks this affordable yet stylish outfit. Perfect inspiration for your upcoming spring closet.
Maddy Perez's safety pin crop top
The safety pin crop top can be found on Ebay for an affordable price, a perfect way to spice up your daily look. The white tee was paired with a baby blue angora beret hat. Dupes for this can be found on Monki and Revival Vintage retailing at only £10.
Nate Jacob rocks adidas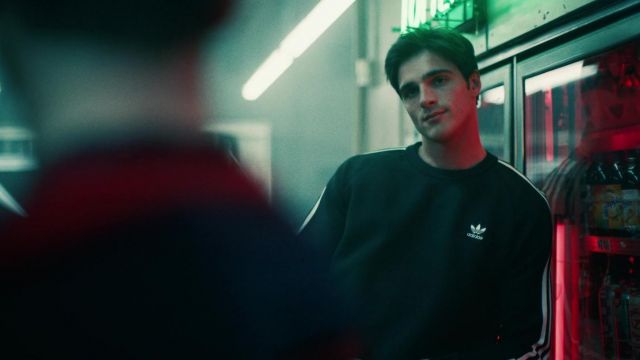 Anyone can easily get their hands on the sweatshirt Nate wore in episode one. From JD Sports to Asos, there are multiple places that you can buy this classic Adidas logo jumper. Sometimes simple really is best.
The hype and demand for the outfit's of Euphoria only keep growing. If you want more Euphoria fashion go and follow @closetofeuphoria on instagram which has nearly 28k followers.
This account finds you every piece of clothing that has been worn on the tv show since Season one. With eight more episodes left, we are keeping our eyes peeled to see what other looks the characters have in store.
Euphoria season two airs Sunday nights on HBO and HBO Max. 
Related stories recommended by this writer:
• How to watch Euphoria season two in the UK without using questionable websites
• Quiz: Which Euphoria girl are you?
• Here are 27 Euphoria season two memes which need to be cherished just as much as Fez